Browsing articles in "Grayndler Hansard"
Mr ALBANESE (Grayndler—Leader of the House and Minister for Infrastructure and Transport) (09:57):  I rise today to congratulate Father Joachim Rego from the parish of St Brigid's Marrickville in my electorate of Grayndler for his election in Rome at the Superior General of the Passionist Order of the Catholic Church.
Father Joachim was born in Myanmar in August 1954 and migrated to Marrickville with his family as a teenager. He attended high school at De La Salle College in Marrickville, which is now Casimir Catholic College, before joining the Passionists in 1975. He professed his first vows in 1976 and was ordained a priest in 1981.
Joachim worked for 18 years in Papua New Guinea as regional Vicar, Novice Master and Formator, and was President of the Conference of Major Superiors of Papua New Guinea and the Solomon Islands. He worked as Novice Master in the Indian Vicariate of the Passionists Congregation and also in the parish of St Brigid's Marrickville prior to his election as Provincial Superior in 2007.
Joachim is the eldest son of Mr and Mrs George and Celina Rego of Marrickville. His brother, Father Aloysius Rego, is the regional Vicar of the Discalced Carmelite Friars in Australia-Oceania. His sister Bernadette and brother Valerian live in Marrickville with their spouses and children.
St Brigid's church is just a short walk from my electorate office in Grayndler. It is well known throughout the community of the inner west for its charitable works and its commitment to social justice. My son was baptised there.
At the end of last year, I attended a function at Marrickville Town Hall to celebrate the 125th Jubilee of the arrival of the Passionists at St Brigid's in Marrickville. It was a wonderful community celebration attended by members of the parish but also members of the wider community. This is a wonderfully inclusive community that goes out of their way to celebrate the multiculturalism that makes Marrickville such a diverse, interesting and vibrant community.
In addition to the church, the parish also includes St Brigid's Primary School and Casimir Catholic College—two schools that have provided a quality education to many thousands of local families in my electorate over the years, including to Father Joachim himself.
I congratulate Father Joachim on his achievement and wish him the best of success as he embarks on a new chapter of his life in Rome.
Mr ALBANESE (Grayndler—Leader of the House and Minister for Infrastructure and Transport) (16:04):  Last week I was in Italy for high-level discussions on infrastructure and infrastructure financing and tomorrow in the House I will be welcoming the leaders of 35 infrastructure companies from Italy, many of whom are investing here, including on the Legacy Way in Brisbane and the Superway in Adelaide. The purpose of the visit was to advance that agenda and the association that we have had with Italian infrastructure companies and also have meetings about the air services agreement between Australia and Italy.
The trip also involved a visit to the City of Giovinazzo. Giovinazzo is a port city on the Adriatic Coast in the region of Apulia. It has a population of some 20,000 and is a seaside destination for Italian tourists, with its own local fishing industry. In 1989 Leichhardt in my electorate of Grayndler formed a twin city relationship with Giovinazzo in recognition of the large number of migrants from the city and other parts of the region of Apulia who have settled in the Leichhardt area. I am also half Apulian and was very pleased to be able to represent my electorate at Giovinazzo. It was an extraordinary Italian welcome. The mayor and all of the council turned up, as well as what appeared at times to be most of the city of Giovinazzo, to show us around. Meetings were held at the Town Hall and at the local community centre where school children had three walls covered with their drawings showing their feelings about Australia. Kangaroos, koalas, the Sydney Harbour Bridge and Opera House featured prominently in those drawings.
The local band played the Australian national anthem as well as the Italian national anthem at Piazza Leichhardt, which is a magnificent piazza in Giovinazzo. There were many people there, all of whom seemed to have a relative in or a connection to Australia. It was indeed a very proud moment. I note that Leichhardt has established the Giovinazzo Grove within Leichhardt Park that overlooks Iron Cove. It was a great moment and I thank the mayor, Tommaso Depalma, and other dignitaries including the carabinieri commander, municipal police commander and others who participated, including the Giovinazzo Municipal Orchestral Band, for the fine welcome. Our muliculturalism was celebrated with this event and it was indeed a proud moment and a celebration of the connection between Australia and Italy.
Today I rise in this chamber to support marriage equality.  I do so because I believe it is the right thing to do.  It is the fair thing to do.  All individuals are entitled to the right to participate fully in our society and to receive the support and protection of the law, regardless of their sexuality.
Let's be clear.  The inequality and the intolerance that many lesbians and gay men face will not immediately stop if this bill is passed.  No law can deliver that.  It will take time to pull down the prejudices that have built up over time.  What laws can do is remove institutional injustice.  That is what gays and lesbians face today.
This bill will also send an important message.
It sends an important message about acceptance of individuals in our society, regardless of their sexuality.  There are many young people right now struggling to come to terms with their sexuality.  There has been too much tragedy in the past as a result of issues relating to discrimination.  Indeed, a failure by society to offer full acceptance has led at times to people being less than frank—often with themselves, let alone with the people around them—about their sexual orientation, with consequences as a result of that.
We need to send a message that it is surely a basic right for each of us to be able to marry the person that we love.  I fail to see how the institution of marriage is weakened if more people have the right to participate in it.  My view on this comes down, essentially, to one fundamental disagreement with those who will not support this legislation, and that is that giving one group of people the rights that they have been denied does not in any way diminish the rights that currently exist for the rest of us.
That is why I have been fighting for equality for same-sex couples ever since I was elected to federal parliament 16½ years ago.  Indeed, fighting for equality is what led me to join the great Australian Labor Party more than 30 years ago.  I am proud that Labor governments were the ones to decriminalise homosexuality.  Labor governments were the ones that had the courage to confront the deadly HIV AIDS epidemic and set an example for the rest of the world.  Labor governments were the ones to advance same-sex adoption.  On each of those occasions there were people of goodwill across the political spectrum who supported equality, and I know that there are many people in the coalition who would like to vote for this legislation but who will not be able to.  I think that contrasts with the leadership that has been shown by Barry O'Farrell, the NSW Premier, in acknowledging the importance of a conscience vote on this issue in the NSW parliament.
When I first arrived in this place in my first term of parliament, I moved the same-sex superannuation legislation to remove discrimination when it came to superannuation.  At that time, that was seen as a radical piece of legislation.  I had to re-introduce it time after time.  There was no debate allocated in the chamber, and a number of times it lapsed—just a short period of time when we look at the extent of the human condition.  That legislation, coupled with another 84 pieces of legislation, passed this parliament without opposition during the last term of parliament.  Eighty-four pieces of legislation to remove discrimination: it went from being an issue of controversy to an issue which was essentially a consensus in this parliament.  That, to me, is indicative of the way in which society does move forward on issues, not just in terms of equality for people regardless of their sexual preference but on race and gender issues as well.
We as a society, particularly under liberal democracies such as we cherish here in Australia, are moving forward to embrace diversity and difference and to respect people on that basis.  So I have no doubt that in the near future the removal of this final frontier of discrimination will occur, and then I think people will recognise immediately afterwards that the sky has not fallen, that people have not suddenly changed their sexual orientation as a result of that legislation and that the institution of marriage has in fact been strengthened by the fact that more people are prepared to engage in an institution which celebrates lifelong commitments between two people who love each other.  That is what we are talking about with this legislation here.
I very much respect the views of colleagues who disagree with me on this issue.  I respect their right to say it and to participate in this debate in a constructive way.  I must say that I do not respect some of the views that have been expressed that promote intolerance and reinforce prejudice, and I know that people across the political spectrum in this parliament will agree with me on that.  I think that, regardless of what position people will take on this final legislation, overwhelmingly this debate has been constructive, and I congratulate the member for Throsby on his initiative in putting forward this legislation.  I say also to those people who support this legislation that we need to be inclusive in the way that we conduct ourselves in this debate.  We should be tolerant in the way that we conduct ourselves in this debate.  We cannot argue that we are about inclusiveness if we do not act that way ourselves, because I believe that this change is coming, just as we have removed other areas of discrimination in a range of areas.
I come down to a fundamental view: extending the right to marriage to same-sex couples in no way detracts from the rights to marriage that heterosexual couples currently enjoy.  I have had the opportunity to be married.  I see no reason why someone who happens to want to marry someone of the same sex rather than the opposite sex should not have the same right that I enjoyed.
I also think that in this debate we need to be very careful about the nature of all of our relationships.  As someone who was raised by a single mother, I say that those people who speak about the family unit as if they know exactly what is right, to the exclusion of other family relationships, need to think very carefully about the messages that they send to families who are not nuclear in their composition.
I was in a two-person family.  It was a loving family, and my mother gave me everything that a parent could give their child.  Some of the views that have been promoted in this debate question that when they question the diversity that exists in our society.
The fact is that Australia is moving forward on these issues.  Most of us have siblings, children, neighbours, friends or work colleagues who happen to be gay or lesbian.  It is a simple fact of life.  The way that Australians deal with it is just to get on with it, treating each other with respect and as equals.  We should not pretend that marriage is an unchanging institution that has been around forever, because it has not.  It has evolved just as relationships evolved, just as society evolved.  Today we recognise that couples in de facto relationships should have the same rights as married couples.  That was not the case a few years ago.  Our values and our relationships have evolved and they will continue to do so.
Many relationships, both heterosexual and homosexual, are committed, loving relationships.  It is not up to me to judge whether a relationship between a man and a woman is more important, more significant or more loving than a relationship between a man and another man or between a woman and another woman.  We do not know what goes on inside relationships.  Surely people recognise that life is more complex than that.
We need to face up to the realities of modern Australia.  We need to have faith in our fellow Australians wherever they might live.  We should have faith that Australians can and have overcome prejudice, intolerance and injustice.  Importantly, we should have faith that members of this parliament can make the decision to vote for or against this bill for themselves, which is why I supported this being a conscience vote issue at the ALP national conference—a position that put me in some disagreement with some of my colleagues.  I argued that consistently.  I argued for equality consistently.  I am very pleased to be able to support this legislation, which will be voted on today in the House of Representatives.
I look forward to the day when legislation similar to this is passed and discrimination is removed.
[ENDS]
Mr ALBANESE (Grayndler—Leader of the House and Minister for Infrastructure and Transport) (09:33): Just over a week ago, I had the honour of meeting Justin Kwon, a year 5 student at St Vincents Primary School in Ashfield. Justin's passion for prose saw him take out a top spot in the Dorothea Mackellar Poetry Awards, a nationwide competition that attracted over 10,000 entries this year. What was extra special about Justin's award was that it was in the learning assistance and special education category. Justin's passion for poetry began when he heard Dorothea Mackellar's legendary poem My Country. It is fitting that this budding poet has won an award named after his idol.
While I happily presented Justin with a book pack and a cheque for his prize, he gave me a much greater gift: a book that he made himself with poems he had written since he was seven years old and illustrations for each poem.
It is obvious that poetry is an important part of the way that Justin expresses himself. I was honoured to receive such a wonderful present. He is a credit to his parents, Oh Soo and Marissa; his teacher Robin Catchpole; and his school, St Vincent's at Ashfield. I would like to share with the House some of his poem which won the prize:
Wheels, Wings and Marvellous Things
I wish I had wheels, wings and marvellous things!
I wish I had wheels,
So I can be as fast as a car,
I can go near and I can go far.
I wish I had wheels, wings and marvellous things!
I wish I had wings
so I can fly:
I can take a trip to the blue sky!
I wish I had wheels, wings and marvellous things!
I wish I had a shell,
So I can hide,
when I am scared…
or when I'm sleepy inside…
I wish I had wheels, wings and marvellous things!
I wish I had gills
to breathe in the sea,
to conquer my swimming,
to be a different me.
I wish I had wheels, wings and marvellous things!
I wish I had springs,
so I can jump high
to feel the clouds
and the beautiful sky
I wish I had wheels, wings and marvellous things!
I wish I had muscles so I can be strong:
I can carry people all day long
I wish I had a tail, fins, a magic ring
and all sorts of marvellous things!
I wish I had wheels, wings and marvellous things,
wheels, wings and marvellous things!
This is a wonderful young man. He is in year 5 at St Vincent's at Ashfield.
Mr Neville interjecting—
Mr ALBANESE: I note the statements from across the chamber, including from the member for Hinkler, acknowledging what a marvellous thing this young man is. He suffers. He is on the autism spectrum. He expresses himself in such a magnificent way through this book of poetry. I assure other honourable members that this book that I will cherish as a prized possession, as a member of parliament, is full not just of wonderful poems but of wonderful illustrations of those poems. He is a wonderful boy and he is a great credit to his school, to his family and to the local community.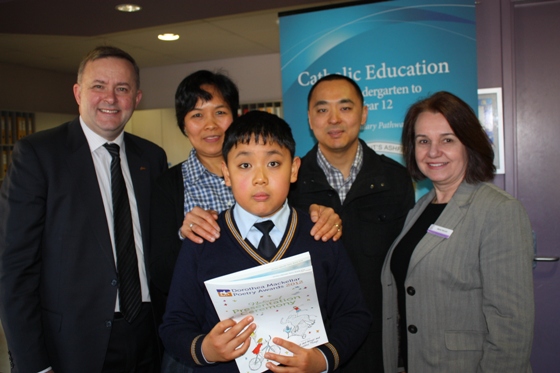 Mr ALBANESE (Grayndler—Leader of the House and Minister for Infrastructure and Transport) (16:08):  I recently visited Lebanon and Cyprus where I held meetings with senior government officials to discuss transport infrastructure, joint business opportunities, and to further improve what are very good bilateral relations between Australia and Lebanon and Cyprus.
Lebanon
My visit to Lebanon was the first by an Australian government minister since 2001 and followed the first ever visit of a Lebanese President to Australia in April this year.
Australia and Lebanon share a warm and productive bilateral relationship that is underpinned by strong community and people-to-people links. There are approximately 350,000 Australians of Lebanese descent that have made a significant contribution to Australian society in all walks of life.
In my meetings with President Michel Sleiman, Prime Minister Najib Miqati, and Speaker of the Parliament, Nabih Berri, I was given an update on the economic, social and political challenges facing the Lebanese people. In these meetings we discussed further strengthening two-way economic trade in cooperation between our nations.
I also met and was hosted by the Lebanese Minister for Public Works, Mr Ghazi Aridi, who welcomed me on my arrival and hosted a lunch with other business community leaders, and the Minister of Energy and Water, Gebran Bassil, to discuss infrastructure issues. This is the second time this year that I have met with Minister Aridi and we committed to strengthening maritime search and rescue operations at the Port of Tripoli with AMSA to provide their technical expertise.
Cyprus
Australia and Cyprus also share a close and longstanding relationship. There are over 80,000 Cypriot-born migrants and their families in Australia, making it the second largest Cypriot community outside Cyprus.
My visit to Cyprus was the second by an Australian government minister since 2007 and is my second visit to Cyprus since I entered parliament.
Australian peacekeepers have been in Cyprus since 1964. I had the honour of meeting with the men and women of the Australian Federal Police who are part of the UN Peacekeeping Force in Cyprus. I was given a tour of the buffer zone by the commander of our force, Superintendent Peter Bond. Our presence in Cyprus is greatly appreciated, and our men and women are covering themselves with distinction. As a long-term advocate of justice for Cyprus, I believe it is important that Australia retain our presence as part of the UN peacekeeping efforts.
During my visit I also met with the Minister of Communications and Works, Efthemios Flourentzou; the Secretary-General of AKEL, Andros Kyprianou; the Mayor of Limassol, Mr Andreas Christou; and the Mayor of Larnaca, Mr Andreas Louroutziatis. I also had the great honour of meeting His Beatitude Chrysostomos II, Archbishop of Nova Justiniana and All Cyprus. Larnaca is one of the biggest cities in Cyprus and has been a sister city to Marrickville since 2005.
I was pleased that my visit helped to extend the friendship between our two countries.
(Time expired)
Mr ALBANESE (Grayndler—Leader of the House and Minister for Infrastructure and Transport) (19:58):  On indulgence, today I had the honour of representing the Prime Minister at the funeral of Frank Walker. It was an extraordinary occasion, with speeches former High Court Judge Mary Gaudron about Frank's legal legacy; from Frank's brother Robert; from Michael Knight, who spoke about Frank Walker's early years; from Michael Deegan, who spoke about Frank's achievements as a state and federal minister; and Michael Gallagher, who represented the New South Wales government and was also the candidate against Frank for the seat of Robertson in 1993. He gave a very generous and humorous speech. He indicated that Frank would understand the humour of a former police officer speaking at his funeral, given the opposition that was there from the police to reforms such as removal of the Summary Offences Act and to other important progressive legislation that was championed by Frank Walker.
It was a great occasion. I thank the Premier of New South Wales, Barry O'Farrell, for his generosity in ensuring that it was a state funeral, particularly given that this was a great Labor event with Labor luminaries, including the former Prime Minister, Paul Keating. It was also attended by a number of former premiers, including Barrie Unsworth, Nick Greiner, Nathan Rees and Kristina Kenneally. It was indeed a great occasion at the Sydney Conservatorium and there were outstanding musical presentations.
Of course, if there was an overriding theme to the event it was Frank Walker's record of being a champion of the marginalised, particularly his support for Indigenous rights. Tales were told, for example, about his being assaulted for daring to sit with the local Indigenous community on the Mid North Coast of New South Wales in a segregated theatre. It should be remembered that this happened in our lifetime. The police took him out of that theatre and he was assaulted for the crime of taking a stance on race relations, in favour of e   quality.
This was a great celebration of a great Australian. It was one in which there was a very positive spirit and it was an honour to be there today to represent the Prime Minister. In her absence, I thank her for bestowing that honour upon me.
Mr ALBANESE (Grayndler—Leader of the House and Minister for Infrastructure and Transport) (14:09):  I rise to add my support to this motion of condolence from the acting Prime Minister and the Leader of the Opposition.
Frank Walker was my friend. He was one of the most passionate, humble, loyal, dedicated and honest people that I had the privilege of knowing. He was absolutely committed to representing the interests of those who are the most marginalised in our society.
I first met Frank when I went along to a New South Wales Young Labor conference around about 1980—in Newtown, which now happens to be in my electorate. I was still at school. There I remember this minister standing at the front of the conference, talking about the action that he was taking to make New South Wales a more just society—changes such as repealing the unjust Summary Offences Act. The Leader of the Opposition has indicated the extent to which this drew opposition from some of the entrenched corrupt forces that were then in strong positions in New South Wales society. This angered many, particularly some sections of the New South Wales police force.
He drove through the most progressive Aboriginal land rights legislation at the time. He decriminalised homosexuality at a time when that was a radical notion, and where people were still the subject of being arrested for happening to be gay or lesbian. He had a commitment to public and community housing. He had a determination to help young people in particular who had got themselves into trouble with the law, not out of any flaw of character but simply due to the circumstances of their birth and family situations.
As happens in politics, in spite of being an extraordinary local campaigner, Frank lost his seat when Labor lost office in 1988. In 1989 I was his chief scrutineer in the preselection ballot for the federal seat of Robertson, where he defeated Belinda Neal by just three votes to be the Labor candidate after Barry Cohen's retirement. He went on to win the seat of Robertson in 1990 and, of course, after 1993 to be a minister in the Keating Labor government.
Frank went on in post-parliamentary life to play a vital role in the judiciary, including helping victims of asbestos through the Dust Diseases Tribunal. He went on to make an extraordinary contribution as president of the Schizophrenia Fellowship of NSW from 1998 right up until his death. Schizophrenia, of course, was the condition that his two sons, Michael and Sean, suffered from—a condition which tragically proved fatal for both.
Right to the end, Frank was driven by his commitment to social justice. He remained an infectious personality even after he became very unwell. Every minute you spent with Frank Walker was a minute well spent. He was my friend, and I admired him deeply. He will be missed by the nation, the Labor movement, his many friends and by his family. Vale, Frank Walker.
The DEPUTY SPEAKER (14:12):  As a mark of respect, I ask all present to signify their approval by rising in their places.
Honourable members having stood in their places—
The DEPUTY SPEAKER:  I thank the House.
Debate adjourned.
Mr ALBANESE (Grayndler—Leader of the House and Minister for Infrastructure and Transport) (13:58):  on indulgence—as a minister this would not normally be the case with 90 second statements, but as the member for Grayndler, which is home to Leichhardt Oval—the home of the Wests Tigers—I associate the government with the comments of the member for Bennelong and express condolences to Robbie Farah and his family, and indeed to all the Wests Tigers, on the loss of Robbie Farah's mum, Mrs Sonia Farah.
Mr ALBANESE (Grayndler—Leader of the House and Minister for Infrastructure and Transport) (09:36):  Last Saturday night I had the pleasure of attending the Newtown Swans trivia night at the Marrickville golf and community club. In my time as the member for Grayndler I have known Marrickville golf club to host many community and charity events for the benefit of thousands in my electorate and the local community.
Marrickville golf club was built in the 1940s by volunteer and community labour and is the largest single green space in Marrickville and Dulwich Hill. Since its opening, this 3.7 kilometre, 18-hole golf course has served as a community space and facility open to all members of the public. The golf club is supported by 775 active members and its facilities are enjoyed by hundreds of people each and every week, including many of the budding golfers of tomorrow through the Jack Newton Junior Golf cadet program that links the golf club with many local primary schools. Additionally, the Marrickville golf and community club has been the primary choice of the New South Wales Department of Ageing, Disability and Home Care as hosting venue for New South Wales Seniors Week events for the last three years. The club is also in the middle of extensive renovations and upgrades to modernise facilities for the needs of the local community.
A recent Marrickville Council commissioned 'Recreation Needs Research Paper' has suggested that the golf course is too big and is proposing that the golf course should be cut in half, to nine holes, with land to be used to develop 'improved active transport and recreational access to the Cooks River corridor'. This is a nonsense proposal. The club president, Eddie Lakiss, has stated that, should the golf club be cut in half, then the entire facility and community clubhouse would be at risk of closing. Eddie says, 'This club is not just a golf club, it is a community club and everyone is welcome whether they play golf or not.'
I reject these recommendations in the research paper which I assume are inspired by the Greens political party on Marrickville Council that seems to be opposed to active sport being conducted in the electorate. Marrickville golf club is a fantastic piece of local community infrastructure. It is an integral part of Marrickville's history and future and the local community will fight these proposals. It is a shining example of the immense community spirit that can be fostered when you have a great public facility that works for the benefit of the entire community. I congratulate those people in the Marrickville golf and community club who are showing leadership on this issue and I will continue to argue their case as their representative in the national parliament.
Mr ALBANESE (Grayndler—Leader of the House and Minister for Infrastructure and Transport) (19:31):  I rise to extend my condolences to Egyptian Coptics the world over and, in particular, in my electorate of Grayndler for the passing of their spiritual leader and the 117th Pope of Alexandria, His Holiness Pope Shenouda III. Born in 1923, and the youngest of eight children, Pope Shenouda graduated from Cairo University with a degree in history and taught high school English and social studies before graduating from the Coptic Theological Seminary in 1949. Pope Shenouda was appointed to the bishopric of Christian education and as Dean of the Coptic Orthodox Theological Summary in 1962 and, after seven years of his leadership, the number of students at the seminary had increased tenfold.
His Holiness was suspended from the church between 1966 and 1969 for his radical 'campaigns for change', which among other things called for the popular election of bishops and priests. In 1973, His Holiness was the first Coptic Orthodox pope to sit down with the Pope of the Roman Catholic Church in 1,500 years. Both men agreed they would encourage greater Christian unity between their faiths.
Pope Shenouda was passionate about social justice and equality, especially the need for peace in the Middle East and justice for the Palestinian people. After the cessation for several centuries, Pope Shenouda also reinstated the ordination of deaconesses and brought women into theological colleges and communal church councils. His Holiness devoted himself to bringing the people of Egypt together, no matter what their faith. In 2001, he said:
"Love generates love, and separation generates separation."
His Holiness inspired the growth of churches outside Egypt, from seven in 1971 to more than 150 today. Indeed, the first Coptic church in Australia was established in my electorate of Grayndler—St Mary and St Mina's Coptic Orthodox Church in Railway Road, Sydenham. He also empowered Coptic youth around the world and drew them into the church, declaring that 'a Church without youth is a Church without a future'. Indeed, His Holiness was vital in setting up three Coptic Orthodox schools in Sydney. He was a scholar and a philosopher, authoring more than 100 books in his time as Pope of Alexandria on spirituality and theology. I like the words of Father Antonios Kaldas of the Archangel Michael and St Bishoy Coptic Orthodox Church in Sydney. Let me quote:
"The real Church is not made up of buildings and institutions. Those things are just tools we use to build the real Church, which is made up of the hearts and lives of every member of the Church. Where there is love, where there is truth, where there is wisdom, and nobility, integrity and honour, kindness and compassion—that is the real church.
These are not things that you can put numbers to get yet they are the things that really matter. They are the things that Pope Shenouda has a very special way of nurturing and inspiring in others."
I certainly had the great honour of meeting Pope Shenouda on his sixth papal visit to Australia in November 2002. Prior to that I had travelled to Egypt. Included on that delegation were two Marrickville councillors, Morris Hanna, now the Mayor of Marrickville, and Morris Tadros, as part of the delegation from my local community to Egypt. There we met many Coptic Orthodox leaders and engaged in a dialogue that was extremely positive.
Pope Shenouda was indeed a special man, a man who led from the heart, promoting peace and understanding between Egyptians the world over. I offer my sincere condolences to the Coptic Orthodox community in this time of mourning and sadness.