Browsing articles in "Grayndler Hansard"
Mr ALBANESE (Grayndler) (13:54): I have recently been approached by the Joint Committee for the Commemoration of the Anniversary of the Battle of Crete and the Greek Campaign in regard to federal government support for the visit to the Hellenic military delegation. This delegation is a well-established tradition, having visited various cities across Australia since 1978. Over that time and up until 2010, the military delegation was recognised as an official visit and received consequential support from the federal government. Unfortunately, due to the global financial crisis, they did not visit in 2011 and, therefore, that support has ceased.
In Australia there are more than 350,000 people of Greek descent and the commemoration at the Battle of Crete and the Greek campaign is most relevant for those with this heritage, as well as for many other Australians who have Anzac ancestry. During the First World War, nearly 60 Australians of Greek origin served overseas with the Australian armed forces, many of whom lost their lives. These men were from a range of towns and cities such as Tamworth, Melbourne, Mackay, Adelaide and Bendigo. These Anzacs, along with many other Australians, are buried in Crete and in Athens, something the Hellenic military delegation seeks to commemorate this visit.
This is an important acknowledgement of the ties between Australia and Greece. I believe they should receive federal government support. I have written to the Minister for Veterans' Affairs, asking that the support be reinstated. I believe that everyone in this House would support such a measure.
Mr ALBANESE (Grayndler) (21:10): I rise tonight to acknowledge the fact that this Saturday will be one of many times—almost every year—out of the last 30 years that I have participated in the Mardi Gras march in Sydney.
It is a celebration of the diversity which makes Sydney a great global city. It is also a time to recognise that discrimination continues to occur against the gay and lesbian community in a range of areas, including the recognition of their relationships. I have always believed that equal rights for all people—regardless of sexuality, race or gender—are a fundamental right.
Through Labor governments we have seen significant advancement in this area. In every election since 1996 Labor has committed to removing important areas of legal discrimination against same-sex couples. This has included taxation, superannuation, social security, health, aged care, veterans' entitlements, workers compensation and employment entitlements. Most recently, we successfully extended Labor's Paid Parental Leave scheme to include same-sex couples. These are important steps forward, but we must recognise that there is still some way to go.
I am proud to be part of the Australian Labor Party, whose support through our platform for marriage equality is now entrenched. Labor's national policy platform now reads:
Labor will amend the Marriage Act to ensure equal access to marriage under statute for all adult couples irrespective of sex who have a mutual commitment to a shared life.
It is important also that we have a conscience vote on this issue. I respect those who disagree with this position; I also, though, believe that by giving one group of Australians equal rights does not diminish the existing rights that people have.
I know that there are people, also, in the coalition who support equality for all, regardless of their sexual orientation. I believe that it is important that everyone in this parliament be allowed to participate in a conscience vote on the issue of marriage equality. I recall when I moved the Superannuation (Entitlements of Same Sex Couples) Bill in this parliament—it was controversial. We could not even get debate in this chamber in terms of a vote. Today I do not believe that there is anyone in this chamber who does not believe that it is appropriate for people who are asking for access to their partner's superannuation—that is, their own contributions—that that is not an appropriate reform. That shows that progress occurs.
I think that quite often, many of those, particularly on the progressive side of politics—to which I am proud to belong—often romanticise about the past. I believe that history does move forward, that support for tolerance does move forward, and that in terms of this reform we will see full equality very soon.
In recent times I have participated in Mardi Gras with people including New South Wales Premier Barry O'Farrell, which is important. There has been a message sent for Saturday from the leader of the Labor Party, Bill Shorten, from the deputy leader, Tanya Plibersek, and from many other members of parliament.
What we see also in the celebration on Saturday is that it is a major tourism event for Sydney. It is a major economic activity that creates jobs and creates a sense of wellbeing in the community. At this time when on many unfortunate occasions there have been incidents that have caused violence on the streets of Sydney, one of the things that has always characterised Mardi Gras is a sense of community and a sense of respect for each other.
I assure my constituents in Grayndler, and many others who have written to me that I will continue to be a strong campaigner for equal rights, regardless of sexuality.
Mr ALBANESE (Grayndler) (10:24):  When we review the lives of the great men and women of history, the people who are remembered well beyond their lifetimes, their common characteristics are their commitment to justice and their level of connection with their own humanity. Whether they were politicians, preachers, peace campaigners, writers or entertainers, those who are remembered best are those who speak to the human soul. They slice through the political white noise of the day to appeal to the human heart.
Think of Abraham Lincoln, who taught America that slavery was an affront to humanity; Martin Luther King, who reminded his nation that real freedom required genuine equality; or Mahatma Ghandi, who taught India that the road to justice was also the road of peace; John F. Kennedy, who taught the world to ask what the individual can do for his or her country, not to ask what their country could do for them.
Nelson Mandela is the great voice of freedom in our time, a man whose contribution to humanity has no peer. He began his adult life fighting for freedom. He was so committed to freedom that he was prepared to endure 27 years in prison to demonstrate his commitment. The whole world watched when news came through that he would be released from prison. It was a time of massive celebration, as Mr Mandela walked free with the words, 'Free at last.' This was an extraordinary time. It is important, I think, to pay tribute to those people in South Africa, as members of the African National Congress, but also around the world: those citizens of Australia and the globe who campaigned for an end to apartheid. The labour movement, I believe, has much to be proud of for the role that we played. I well remember getting criticism for inviting Eddie Funde, the ANC representative in Australia, to speak at a Young Labor conference. It was seen to be controversial at the time in terms of support for the ANC. Eddie Funde, while he was here in Australia, was subject to violent attacks including a shooting at his home in Ultimo in Sydney. This was not an issue of consensus. This was an issue on which the forces of right, however, prevailed substantially and people from across the political spectrum—people like Malcolm Fraser and others—were prepared to engage in support for sanctions against South Africa, to send the message. And, not to send it in a rhetorical way but to send a message by crippling the economy and crippling those who gained economic advantage from the apartheid system, that they would not continue to be able to profit from the misery of the majority of citizens of South Africa on the basis of their race.
It was quite extraordinary that just eight months after his release, Nelson Mandela came to Australia. As someone who was active in the anti-apartheid movement, I had the honour and the privilege of meeting Mr Mandela face to face and having conversations with him at meetings that were held at Sydney Trades Hall and at the major event that occurred at the Sydney Opera House where people in their tens of thousands came to see this great man. What struck you, and everyone who met him, was his humility. He was genuinely effusive in his response to people. This was someone who had been locked up on Robben Island—and I have seen the cell in which he was kept for 27 years—who genuinely engaged with people and was prepared to give everyone the benefit of the doubt.
He had an extraordinary ability to project a positive vision for the future, not just in what he said but how he said it. How he danced onto the stage that had been established at the Sydney Opera House forecourt made people cry with joy at being in his presence, at having that honour. To him though there were no airs and graces. He came to thank us for our support in the ending of apartheid. It was us who should thank him for making the world a better place by his example.
What I also think was quite extraordinary was that Mandela emerged from incarceration prepared to forgive his oppressors. In this building, where so many things that do not matter a jot inspire bitterness and division, his example is one that is a lesson to all of us involved in politics, and to the world. The reserves of inner strength that this required! He could have emerged from prison bitter—most people would have, frankly, and it would have been very difficult to have any criticism of anyone who would. But Mandela was a leader, a great leader who examined his heart, thought about the future and came up with a better way.
He understood that the way to end decades of hatred was not to promote still further hatred but to embrace forgiveness and reconciliation. Mandela talked the talk but he also walked the walk. He walked all the way to a new South Africa. We can only marvel at his example; it is an achievement of the kind that we only see once in a lifetime. People of my generation came to adulthood aware that Mandela was in prison and bewildered by the institutionalised racism of South Africa. But we did not know Mandela until he was released, and it was only after he emerged from prison with his spirit of humility and reconciliation that we truly saw his greatness. This is because his life showed us that even though some of our human instincts tempt us to respond to injustice with vengeance, ultimately anger gets us nowhere. The real answer to injustice is to work together towards its elimination. This was the genius of Nelson Mandela.
Mr ALBANESE (Grayndler) (09:30): I rise today in the House to acknowledge the passing of a constituent, friend and comrade, Peter Bulger. I came to know Pete through his deep commitment to the Labor cause, his passion for activism and ongoing contribution to the community in which he lived. Like a lot of people who get involved in political activism, Pete cared about his local community and about the nation. He imagined a better Australian society and he invested his time and his energy into making his vision real. Politics was his interest, but people were his passion—the people he met and the people he wanted to help by pursuing his vision for a better and fairer society, one in which opportunity was extended to all and progress would be achieved with equity. Pete lived by two personal mottos: 'Never give in, never surrender' and 'Life is short, so enjoy it while you can.' Those maxims summed him up perfectly; he was passionate about his beliefs, but also passionate about life and his family and friends.
Pete was born in Queensland in 1965, the son of Alan and Nola Bulger. He earned a Bachelor of Business Studies in 1985 and become a certified practicing accountant 10 years later. In 2003 he was awarded an MBA at Deakin University. Pete moved to Sydney in 1988 and settled in St Peters, in my electorate. Over the years, he worked for a range of companies, including Caltex and the Sydney Futures Exchange, as well as the New South Wales Department of Education. After arriving in Sydney, he also became involved in the Labor Party. Pete was Secretary of the St Peters-Tempe Branch for many years and strongly believed in standing up for his neighbours and surrounding community.
Pete was also a family man, the husband of Min for 17 years and the proud father of Lilly, Ruby and Ivy. In November, 2011, Pete was diagnosed with glioblastoma multiforme, an aggressive brain cancer. Despite this devastating news, Pete would not be bowed and staged a 14-month battle against his condition. After treatment, when friends asked him how he was, he would say: 'All right for someone with half a brain'.
Despite his suffering, Pete continued to fight for the things he believed in, notably for the Labor cause in Grayndler. His death came too soon—during the 2013 election campaign. His tenacity, at such a challenging time, was truly admirable. Having had the privilege of knowing Pete for many years, I can say he was a true believer, a fighter and a Labor man lost too soon.
We need to increase the research into GBM as there has been little change in diagnostic methods in the recent decade. I want to publicly express my sympathies to those closest to Peter and put on record my thanks for the support he has given me and the Labor movement in Grayndler over the years. Peter will be sorely missed.
I wish Min, Lilly, Ruby and Ivy, his three school-age children, all the best for their future.
Mr ALBANESE (Grayndler) (20:24): Everyone in this chamber, indeed everyone in this entire country, knows that they have a personal interest in the health of our environment. This is not just about the environment—of course good environmental policy is good economic policy—it is also about sustainability. We must ensure that we have a sustainable economy that acknowledges that we do live in a carbon constrained future; we must prepare ourselves for that future. We should always strive to be ahead of the curve, to be alert to global environmental issues and at all times to give the environment the benefit of the doubt.
This is also good economic policy. It is called fundamental risk management. And that is where climate change, and all issues which this parliament will consider over this year and years to come, needs to be considered. Indeed Australia being the driest continent on the planet means that we have an extra responsibility. We know what the risks of inaction are and, if we are doing our job as legislators, we should heed expert advice from the scientists and act upon it. Indeed, on the issue of climate change, I do not think there is any doubt about the need for action; there is no doubt that human activity is contributing to changes in the environment. I do not want to reprosecute that case for action today; I will leave it to the scientists who have put through the various forums—through the CSIRO in Australia or through the scientists involved in the IPCC—the facts on the table.
We must act, and we know through economic analysis and reports such as the Stern report in the United Kingdom, or indeed the work that Peter Shergold did here in Australia, that the earlier we act the cheaper the cost of action is. The alternative that has been put forward by the previous speaker, the member for Ryan, and those on the coalition benches, the so-called Direct Action plan—planting trees and storing carbon in the soil—is inadequate to address the problem. It is a bandaid on a bullet wound.
I am all for planting more trees and for soil sequestration and any other type of mitigating action that can be taken to reduce carbon emissions, but based upon what the scientists are telling us, it simply will not be enough. That is why I support a market based solution. That used to be a consensus in this parliament. John Howard campaigned in 2007 in favour of an ETS as a result of the work that was done in the Shergold report. Labor also campaigned in the 2007 election for an ETS. We did so because we understand that it is the power of the market that can drive change in our economy.
The alternative plan, the command style economy plan of the so-called Direct Action plan, simply will not be enough. Earlier this year senate officials told a Senate estimates committee hearing that the coalition's carbon farming initiative would reduce carbon emissions by fewer than four million tonnes—that is if it is all put in place. The coalition claimed that it would reduce emissions by 20 times this amount. Based on CSIRO research, the coalition would have to utilise two-thirds of the Australian land mass to achieve the emissions reduction targets they say they support.
So let us have none of this nonsense that we have heard opposite about their wanting to get rid of the price on carbon. Indeed, under the legislation that is before this House, the price on carbon will continue up until 1 July next year. If they were fair dinkum at all, they would move so that, once this legislation is carried, then the carbon price would go. But they are not fair dinkum. It is all about politics, as it always has been with those opposite.
The Carbon Pollution Reduction Scheme, which we attempted to implement after our election in 2007, consistent with the mandate that was given not just to the Labor government but to the coalition opposition, was designed as a market based solution. Indeed, Malcolm Turnbull remains a supporter of that position, because he knows that the so-called Direct Action Plan is a farce, and he has said so very clearly.
It is not just the coalition, though, who bear some responsibility for walking away from action needed for this and future generations. If the five Australian Greens senators had got up off their butts and walked across the chamber to vote for action on climate change with the Labor senators and the two Liberal senators who had courage in December 2009, we would have had a price on carbon implemented through legislation then, and today it would have been accepted as a consensus in this parliament.
In the last term, we were able to pass legislation for an emissions-trading scheme with a fixed price until 1 July 2015. Earlier this year, when Kevin Rudd returned as the Prime Minister and I was Deputy Prime Minister, we committed to the abolition of the carbon tax and a move to emissions trading from 1 July 2014, embracing the power of the market in order to drive that change through the economy. That is the position that Labor took to the election and it is the position that we hold today, and yet those opposite are not only sceptics when it comes to climate change; they are also market sceptics. That is absolutely extraordinary. From time to time, the Liberal Party likes to talk about the power of the market, but on this critical issue with such serious implications for our economy, for employment and for our environment, the Liberal Party, instead of using a market based mechanism to drive that economy, prefers to subsidise the big polluters. It is a 'pay polluters' scheme that they want.
And where does that money—the billions of dollars that is going to be used to subsidise the big polluters—come from? It comes from taxpayers. So what they want to do is slug ordinary Australian working families in order to subsidise the big polluters. That is their plan—rather than embracing the need for a price signal, one that is understood by the business community and one that would put in place a driver of that change through the economy. Those opposite pretend that they have a mandate for this and that somehow we should just agree with their position. I say this to them. We were elected in 2007 with support for an emissions-trading scheme, which they were also elected upon, and yet they walked away from that commitment.
Yesterday, thousands of Australians marched and demonstrated their desire for action on climate change. Fair Australians who have looked at the science and considered the issues know that our responsibility to this and future generations requires more than just mitigation. They know that taking action to prevent dangerous climate change is far preferable to spending money to alleviate the result of climate change. Common sense tells you that that is the case.
This is a fundamental issue between a political party that understands our responsibility to the future, our responsibility to look ahead, our responsibility to prepare for the change that is required, and those opposite, who say, 'There is a cost to carbon pollution, but we'll pass that on to future generations.' It is reminiscent of those in earlier times in our great nation who built industrial warehouses and factories alongside rivers. Why did they do that, in our capitals and regional cities? They did that because if the pollution from, for example, the sugar mill on the Cooks River, in my electorate, expunged its waste into the river then it was someone else's problem. They passed on the cost to what is now this generation for the pollution in the Cooks River, the rivers going into Sydney Harbour and other rivers right around our great nation. We see the impact of their saying, 'We will not worry about waste and externalities'—to put it in economic terms—'we will just pass that on to future generations.'
That is exactly what the coalition would have us do when it comes to carbon pollution. There is a cost to carbon pollution and we need to accept responsibility, not out of any bleeding heart position but because we know that the cost of acting will be far, far cheaper if we act now.
During the 43rd Parliament the Leader of the Opposition at the time, the now Prime Minister, sought power with a political strategy of just being negative. He just said, 'We will oppose everything.' In the hung parliament Mr Abbott was so desperate to create the appearance of chaos he refused to back anything put forward by our side of politics. The problem with that is that you now have an incoming government that does not have a plan for the future. It is just what they are against. In all of their measures—repealing the price on carbon, repealing the Mineral Resource Rent Tax, stopping various infrastructure projects going forward—there is nothing positive. It struck me when the Governor-General gave her speech to the opening of parliament last week that this is a government based upon what it is against, not what it is for.
Government requires actual solutions. It requires something more than just being negative. According to the scientists across the nation, we know that when it comes to climate change we need a positive solution—a solution that understands we must be part of international action, yes, but we also have responsibility as the highest per capita emitter in the world to take action ourselves. That is why I support Labor's position of moving from the fixed price on carbon to a flexible price mechanism through an emissions trading scheme.
Mr ALBANESE (Grayndler—Leader of the House and Minister for Infrastructure and Transport) (09:57):  I rise today to congratulate Father Joachim Rego from the parish of St Brigid's Marrickville in my electorate of Grayndler for his election in Rome at the Superior General of the Passionist Order of the Catholic Church.
Father Joachim was born in Myanmar in August 1954 and migrated to Marrickville with his family as a teenager. He attended high school at De La Salle College in Marrickville, which is now Casimir Catholic College, before joining the Passionists in 1975. He professed his first vows in 1976 and was ordained a priest in 1981.
Joachim worked for 18 years in Papua New Guinea as regional Vicar, Novice Master and Formator, and was President of the Conference of Major Superiors of Papua New Guinea and the Solomon Islands. He worked as Novice Master in the Indian Vicariate of the Passionists Congregation and also in the parish of St Brigid's Marrickville prior to his election as Provincial Superior in 2007.
Joachim is the eldest son of Mr and Mrs George and Celina Rego of Marrickville. His brother, Father Aloysius Rego, is the regional Vicar of the Discalced Carmelite Friars in Australia-Oceania. His sister Bernadette and brother Valerian live in Marrickville with their spouses and children.
St Brigid's church is just a short walk from my electorate office in Grayndler. It is well known throughout the community of the inner west for its charitable works and its commitment to social justice. My son was baptised there.
At the end of last year, I attended a function at Marrickville Town Hall to celebrate the 125th Jubilee of the arrival of the Passionists at St Brigid's in Marrickville. It was a wonderful community celebration attended by members of the parish but also members of the wider community. This is a wonderfully inclusive community that goes out of their way to celebrate the multiculturalism that makes Marrickville such a diverse, interesting and vibrant community.
In addition to the church, the parish also includes St Brigid's Primary School and Casimir Catholic College—two schools that have provided a quality education to many thousands of local families in my electorate over the years, including to Father Joachim himself.
I congratulate Father Joachim on his achievement and wish him the best of success as he embarks on a new chapter of his life in Rome.
Mr ALBANESE (Grayndler—Leader of the House and Minister for Infrastructure and Transport) (16:04):  Last week I was in Italy for high-level discussions on infrastructure and infrastructure financing and tomorrow in the House I will be welcoming the leaders of 35 infrastructure companies from Italy, many of whom are investing here, including on the Legacy Way in Brisbane and the Superway in Adelaide. The purpose of the visit was to advance that agenda and the association that we have had with Italian infrastructure companies and also have meetings about the air services agreement between Australia and Italy.
The trip also involved a visit to the City of Giovinazzo. Giovinazzo is a port city on the Adriatic Coast in the region of Apulia. It has a population of some 20,000 and is a seaside destination for Italian tourists, with its own local fishing industry. In 1989 Leichhardt in my electorate of Grayndler formed a twin city relationship with Giovinazzo in recognition of the large number of migrants from the city and other parts of the region of Apulia who have settled in the Leichhardt area. I am also half Apulian and was very pleased to be able to represent my electorate at Giovinazzo. It was an extraordinary Italian welcome. The mayor and all of the council turned up, as well as what appeared at times to be most of the city of Giovinazzo, to show us around. Meetings were held at the Town Hall and at the local community centre where school children had three walls covered with their drawings showing their feelings about Australia. Kangaroos, koalas, the Sydney Harbour Bridge and Opera House featured prominently in those drawings.
The local band played the Australian national anthem as well as the Italian national anthem at Piazza Leichhardt, which is a magnificent piazza in Giovinazzo. There were many people there, all of whom seemed to have a relative in or a connection to Australia. It was indeed a very proud moment. I note that Leichhardt has established the Giovinazzo Grove within Leichhardt Park that overlooks Iron Cove. It was a great moment and I thank the mayor, Tommaso Depalma, and other dignitaries including the carabinieri commander, municipal police commander and others who participated, including the Giovinazzo Municipal Orchestral Band, for the fine welcome. Our muliculturalism was celebrated with this event and it was indeed a proud moment and a celebration of the connection between Australia and Italy.
Today I rise in this chamber to support marriage equality.  I do so because I believe it is the right thing to do.  It is the fair thing to do.  All individuals are entitled to the right to participate fully in our society and to receive the support and protection of the law, regardless of their sexuality.
Let's be clear.  The inequality and the intolerance that many lesbians and gay men face will not immediately stop if this bill is passed.  No law can deliver that.  It will take time to pull down the prejudices that have built up over time.  What laws can do is remove institutional injustice.  That is what gays and lesbians face today.
This bill will also send an important message.
It sends an important message about acceptance of individuals in our society, regardless of their sexuality.  There are many young people right now struggling to come to terms with their sexuality.  There has been too much tragedy in the past as a result of issues relating to discrimination.  Indeed, a failure by society to offer full acceptance has led at times to people being less than frank—often with themselves, let alone with the people around them—about their sexual orientation, with consequences as a result of that.
We need to send a message that it is surely a basic right for each of us to be able to marry the person that we love.  I fail to see how the institution of marriage is weakened if more people have the right to participate in it.  My view on this comes down, essentially, to one fundamental disagreement with those who will not support this legislation, and that is that giving one group of people the rights that they have been denied does not in any way diminish the rights that currently exist for the rest of us.
That is why I have been fighting for equality for same-sex couples ever since I was elected to federal parliament 16½ years ago.  Indeed, fighting for equality is what led me to join the great Australian Labor Party more than 30 years ago.  I am proud that Labor governments were the ones to decriminalise homosexuality.  Labor governments were the ones that had the courage to confront the deadly HIV AIDS epidemic and set an example for the rest of the world.  Labor governments were the ones to advance same-sex adoption.  On each of those occasions there were people of goodwill across the political spectrum who supported equality, and I know that there are many people in the coalition who would like to vote for this legislation but who will not be able to.  I think that contrasts with the leadership that has been shown by Barry O'Farrell, the NSW Premier, in acknowledging the importance of a conscience vote on this issue in the NSW parliament.
When I first arrived in this place in my first term of parliament, I moved the same-sex superannuation legislation to remove discrimination when it came to superannuation.  At that time, that was seen as a radical piece of legislation.  I had to re-introduce it time after time.  There was no debate allocated in the chamber, and a number of times it lapsed—just a short period of time when we look at the extent of the human condition.  That legislation, coupled with another 84 pieces of legislation, passed this parliament without opposition during the last term of parliament.  Eighty-four pieces of legislation to remove discrimination: it went from being an issue of controversy to an issue which was essentially a consensus in this parliament.  That, to me, is indicative of the way in which society does move forward on issues, not just in terms of equality for people regardless of their sexual preference but on race and gender issues as well.
We as a society, particularly under liberal democracies such as we cherish here in Australia, are moving forward to embrace diversity and difference and to respect people on that basis.  So I have no doubt that in the near future the removal of this final frontier of discrimination will occur, and then I think people will recognise immediately afterwards that the sky has not fallen, that people have not suddenly changed their sexual orientation as a result of that legislation and that the institution of marriage has in fact been strengthened by the fact that more people are prepared to engage in an institution which celebrates lifelong commitments between two people who love each other.  That is what we are talking about with this legislation here.
I very much respect the views of colleagues who disagree with me on this issue.  I respect their right to say it and to participate in this debate in a constructive way.  I must say that I do not respect some of the views that have been expressed that promote intolerance and reinforce prejudice, and I know that people across the political spectrum in this parliament will agree with me on that.  I think that, regardless of what position people will take on this final legislation, overwhelmingly this debate has been constructive, and I congratulate the member for Throsby on his initiative in putting forward this legislation.  I say also to those people who support this legislation that we need to be inclusive in the way that we conduct ourselves in this debate.  We should be tolerant in the way that we conduct ourselves in this debate.  We cannot argue that we are about inclusiveness if we do not act that way ourselves, because I believe that this change is coming, just as we have removed other areas of discrimination in a range of areas.
I come down to a fundamental view: extending the right to marriage to same-sex couples in no way detracts from the rights to marriage that heterosexual couples currently enjoy.  I have had the opportunity to be married.  I see no reason why someone who happens to want to marry someone of the same sex rather than the opposite sex should not have the same right that I enjoyed.
I also think that in this debate we need to be very careful about the nature of all of our relationships.  As someone who was raised by a single mother, I say that those people who speak about the family unit as if they know exactly what is right, to the exclusion of other family relationships, need to think very carefully about the messages that they send to families who are not nuclear in their composition.
I was in a two-person family.  It was a loving family, and my mother gave me everything that a parent could give their child.  Some of the views that have been promoted in this debate question that when they question the diversity that exists in our society.
The fact is that Australia is moving forward on these issues.  Most of us have siblings, children, neighbours, friends or work colleagues who happen to be gay or lesbian.  It is a simple fact of life.  The way that Australians deal with it is just to get on with it, treating each other with respect and as equals.  We should not pretend that marriage is an unchanging institution that has been around forever, because it has not.  It has evolved just as relationships evolved, just as society evolved.  Today we recognise that couples in de facto relationships should have the same rights as married couples.  That was not the case a few years ago.  Our values and our relationships have evolved and they will continue to do so.
Many relationships, both heterosexual and homosexual, are committed, loving relationships.  It is not up to me to judge whether a relationship between a man and a woman is more important, more significant or more loving than a relationship between a man and another man or between a woman and another woman.  We do not know what goes on inside relationships.  Surely people recognise that life is more complex than that.
We need to face up to the realities of modern Australia.  We need to have faith in our fellow Australians wherever they might live.  We should have faith that Australians can and have overcome prejudice, intolerance and injustice.  Importantly, we should have faith that members of this parliament can make the decision to vote for or against this bill for themselves, which is why I supported this being a conscience vote issue at the ALP national conference—a position that put me in some disagreement with some of my colleagues.  I argued that consistently.  I argued for equality consistently.  I am very pleased to be able to support this legislation, which will be voted on today in the House of Representatives.
I look forward to the day when legislation similar to this is passed and discrimination is removed.
[ENDS]
Mr ALBANESE (Grayndler—Leader of the House and Minister for Infrastructure and Transport) (09:33): Just over a week ago, I had the honour of meeting Justin Kwon, a year 5 student at St Vincents Primary School in Ashfield. Justin's passion for prose saw him take out a top spot in the Dorothea Mackellar Poetry Awards, a nationwide competition that attracted over 10,000 entries this year. What was extra special about Justin's award was that it was in the learning assistance and special education category. Justin's passion for poetry began when he heard Dorothea Mackellar's legendary poem My Country. It is fitting that this budding poet has won an award named after his idol.
While I happily presented Justin with a book pack and a cheque for his prize, he gave me a much greater gift: a book that he made himself with poems he had written since he was seven years old and illustrations for each poem.
It is obvious that poetry is an important part of the way that Justin expresses himself. I was honoured to receive such a wonderful present. He is a credit to his parents, Oh Soo and Marissa; his teacher Robin Catchpole; and his school, St Vincent's at Ashfield. I would like to share with the House some of his poem which won the prize:
Wheels, Wings and Marvellous Things
I wish I had wheels, wings and marvellous things!
I wish I had wheels,
So I can be as fast as a car,
I can go near and I can go far.
I wish I had wheels, wings and marvellous things!
I wish I had wings
so I can fly:
I can take a trip to the blue sky!
I wish I had wheels, wings and marvellous things!
I wish I had a shell,
So I can hide,
when I am scared…
or when I'm sleepy inside…
I wish I had wheels, wings and marvellous things!
I wish I had gills
to breathe in the sea,
to conquer my swimming,
to be a different me.
I wish I had wheels, wings and marvellous things!
I wish I had springs,
so I can jump high
to feel the clouds
and the beautiful sky
I wish I had wheels, wings and marvellous things!
I wish I had muscles so I can be strong:
I can carry people all day long
I wish I had a tail, fins, a magic ring
and all sorts of marvellous things!
I wish I had wheels, wings and marvellous things,
wheels, wings and marvellous things!
This is a wonderful young man. He is in year 5 at St Vincent's at Ashfield.
Mr Neville interjecting—
Mr ALBANESE: I note the statements from across the chamber, including from the member for Hinkler, acknowledging what a marvellous thing this young man is. He suffers. He is on the autism spectrum. He expresses himself in such a magnificent way through this book of poetry. I assure other honourable members that this book that I will cherish as a prized possession, as a member of parliament, is full not just of wonderful poems but of wonderful illustrations of those poems. He is a wonderful boy and he is a great credit to his school, to his family and to the local community.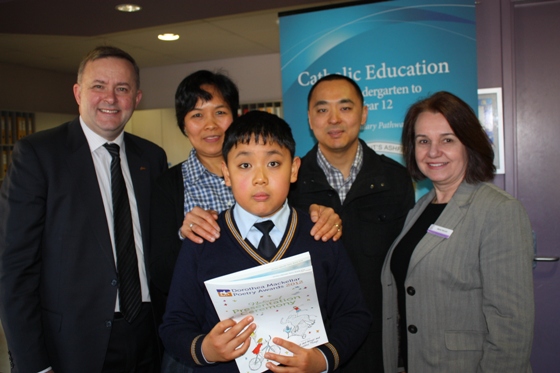 Mr ALBANESE (Grayndler—Leader of the House and Minister for Infrastructure and Transport) (16:08):  I recently visited Lebanon and Cyprus where I held meetings with senior government officials to discuss transport infrastructure, joint business opportunities, and to further improve what are very good bilateral relations between Australia and Lebanon and Cyprus.
Lebanon
My visit to Lebanon was the first by an Australian government minister since 2001 and followed the first ever visit of a Lebanese President to Australia in April this year.
Australia and Lebanon share a warm and productive bilateral relationship that is underpinned by strong community and people-to-people links. There are approximately 350,000 Australians of Lebanese descent that have made a significant contribution to Australian society in all walks of life.
In my meetings with President Michel Sleiman, Prime Minister Najib Miqati, and Speaker of the Parliament, Nabih Berri, I was given an update on the economic, social and political challenges facing the Lebanese people. In these meetings we discussed further strengthening two-way economic trade in cooperation between our nations.
I also met and was hosted by the Lebanese Minister for Public Works, Mr Ghazi Aridi, who welcomed me on my arrival and hosted a lunch with other business community leaders, and the Minister of Energy and Water, Gebran Bassil, to discuss infrastructure issues. This is the second time this year that I have met with Minister Aridi and we committed to strengthening maritime search and rescue operations at the Port of Tripoli with AMSA to provide their technical expertise.
Cyprus
Australia and Cyprus also share a close and longstanding relationship. There are over 80,000 Cypriot-born migrants and their families in Australia, making it the second largest Cypriot community outside Cyprus.
My visit to Cyprus was the second by an Australian government minister since 2007 and is my second visit to Cyprus since I entered parliament.
Australian peacekeepers have been in Cyprus since 1964. I had the honour of meeting with the men and women of the Australian Federal Police who are part of the UN Peacekeeping Force in Cyprus. I was given a tour of the buffer zone by the commander of our force, Superintendent Peter Bond. Our presence in Cyprus is greatly appreciated, and our men and women are covering themselves with distinction. As a long-term advocate of justice for Cyprus, I believe it is important that Australia retain our presence as part of the UN peacekeeping efforts.
During my visit I also met with the Minister of Communications and Works, Efthemios Flourentzou; the Secretary-General of AKEL, Andros Kyprianou; the Mayor of Limassol, Mr Andreas Christou; and the Mayor of Larnaca, Mr Andreas Louroutziatis. I also had the great honour of meeting His Beatitude Chrysostomos II, Archbishop of Nova Justiniana and All Cyprus. Larnaca is one of the biggest cities in Cyprus and has been a sister city to Marrickville since 2005.
I was pleased that my visit helped to extend the friendship between our two countries.
(Time expired)