Browsing articles in "Grayndler Media Releases"
While the battle is heating up in this excellent Test series between Australia and India, the action is even hotter for the Australian tourism industry.
The Swami Army is well and truly on the march as thousands of Indian cricket fans visit our country to catch the sporting action.
Of course, they bring with them an overwhelming love for cricket and their team, led imperiously by the brilliant Virat Kohli, but also, importantly for us, money to spend in our hotels, pubs and restaurants.
That means significant income for businesses and the creation of more jobs for Australians.
Already what has impressed so many of us this summer of cricket has been the high proportion of Indians here to enjoy the matches.
Many of the revellers are Australians of Indian decent, who, according to the 2016 census, make up about 2.8 per cent of the national population.
But thousands more will be tourists.
The 2017-18 International Tourism Snapshot showed India was by far our fastest growing market for international visitors.
While overall international tourism grew by six per cent, arrivals from India climbed by 20 per cent to 335,000.
Tourism Research Australia figures show Indian visitors stay in Australia for an average of 58 nights.
So over the rest of summer, as we watch the skills of Kohli, the awkward brilliance of Jasprit Bumrah or, hopefully, the emergence of new Australian heroes, we should also recognise the economic importance of sport-related tourism.
Of course, it will take time to assess the level of success of this year's series.
But if last year's Ashes Tour is any guide, Kohli, his team and their legion of supporters will provide a real boost to our economy.
According to research by independent consultancy firm IER 1.1 million people paid to attend an Ashes match last summer.
That included 30,608 international visitors.
IER found that the Ashes tour generated $114 million for the Victorian economy, $76.7 million for NSW, $60.7 million for South Australia, $36.5 million for Queensland, $16.9 million for Western Australia and $300,000 for Tasmania.
It's no coincidence that Victoria gained the most benefit.
The state's great and accessible stadiums, ability to attract and retain major sporting events and, above all, the sporting passion of Victorians, combine to ensure the state maximises the benefits of sporting tourism.
Indeed, after the Boxing Day Test is over and the cricket caravan moves to Sydney for the New Year Test, Melbourne will turn its sights to another big money spinner, the Australian Open Tennis.
In the 21st century, all Australian governments, along with the tourism industry, must work to exploit this growing tourism sector.
Increasing living standards, coupled with the availability of affordable airfares, mean people can afford to travel for sporting events like never before.
While that's a benefit to our capital cities that host sporting events, the right marketing can spread the benefits.
Smart tourism operators in areas near to the locations of big sporting events market themselves to sport tourists, encouraging them to visit between tour events or after they have concluded.
And sporting tourism is not only about international tourism.
Australians are also increasingly willing to travel interstate for sporting events, particularly football matches.
Combining a sporting event with a short break gives them an opportunity to watch the game and also take in local tourism offerings.
With about a million Australians already working in tourism, our industry needs to be able to adapt to changing recreational patterns so we can extract full financial benefit.
In that context is good to see that Tourism Australia has been working with ESPN in India to link cricket broadcasts to tourism promotion.
ESPN has produced 22 videos which will be viewed by millions of people as they are broadcast during the match day coverage.
Tourism Australia has also collaborated with Indian T20 batsman Shikhar Dhawan to market Australian tourism to his 11 million social media followers.
That's great work.
India is already Australia's eighth largest inbound tourism market.
With a rapidly growing middle class courtesy of an ongoing economic transformation, there is much more potential.
We must tap that potential, hopefully at the same time as we reclaim the Border–Gavaskar Trophy.
This piece was first published in today's edition of the Herald Sun. 
A LESSON IN LEADERSHIP
Let me begin with a quote:
"Infrastructure Partnerships Australia … has been fundamentally about using information and data to better inform the national infrastructure debate, allowing the sector and wider community to better discern infrastructure fact from fiction."
Those, of course, were the words of someone who is very familiar to most people in this room: Brendan Lyon.
In his decade at the helm of IPA, Brendan took a nascent industry body and transformed it into one Australia's most respected and effective public policy organisations.
Under the leadership of Brendan – and now Adrian Dwyer – IPA has more than fulfilled the mission expressed in the quote I opened with, and in so doing, highlighted the virtues of stable leadership.
To be sure, Federal politics could take a leaf out of IPA's book.
Consider this: during Brendan's ten-year tenure as CEO, there were six Prime Ministers.
And Adrian – who has only been in the role for a short period of time – is already onto his second Prime Minister, and second Infrastructure Minister.
While the comings and goings in Canberra have not been good for the nation's body politic, the stability at the top of IPA has been a key to its success.
That stability has enabled the organisation to recruit professional, dedicated staff, to develop a strong policy platform and an extensive body of research, and to build trusting relationships, not only within the sector, but also within the corridors of power around the country.
I say these things knowing that we don't always agree on everything.
Nor should we.
The long-term national interest is best served when we debate our differences and challenge each other's ideas.
Any such debate needs to take place within a framework of civility and mutual respect.
Sadly, too much of our public discourse these days lacks those two basic elements.
The predicament facing modern democracies was best summed up by former President Barack Obama who, in his last speech in office, made the following observation:
"…in the course of a healthy debate, we'll prioritise different goals, and the different means of reaching them.  But without some common baseline of facts; without a willingness to admit new information, and concede that your opponent is making a fair point, and that science and reason matter, we'll keep talking past each other, making common ground and compromise impossible."
Finding that elusive "common ground" is what makes forums like this so important.
IPA has managed to bring together some of Australia's most senior political, public sector and business leaders to engage with each other and discuss the national reforms that will fix our infrastructure.
And the need to achieve a consensus around the way forward is more urgent than ever before, particularly after five years of policy drift and complacency at the national level.
Simply put, Australia is at a critical crossroads.
As noted in a report released just this week by the House of Representative's Standing Committee on Infrastructure, Transport and Cities entitled 'Building Up and Moving Out':
"Australia is undergoing rapid change.  Population growth, urbanisation, the ageing of the population and the transformation of the economy towards service and knowledge-based industries are causing profound changes in the urban and regional landscape.
"The outcome of these changes will depend on how they are managed."
It is obvious that managing those demographic, spatial and technological changes will not be easy.
It will require national leadership with a clear, coherent vision of how we as a people can shape a better future rather than allow the forces I have just mentioned shape it for us.
There is, however, one more important ingredient to success.
Real leadership requires not only a vision and agenda for the future, but also the maturity to reach across the aisle and build bipartisanship wherever possible.
Overcoming the big infrastructure challenges facing Australia – be it in the areas of energy, telecommunications, water, and transport – will simply not be possible in a single parliamentary term or even the tenure of any one government.
Real reform takes time to deliver the desired change.
ENERGY POLICY IN DISARRAY
And if you want an example of where naked partisanship has wrecked a prevailing consensus in this country and harmed the national interest, one need look no further than energy policy.
In 2007, in what at the time was a major breakthrough, both sides of politics acknowledged that the most cost-effective way of reducing harmful emissions was to put a price on carbon.  And both major parties went to the election that year committed to implementing an emission trading scheme.
Unfortunately, that consensus only held for two years before the denialists in the Coalition, and the purists in the Greens Political Party, tore it down.
Once in government the Coalition then proceeded to dismantle the market-based mechanism that was working – emissions were falling; investment in the energy of the future was increasing.
Since then we have witnessed a debate – mostly within the Government itself – that has plumbed new depths of the absurd, and no amount of spin and denial can conceal that sad reality.
We have even witnessed the so-called party of free markets arguing for new taxpayer-funded coal-fired power stations and for governments to have the power to order private companies to divest themselves of particular assets.
We have had the Emissions Intensity Scheme, the Clean Energy Target and various versions of the National Energy Guarantee – all proposed, considered and then rejected by the Party that proposed them it the first place.
As a result, our country is now in its fifth year without a coherent energy policy.
That's five years without the regulatory certainty investors have rightly sought in order to make the investments that would have increased the supply of affordable, reliable electricity into the national grid.
Little wonder industry and households are now suffering under higher prices.
Then, when you thought the situation could not get more depressing, the Government has in recent weeks simply given up the charade of trying to have an energy policy.
It is now official: the Coalition's policy is not to have a policy.
They have thrown their hands up in the air, admitting that governing is all too hard – and that's despite Labor's repeated offer to work with them to put in place measures that would be in the long term national interest.
Understandably, the Coalition's capitulation to inertia has been condemned by the business community.  In the words of the chief executive of the Business Council of Australia, Jennifer Westacott:
"Without locking-in this overarching framework, investment uncertainty will continue to be unresolved and the national electricity market will remain unfit-for-purpose."
CITIES
There is now broad political agreement that the national government has a role to play in making our cities work better.
It is a consensus that was hard won.
Indeed, one of Tony Abbott's first acts as Prime Minister was to abolish the Major Cities Unit and retreat from our cities.
He also disbanded the Urban Policy Forum, scrapped the annual State of Australian Cities report and cancelled all public transport projects not already under construction, including the Metro in Melbourne.
Thankfully, the Abbott years were only a temporary setback.
While his successors have accepted the principle of Federal involvement in building more productive, sustainable and liveable cities, their actions have lacked substance.
Take for example Malcolm Turnbull's signature policy, City Deals.  In the view of the bipartisan parliamentary report I referred to earlier, while the program "excited much interest", it had delivered "limited results".
We must and can do better.
And that starts with having the right processes.
That's why I recently announced Labor's commitment to replace City Deals with a City Partnerships program that will foster more genuine collaboration between the three levels of government.
To achieve this we will:
Re-establish the Major Cities Unit within the independent Infrastructure Australia and task it with recommending and assessing the progress of City Partnerships.
Establish an expert panel to update strategic planning guidelines for cities as well as develop guidelines for City Partnerships, in consultation with the Minister, which include benefits to the economy.
Refresh the National Urban Policy, which I released as minister in the former Federal Labor government, to ensure City Partnerships align with its objectives in areas like sustainability and smart technology.
The challenges facing our cities are complex.
But if we are to unlock their potential, and the potential of those living in them, then we must take a holistic and strategic approach that is underpinned by evidence and good governance.
INFRASTRUCTURE AUSTRALIA
Another idea long championed by Labor that now enjoys bipartisan support is that of Infrastructure Australia and the need for an evidence-based approach to assessing the nation's immediate and long term infrastructure needs.
This is another example of where the Coalition has adopted the principle but not the substance.
While it is true they retained Infrastructure Australia, it has been effectively sidelined.
The most recent example of this was their decision to strip it of its role in advising governments on how projects can best be financed.
The Coalition handed that responsibility over to their new Infrastructure Financing Unit, even though IPA, amongst others, bluntly told the Government that such a body was completely unnecessary.
More than 12 months later, and as predicted, the unit has not brought forward the delivery of a single new project.
INFRASTRUCTURE FINANCING
That brings me to the broader issue of infrastructure financing.
It is here that the Coalition has been challenging the long standing political consensus and collective wisdom, seduced by the idea that you can build things for free; that you can essentially substitute "innovative" financing arrangements, such as value capture, public private partnerships and equity investments, for grant funding.
Don't get me wrong.  Labor readily accepts that these types of arrangements can play a role in closing the infrastructure funding gap. When we were last in office we employed innovative funding solutions to deliver a number of major projects including the Legacy Way road project in Brisbane; the NorthConnex road project and Moorebank Intermodal in Sydney; and the Gold Coast Light Rail.
If we win the coming Federal Election, we will join with the State Government to deliver South East Queensland's number one infrastructure priority, Cross River Rail, via a public private partnership.
We understand that the private sector does have an important role to play in building public infrastructure.  But governments cannot avoid the fact that they will have to stump up taxpayers' dollars if they want projects to happen, particularly urban public transport projects.
As Infrastructure Partnerships Australia has pointed out: Commonwealth Government funding support is needed for infrastructure – Commonwealth financing is not.
"If the budget seeks to materially increase the pace, quality and scale of national infrastructure investment we respectfully submit that Government policy needs to return to real options, which include grant funding…"
The bottom line is that grant funding is vital – and less of it will less infrastructure.
That's precisely what the Coalition is promising to deliver if re-elected.
As confirmed in the 2018 Budget Papers, Federal infrastructure grant funding will fall over the next four years to its lowest level since the early 2000s, declining from $8 billion in 2017-18 to $4.5 billion in 2021-22.
The independent Parliamentary Budget Office has concluded that grant funding, expressed as a proportion of GDP and based on current budget allocations, will halve over the next decade from 0.4 per cent  to 0.2 per cent.
That's a 50 per cent cut.
Alongside cutting grant funding going forward, the Government's infrastructure program thus far has been plagued by project delays, missed deadlines and botched program rollouts.
Too often grand announcements are made then nothing happens.
Over its first four budgets, this Government has invested $4.7 billion less than it promised.
That's a massive 20 per cent underspend.
Thanks to the Senate Estimates process, I can reveal that during the course of the last financial year 127 projects around the country were running behind schedule, largely the product of poor planning and inadequate project oversight.
Given the totality of the Coalition's record, it is not surprising that over their time in office Australia has slipped from 18th to 28th on the World Economic Forum's Global Competitiveness Index when it comes to the adequacy, quality and efficiency of our infrastructure.
That's my take on where we stand today as a nation.
Given the events of recent weeks, and the resulting division, chaos and suspicion that now grips the Government benches, I am sad to say I cannot see the situation improving much, at least not in the short term.
FEDERAL LABOR'S APPROACH
To those who ask what a future Labor Government would do, I would point them to our record the last time we had the privilege of governing this great nation, as well as to the fact that if we are successful at the coming election you will have in me a minister that is experienced and a known quantity.
While prime ministers may have come and gone, there has been one fixture in the Federal Parliament over the past decade and that has been Labor's infrastructure spokesman.
I have, in fact, held this portfolio for almost as long as Infrastructure Partnerships Australia has existed.
Alongside establishing institutions such as Infrastructure Australia and the Major Cities Unit to break the nexus between the three or four year electoral cycle and the much longer investment cycle, the former Federal Labor Government also:
Restored national leadership via my appointment as Australia's first ever Federal Infrastructure Minister and the creation of a Federal Infrastructure Department.
Built and upgraded 7500 kilometres of road including completing the duplication of the Hume Highway, accelerating the upgrade of the Pacific Highway to dual carriageway, and improving the safety and flood immunity of hundreds of kilometres of the Bruce Highway;
Rebuilt a third of the interstate rail freight network – some 4000 kilometres of track; and
Committed more funding to urban rail infrastructure than all our predecessors since Federation combined.
Overall we more than doubled annual Federal infrastructure spending from $132 to $265 per Australian, taking Australia from 20th out of 25 OECD countries to number 1 when it came to investment in public infrastructure as a proportion of national income.
We did all that because of and in spite of the fact that our government was confronted with the most severe and far reaching global economic downturn since the Great Depression of 1929.
It's this record that will provide the template for what we will do the next time.
In short, there will be two key elements to Labor's infrastructure agenda for the nation.
Firstly, if we are to maximise its economic, social and environmental dividends, infrastructure policy must be right. That starts with a genuine commitment to a long term strategy based on an objective, evidence-based assessment of the nation's infrastructure needs.
In practice that will involve returning Infrastructure Australia to the centre of the Government's decision making process – and respecting its advice. To that end, we will provide it with the resources it needs to perform its core functions, including assessing projects, producing an infrastructure pipeline and recommending financing mechanisms.
The importance of having an effective Infrastructure Australia cannot be overstated.
While the quantity of available investment is important, so too is ensuring that taxpayers get value for money.  It is imperative that funding go to projects that will fix an identified problem; projects where the planning has been done; projects offering the highest economic, social and environmental returns.
Simply put, the more zeros on a project's price tag does not automatically mean the project is a better solution than a cheaper alternative.
Secondly, we will reverse the projected decline in Federal investment and provide real funding to the real projects that have been identified and properly assessed by a re-empowered Infrastructure Australia.
Not only will we proceed with all the new projects announced in 2018 Budget, we will add to them to create an even more ambitious capital works program, particularly in the area of urban public transport.
A future Federal Labor Government will invest in Brisbane's Cross River Rail project.  In Sydney we will partner with the State to build the Western Metro as well as ensure the new Western Sydney Airport is connected to the City's passenger rail network from the day it opens.
Labor understands that as one of the most urbanised nations on the planet, Australia's continued prosperity will largely depend on how successful we are at making our cities work better.
That demands investment in both their road and rail infrastructure.
On energy, we will end the years of policy confusion and establish a clear mechanism that will drive down emissions while providing the investment certainty that will led to lower electricity prices for businesses and households.
On communications, we will have a broadband network built on 21st Century fibre not 19thCentury copper, a network that will not only revolutionise the delivery of essential services such as health and education, but also unleash the growth potential of our regions.
That's only for starters.
We will have much more to say about infrastructure between now and election day.
After all, Labor is the party of nation building.
CONCLUSION
Let me conclude by stating a truism: Good government is about planning and building for the future.
Indeed, in order to drive long-term economic growth, build inclusive communities and transit to a low carbon future, it is imperative that we get infrastructure policy right.
Achieving this will require collaboration between governments and with the private sector.
But above all, it will require bold thinking and long-term vision.
In short, Australia needs real leadership. Our long term national interest demands nothing less. I am confident that is precisely what the next Labor Government will deliver.
This piece first appeared in the annual publication Future Building – The Australian Infrastructure Review. It is based upon a speech to Infrastructure Partnerships Australia, delivered on September 21, 2018,.  
One year ago, the NBN HFC (Hybrid Fibre Coaxial) rollout was halted due to reliability and service issues. Australian consumers were advised the problems would delay their NBN access by between six and nine months.
Yet residents of the Inner West continue to have NBN access delayed due to the Abbott-Turnbull-Morrison Government's bungled rollout of the HFC network.
The Liberal's track record on HFC technology is nothing short of abysmal:
Parts of the HFC network were abandoned in September 2016 when it was determined not fit for purpose.
The remainder of the NBN HFC rollout was halted on 27 November, 2017, due to ongoing reliability and dropout issues.
The rollout delays have delayed NBN access for households and businesses by between six to 18 months, and cost taxpayers at least $900 million.
While the cost of the Liberals' HFC network has blown out by 60 per cent and billions of dollars, nations such as New Zealand, the US and the UK have reduced the cost of deploying Fibre to the Premises by between 40 to 50 per cent.
On every measure, the decision to abandon fibre and instead deploy HFC is costing more and delivering less.
WEDNESDAY, 28 NOVEMBER, 2018
A Shorten Labor Government will deliver a major expansion of renewable energy helping to produce the clean energy transformation that people in the Inner West and across Australia have been calling for.
Labor's policy includes a $15 billion investment in renewable energy and will allow Inner West residents to play their part in the clean energy revolution, through a new target that can see 1 million household batteries being installed by 2025.
Our plan includes a commitment to 50 per cent of electricity coming from renewables and a 45 per cent reduction in carbon emissions by 2030.
In Government we established the enormously successful Clean Energy Finance Corporation and if elected again will turbo charge the CEFC with an additional $10 billion investment,  to drive the shift to renewable energy.
With the Morrison Government having completely abandoned energy and climate change policy, the hopes of Australians who want a clean energy future depend on changing the Government at the upcoming election.
People in the Inner West know that we need a Labor Government to get our nation's climate change and energy policies back on track.
Through Labor's plan residents in Grayndler will have assistance to slash their power bills and help in the national effort to reduce emissions, by installing household batteries in their homes.
Our Household Battery Program will provide a $2,000 rebate for 100,000 households on incomes of less than $180,000 per year to purchase and install battery systems, as well as low-cost loans for households.
Our target of 1 million new batteries to be installed by 2025 would triple the number of battery systems in Australian households compared to today.
Labor's plan for more renewable energy and cheaper power also includes:
Establishing a $5 billion Energy Security and Modernisation Fund to future-proof our energy network by building and upgrading Australia's energy transmission and distribution systems.
Continuing to pursue a National Energy Guarantee which was abandoned by the Morrison Government under pressure from the hard right of the Liberal Party.
The former Labor Government took the number of households with rooftop solar from 7000 to 2 million and delivered the Renewable Energy Target of 20 per cent by 2020.
FRIDAY, 23 NOVEMBER, 2018
Former Foreign Minister Gareth Evans will deliver the annual Tom Uren AC Lecture next month to commemorate the life of the former Australian politician, prisoner of war and peace activist.
Mr Uren, who served as a minister in the Whitlam and Hawke Governments, and as Deputy Labor Leader, died on Australia Day, 2015, after an extraordinary life of progressive activism.
The annual Tom Uren AC Memorial Lecture was established by Labor Party branches in my electorate of Grayndler to build upon Tom's intellectual legacy and lifelong commitment to peace and justice.
This year's address will take place at 2pm on Sunday, December 2, at the Petersham Town Hall. The date is also the 46th anniversary of the election of the Whitlam Labor Government.
As one of Labor's most distinguished former foreign ministers, Professor Evans is the perfect choice to deliver this year's Tom Uren Lecture.
Professor Evans, who is Chancellor of the Australian National University, has a long and proud record of promoting peace, disarmament and justice, both in Government and as an individual.
His topic will be: Australia in the World: It's Time to Punch Our Weight.
Last year's inaugural Tom Uren AC Lecture was delivered by the Nobel laureate and former President of Timor-Leste, Jose Ramos-Horta.
Having someone with Professor Evans' experience and gravitas as this year's speaker will cement the Uren Lecture as a significant annual contribution to the Australian political and intellectual calendar.
At today's community rally to save Dawn Fraser Pool I announced that an elected Federal Labor Government would commit $2 million to restore one of Australia's oldest swimming pools and most precious heritage assets.
Dawn Fraser Pool is loved by many Australians, but without an urgent heritage restoration we may see the doors of our famous Baths closed forever.
Federal Labor's $2 million commitment, in addition to the $4.5 million already dedicated by the Inner West Council and the $1 million announced today by the NSW Labor Opposition will provide the funds needed for a full refurbishment of the Baths.
In 2016 at the Federal Election I stood with the community and committed funding towards the renovation of the Baths.
Subsequently, the Inner West Council has completed a Master Plan for the Pool that identified urgent works needed to make the facility safe and accessible for the public and sporting clubs.
Works that will be delivered in the upgrade include:
• Raising the boardwalk, South Pavilion and Central Pavilion to overcome sea level rises
• Installing Water Polo lighting so that the UTS Balmain Tigers Water Polo Club can continue to play at their historic home
• Reconstruction of the South and Central Pavilions
• New bathroom and change rooms on ground floor
• Storm water upgrades
• Refurbishment of the piers
Our increased funding commitment is in recognition of how precious Dawn Fraser Pool is and its value to the community.
For more than 130 years children have learned to swim at these baths.
The Balmain Water Polo and Swimming clubs, who also call the Baths home, have produced multiple Australian representatives and Olympic gold medallists.
It's time to make sure that this proud history is carried on at Dawn Fraser Pool for another century to come.
SATURDAY, 13 OCTOBER, 2018
Anthony addressed the Parliament today about the NSW Government's decision to close Globe Wilkins Preschool. The full speech is below:
I rise to express my solidarity with the more than 500 Inner West residents who gathered yesterday to protest against the New South Wales Government's decision to close Globe Wilkins Preschool, located in my electorate.
The school's been operating for over 20 years, from dedicated classrooms on the grounds of Wilkins Public School in Marrickville. And it's one of only 20 preschools right across Australia to hold an Excellent rating – awarded by the Australian Children's Education and Care Authority.
There is indeed a national perspective for this. Because Globe Kindergarten was relocated after the third runway was built because it was deemed to be an inappropriate place to have a childcare school right under the flight path, in its location where it was in Marrickville.
I have been informed indeed that the level of care and quality of teaching at Globe Wilkins is second to none. The team of educators at the preschool are highly valued by children and parents for their dedication to their work and to the community.
The NSW Education Department has told them, that when the lease of their premises expires in 2019, Wilkins Public will require the classrooms to return to school use during the day. Which will result in the preschools' closure.
Ironically, the NSW Government has announced in their Budget a commitment to increasing preschool numbers. You don't do that – You don't support early childhood education if you are closing a vital local community facility.
The NSW Government must reverse this decision.
On Sunday I was invited to open the Footprints Ecofestival at Whites Creek Valley Park in Annandale.
Despite the rain, Inner West residents came out to celebrate the eighth year of the festival, participating in a variety of sustainable living workshops and visiting stalls representing community environmental groups. There was also a performance by Peppa Pig on the main stage for local families.
Cheree Toka was present at the festival gathering signatures for her petition to have the Aboriginal Flag flown permanently atop Sydney's Harbour Bridge.
The online petition has over 90,000 signatures already, however 10,000 hard copy signatures are needed in order to be presented to the NSW Parliament and considered for debate.
Social equality and environmental sustainability are issues that need to be addressed locally as well as globally. The Footprints Ecofestival is an ideal forum for addressing these issues from the bottom up and I am looking forward to opening next year's festival.
MONDAY, 27 AUGUST, 2018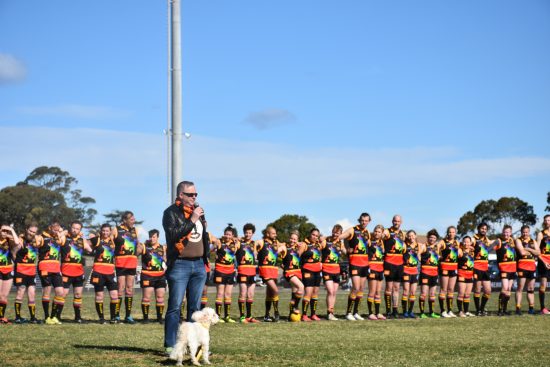 On Sunday the Inner West community gathered at Henson Park for the seventh Sydney Reclink Community Cup.
Local residents braved very cold weather to witness a fantastic charity football match between teams comprised of Sydney-based journalists (The Sailors) and musicians (The Walers).
I was pleased to open the game with Reclink founder John Ballis and toss the coin before the first bounce, as well as moonlighting as a commentator throughout the match.
The Sydney Reclink Community Cup is an extraordinary event  that raises money through ticket sales and donations for the Reclink organisation.
Reclink is a charity that assists at-risk and marginalised young people and helps to connect them with the mainstream of society through engagement with sportspeople and artists.
The Walers recorded back-to-back victories, following five successive years in which The Sailors prevailed.
I am looking forward to next year's match and working with the organisation locally to help at-risk young Australians.
Anthony addressed the Parliament today in tribute to Italian community leader Giuseppe Fin, who recently passed away. The full speech is below:
Last Friday it was my honour to be at the farewell for Giuseppe Fin, or Joe Fin, as he was known, one of the founders of CO.AS.IT, the Italian welfare organisation in Australia.
The farewell at St Fiacre's Catholic Church in Leichhardt was, of course, packed. Without doubt, he was probably the most significant leader of the Italian community in Sydney over the last century. He and his wife, Patricia—she was an organist at St Fiacre's way back, many decades ago—raised eight children; many, many grandchildren and great-grandchildren. They were all there to farewell this great community leader.
He'd been active in the Catholic Church in Italy before migrating to Australia in 1956. He, through CO.AS.IT, founded a bilingual school, which is now a very successful Sydney institution. He moved into aged care, into welfare, into providing services for people who'd migrated to this country, and CO.AS.IT became a national organisation.
To all of Joe's many friends as well as his family and the Italian community of Sydney, I pay tribute to his great contribution.