Browsing articles in "Grayndler Media Releases"
Craft brewers in Sydney's Inner West have formed an industry association that aims to turn the precinct into the craft beer capital of Australia.
The formation of the Inner West Brewery Association follows a forum of microbrewers I hosted in March to explore ways in which the Federal Government can assist the burgeoning industry, which is worth $400 million a year.
Among the concerns of the brewers is the fact that Commonwealth excise rates are higher for small kegs than larger kegs, which puts the brewers at a competitive disadvantage in relation to big brewers.
I am disappointed this anomaly was not addressed in the 2017 Budget but will continue to support the industry in its push for sensible reform as well as regulatory change at the state and local government levels.
Indeed, I intend to move a motion supporting the craft beer industry in the House of Representatives next Monday.
Craft brewing offers huge potential for jobs growth in the brewing and hospitality sectors in Sydney and around the nation.
There are also great opportunities for craft beer tourism – whereby operators set up walking tours for enthusiasts who visit several breweries to sample different types of beer.
Craft beer tours are already available in the Inner West as well as in Adelaide and Melbourne and other parts of the country. I look forward to working with the new association to seek to further exploit that potential.
If we get the policy settings right, craft brewing could deliver thousands of new jobs.
The Inner West Craft Brewery Association includes Wayward Brewing Company, Young Henry's, Batch Brewing Company, Willie the Boatman and Grifter Brewing Company.
FRIDAY, 16 JUNE, 2017
On Saturday the doors of Balmain's Town Hall were thrown open to greet families from the Inner West for Welcoming the Babies, an event I have now hosted four times, to help celebrate the arrival of the newest citizens in Grayndler.
This is the first time Welcoming the Babies has been held within the new boundaries of my electorate on the Balmain peninsula.
The event was a fantastic opportunity to celebrate our growing local community and recognise the hard work of parents and guardians. The ongoing baby boom in Balmain and neighbouring suburbs is something to celebrate
Welcoming the Babies is also a great way to find out about local community services and I thank the many local businesses and organisations who donated gifts and provided information for the packs that were presented to families.
I look forward to hosting the event again in the near future.
The NSW Government's planned privatisation of Inner West bus services will result in worse not better transport for commuters across the region.
As the Member for Grayndler and the Shadow Minister for Transport I will fight alongside the public to prevent this privatisation from proceeding.
The sell-off of services will lead to routes being cut, jobs being lost, fares increasing and service levels dropping.
Hundreds of thousands of people in the Inner West, including workers, students and pensioners depend heavily on public bus services. Any reduction in services will have a real impact on their lives.
Andrew Constance has launched this attack on Inner West passengers without warning.
His actions have caused disruption to services and Premier Berejiklian should step in before the Minister does any more damage.
After months of lobbying I welcome the good news that our community legal centres have been saved from the devastating cuts planned by Malcolm Turnbull's Government.
The Coalition and Attorney-General George Brandis had been planning to cut community legal centre funding nationwide by 30 per cent, on July 1 this year.
These cuts would have resulted in a great loss of legal advice provided without charge to some of our most vulnerable Australians.
Marrickville Legal Centre, located just down the road from my electorate office, is a typical example of a community legal centre whose services would have been put at risk from the cuts.
The centre provides essential legal assistance with problems ranging from family law disputes to tenants' rights, and issues with domestic violence.
Annette van Gent, the Principal Solicitor at Marrickville Legal Centre has welcomed the changes saying:
"In practical terms, it will mean that we can continue to provide legal services for the most vulnerable in our community including young people, and other people escaping family violence and people who have lost or are at risk of losing their homes and jobs."
 This backflip by the Coalition means that Marrickville Legal Centre can continue to fully fund their Youth Solicitor position.
While this announcement is welcome, there is still a high degree of uncertainty about the future of community legal centre funding from Federal and State Governments.
Labor will ensure that current funding amounts are secured, so that all Australians have access to our justice system through local organisations like the Marrickville Legal Centre.
The Nobel laureate and former President of Timor-Leste, Jose Ramos-Horta, will deliver the inaugural Tom Uren AC Lecture on May 7 to commemorate the life of the former Australian politician, prisoner of war and peace activist.
Mr Uren, who served as a minister in the Whitlam and Hawke Governments, died on Australia Day, 2015, after an extraordinary life of progressive activism.
Labor Party branches in my electorate have established the annual Tom Uren AC Memorial Lecture to build upon Tom's intellectual legacy and lifelong commitment to peace and justice.
Dr Ramos-Horta is the perfect choice to deliver the inaugural address given Tom's dedicated advocacy for independence for Timor-Leste.
In 2013 the Timor-Leste Government awarded Tom the Order of Timor-Leste Medal for his long-standing support for self-determination for the East Timorese people.
On the occasion of Tom's death, the Timor-Leste Government released a statement which described him as "a man of dignity and courage''.
"Tom spoke powerfully many times over the years of struggle about what was happening in Timor-Leste and consistently gave support to Australian activists working in solidarity with the Timorese people,'' the statement said.
Dr Ramos-Horta will focus this inaugural Tom Uren AC Lecture on justice for Timor-Leste with regard to the disputed gas fields in the Timor Sea.
The lecture is being inaugurated with the active involvement of Tom's family.
It will take place at the Balmain Town Hall, in the suburb where Tom was raised and lived his final years.
For ticket information: https://tom-uren-lecture.eventbrite.com.au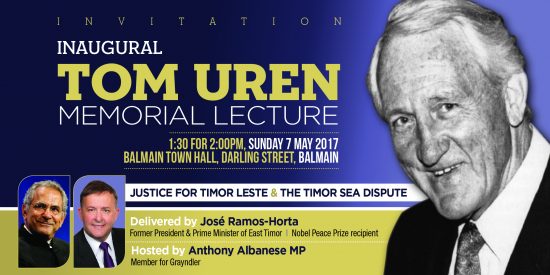 I welcome today's announcement by Westconnex Minister Stuart Ayres ruling out creating a construction site next to the Leichhardt campus of Sydney Secondary High School.
This reckless proposal would have caused considerable disruption to the education of the almost 1000 students at the High School.
I congratulate the P&C, staff, students and the broader school community for their strong campaign against this absurd idea.
I am proud to represent an active and spirited community prepared to work together to defend its interests.
This outcome follows wins for the community with the saving of Blackmore Oval in Leichhardt, Ashfield Park and Rozelle's Easton Park from being sacrificed for the Westconnex project.
Sydney needs infrastructure. But it should not be done at the expense of proper community consultation and the best possible outcome.
The craft brewers forum which Joel Fitzgibbon and I hosted last night was a great success, with more than a dozen businesses coming together to discuss how to boost the industry across Australia and make the Inner West the craft brewing capital of Australia.
The forum, hosted by Wayward Brewing Company in Camperdown, included representatives from successful brewers including Willie the Boatman, Young Henry's, Batch and Grifter.
The brewers identified a range of policy challenges at the federal, state and local government levels which are holding back the growth of the industry.
Joel Fitzgibbon and I intend to take up the cause of the craft brewing industry through the Parliament and to advocate for solutions to the problems they face.
The growth of the craft beer industry in recent years and the emergence of new breweries across the nation has been exciting.
The industry already makes up approximately 9 per cent of the Australian beer market and was estimated to be worth $400 million in 2015-16.
I want to develop a practical plan for how government can better assist this growing industry which is already boosting the national economy and cultural life of Australia.
I share the ambition of brewers in my electorate to make the Inner West of Sydney the craft brewing capital of Australia.
I will work with them, and others in regional areas, to deliver the support required to build their breweries as tourist attractions as well as to grow the industry including realising the potential of Australia craft beer as an export product.
The decision by the NSW Government to propose the former tramsheds next to the Leichhardt campus of Sydney Secondary College as a potential construction site for WestConnex is almost beyond belief.
In recent days the Government informed residents it wanted to use this piece of land as a dive site for the construction of the tunnel for the Westconnex tollway.
This Government dumped this absurd and reckless proposal on residents last week in a letter that exemplifies the appalling lack of proper community engagement that has caused so much resentment.
This crowded school has argued for years the tramsheds should be incorporated into the school to take pressure off the overcrowded space.
Instead, the Government is proposing it as a dive site for the construction of the tunnel for the WestConnex tollway.
This site is entirely inappropriate.
The letter to residents highlights why the planning for this project will be regarded as worst case practice. It declares that "Sydney Motorway Corporation will soon release a design report that includes the latest tunnel route, all shortlisted M4-M5 Link potential construction sites and other details".
It is remarkable that they have begun to dig a tunnel without knowing where it is going.
They are literally making it up as they go along.
Sydney needs infrastructure. It does not need utter contempt for communities while it is being built.
The motivation for using NSW Government land which should be a part of the Leichhardt school site is simply greed. If they turn this into a construction site it will save them from purchasing private land for the construction site.
Premier Berejiklian should intervene and rule out this proposal. Today.
Today I have joined with victims from my electorate of Grayndler to speak out about of the Turnbull Government's Centrelink debt debacle.
Over the Christmas and New Year period I have been inundated with calls from constituents distressed because they have been issued debt notices and threats of debt recovery action for debts that they never incurred.
Thousands of people with disability, students, pensioners and people recovering from life threatening illnesses are being told by the Turnbull Government that the onus is on them to prove that they have not acted fraudulently.
These people represent the human cost of the Government's actions.
They deserve to be treated with dignity, which is why Labor's Shadow Minister Linda Burney has today called for the Commonwealth Auditor General to investigate this fiasco.
Today Paul Shetler, the handpicked head of Malcolm Turnbull's own digital transformation office has described this bungle as "cataclysmic".
He has rightly stated that any commercial entity that that was sending incorrect debt notices to 20 per cent of its customers would go out of business.
This Government is treating vulnerable people with no respect.
Whenever this Government feels it is losing control of the agenda, it makes a huge show of targeting people on welfare, for purely political purposes.
In this case they are sending threatening letters to people who have done nothing wrong and whose only crime is that they have at some point received welfare benefits.
Of course we should require people who have been overpaid to repay their debts but there is never any excuse for politicians exploiting vulnerable people for political gain.
It is time for the Prime Minister to intervene and make sure that Australians are treated fairly and respectfully by Centrelink and not denigrated by his Government.
Today I was pleased to attend the opening of the Food Pantry at Addison Road Community Centre. The event also served as the launch of the Mind the Gap Report into increasing inequalities faced by multicultural communities in the Marrickville area.
The Food Pantry will provide quality groceries and household products at affordable prices, plus free fruit, vegetables and bread for disadvantaged and vulnerable people in the Inner West.
Earlier this year I helped deliver a $20,000 grant for Youth off the Streets, located adjacent to the Food Pantry, to fix their outdoor deck and provide a community BBQ and shade sail.
I am going to continue to work with the team at Addison Road to make the Centre becomes an even more welcoming place for all local residents.
Diversity is the strength of our Inner West community and to protect that we must always offer a helping hand to people who are doing it tough.
I am very pleased to have been able to support the establishment of the Food Pantry which will help make sure that low income families have access to affordable nutrition.