Browsing articles in "Grayndler Media Releases"
A Labor Government will ensure frontline legal services receive approximately $43 million in funding over three years from 1 July 2016 so they can keep doing their vital work.
Community Legal Centres, like the Marrickville Legal Centre in my electorate, help vulnerable people at times of great need, when they are unable to pay for legal help themselves.
Despite the importance of these frontline services Malcolm Turnbull and George Brandis have cut millions of dollars from Community Legal Centres, Legal Aid Commissions and Aboriginal and Torres Strait Islander Legal Services over the past three years.
160,000 people were turned away from Community Legal Centres last year alone and Centres face a 30 per cent funding cut on 1 July 2017, which will see many centres having to close their doors to clients.
The Marrickville Legal Centre is typical of many CLCs across the country.
Its hardworking staff assist a large range of clients with diverse legal issues, from tenants' rights, to domestic violence, to family law disputes, and they are frequently overwhelmed with demand.
It is a crucial part of our inner west community and worthy of support.
Other community legal services that will also receive additional funding under Labor include the Tenants Union of NSW, Financial Rights Legal Centre, Court Support Scheme, the Australian Centre for Disability Law, Inner City Legal Centre, HIV/AIDS Legal Centre, the Immigration Advice and Rights Centre, Seniors Rights Service and the Welfare Rights Centre.  These services will receive over $1.8 million in much-needed funding over three years.
Access to justice is a fundamental right of all Australians.  Only Labor will ensure that right is safeguarded – the only guarantee you will get from the Turnbull Government is further funding
Today I joined the Shadow Minister for Communications, Jason Clare and the Deputy Leader Tanya Plibersek at the FBi studio in Alexandria to announce $5.6 million in funding for independent community radio.
Community radio is the independent voice of our communities.
As the NSW Young Labor President I led a successful campaign to make JJJ a national radio network, lobbying people like the-then Prime Minister Bob Hawke.
More than five million people have access to community radio, with a broad reach not only in our cities, but in rural and regional Australia.
Community radio makes a significant contribution to media diversity and local content, and plays a particularly significant role for Indigenous, print handicapped, ethnic and religious communities.
But in his first Budget as Prime Minister Malcolm Turnbull cut $5.6 million from community digital radio.
According to the Community Broadcasting Association of Australia, 37 community digital radio services are facing closure altogether from 1 July 2016.
Labor knows these services are a valued part of Australian culture, and we will restore funding to ensure continued delivery of community digital radio services in Sydney, Melbourne, Brisbane, Perth, and Adelaide.
This $5.6 million commitment over four years – $1.4 million per annum – will assist with digital platform and infrastructure costs including data connectivity, linking, multiplexing and transmission.
Labor introduced digital radio in Australia and we have a strong track record of supporting community broadcasting.
Independent radio voices should not disappear from our communities – Labor's support will make sure community broadcasting continues to thrive.
It was a pleasure to address The Infants' Home Children's Carnival on Saturday and announce their successful application for a $20,000 grant through the Stronger Communities Program.
This will go towards the Sydney Child Development Clinic Upgrade project – Sydney's first integrated and coordinated early intervention clinic in an existing The Infants Home building.
The Sydney Child Development Clinic will focus on providing early intervention health support services to families of children with a disability.
It will form an integral part of The Infants' Home hub, providing fully integrated community services that focus on best practices for children and families, and also support preventative health initiatives within the community.
The Infants' Home plays an important role in the inner west community.
Their commitment to providing inclusive spaces for all children makes such a positive difference.
Saturday's Children's Carnival is testimony to their dedication to the local community, which hundreds of families attended.
I want to acknowledge the work of CEO of The Infants' Home, Anita Kumar, as well as her team, and wish them all the best with the upgrade.
The NSW Federation of Community Language Schools will receive a funding boost of $20,000 as part of the Stronger Communities Program administered through my office.
President of the NSWFCLS, Albert Vella OAM, has welcomed the announcement, which will go towards upgrading and refurbishing the new offices in Dulwich Hill.
The new premises will function as a multicultural hub, with organisations and members of the CALD community able to access rooms to host meetings and other activities.
"We want our space to encourage people to provide services, projects and activities and have some autonomy in how they support the needy in their community," Mr Vella said.
For nearly 40 years the NSWFCLS has worked to sustain community languages and promote multiculturalism.
The NSWFCLS also plays an essential role in ensuring that people who might feel isolated because of their background have access to the services they need.
People come to the inner west because of its vibrancy and diversity.
We are lucky to have such cohesive neighbourhoods and communities and in part this is because of the work of organisations like the NSWFCLS.
I want to thank Albert Vella and Michael Christodoulou for their commitment to supporting diversity within our community and wish them all the best in their move to the new premises.
It's with great pleasure that today I join Geoff Richardson to officially open the new premises of Doorstep Organics – Australia's largest organic delivery service.
More than 20 years ago, in 1995, Geoff and partner Carolyn launched www.doorstep.com.au – the Australian organic industry's first website.
For the first time ever, this meant that the online purchase of organic produce in Australia was a possibility.
Their son Peter and partner Georgia joined the business in 2005 and the business moved from the family's Kangaroo Valley farm to a small warehouse in Alexandria.
When they quickly outgrew that Doorstep moved to Meeks Road in Marrickville until late last year.
By that time, demand for organic produce had grown so much the Meeks Road warehouse became too small, and it is with great delight that we officially welcome Doorstep Organics to Chapel Street in Marrickville today.
This is a great example of a local family business that has stayed local.
It also showcases the important role small businesses play in our community, by providing employment opportunities for locals.
I want to congratulate Geoff and his family on the success of their business, thank them for having me here today and wish them all the best for the future.
A Shorten Labor Government would invest $7.25 million in the Cooks River to Iron Cove Greenway, creating a continuous pedestrian and cycleway along the length of the corridor.
Eleven missing links have been identified along the 5.8km corridor, which connects the Parramatta River at Iron Cove to the Cooks River at Earlwood.
Recently the NSW Minister for Transport, Andrew Constance, met with State MPs whose electorates encompass the Greenway and indicated the NSW Government's willingness to fund half the costs of completing these missing links.
Given the outrageous decision by the State Government to dismiss elected local councils and replace them with an unelected administrator this will further delay the completion of this vital project.
Federal Labor will step in and fund 50% of the costs to ensure that this project can be completed and that the NSW Government has no excuse for any further delay.
The previous NSW Labor Government fully funded the Greenway so that it would run along the full length of the inner west light rail line.
Yet upon being elected in 2011, the NSW Liberal Government cut all funding for the Greenway project.
The Baird Government now needs to officially make its offer to cover 50% of the costs – the time for excuses is over.
Linking active transport through walking and cycling to our public transport systems is a key part of sustainable urban design.
We understand that here in the inner west our open, green spaces are precious and deserve investment.
The Greenway will benefit many local families, particularly kids who can safely travel to school along the route.
Importantly cyclists and pedestrians will no longer have to cross Parramatta Road or Longport Street.
Inner west residents are eager for the Greenway to finally be completed.
I'm pleased to announce today that a Federal Labor Government will help make this happen by providing a guaranteed source of funding.
A Shorten Labor Government will invest $1.25 million in the Australian Bicycle Council to ensure the ongoing development of a national cycling strategy.
The former Labor Government funded the Council in 2011 so it could develop the 2011-2016 National Cycling Strategy, in consultation with Australia's Transport Ministers and other interest groups.
The 2011-2016 strategy saw a number of improvements nationwide, which included the introduction of pedal-assist bicycles, consistency in design guidance for bicycle infrastructure, the publication of national metrics and reporting on cycling participation, safety, integrated planning and government investment in cycling.
With funding set to end in December this year, the Turnbull Government is jeopardising the development of this active transport policy by refusing to commit to any additional funding.
The Turnbull Government is kidding itself if it believes there is no further work to be done on active transport projects.
In contrast, Labor understands that our cities face challenges of increased congestion, which is why we will prioritise the cycling strategy.
A Shorten Labor Government will require that all projects submitted to Infrastructure Australia add another criterion to its assessments – the inclusion of active transport modes including cycling and walking.
We will also continue to work with States and Territories to consider establishing a new Walking, Riding and Access to Public Transport Council, as outlined in the 2013 Walking, Riding and Access to Public Transport report.
Linking active transport through walking and cycling to our public transport systems is a key part of sustainable urban design.
That's why today, we are also announcing that a Shorten Labor Government will invest $7.25 million in the Cooks River to Iron Cove Greenway to create a continuous pedestrian and cycleway along the length of the corridor.
"This is an example of how practical funding can make a significant difference to the local community," Mr Albanese said.
"Having lived in the inner-west my whole life, I understand that our open, green spaces are precious and deserve proper investment.
"The Greenway will benefit many local families, particularly kids who can now safely travel to school along the route, without having to cross Parramatta Road.
Today's announcements build on Labor's plans to improve our cities and ensure they are productive, sustainable and liveable.
I welcome the decision of the Commonwealth Auditor General to conduct an Australian National Audit Office performance audit of the approval and administration of the Commonwealth funding for Sydney's WestConnex toll road project.
News of the inquiry follows me writing to the Auditor General on 16 January, 2016 and meeting with him to discuss the project on 4 February, 2016.
It also follows me raising this issue with the Joint Public Accounts and Audit Committee of the Parliament.
Labor has consistently raised concerns about the advance payments made by the Liberal Government for major infrastructure projects like WestConnex without Infrastructure Australia assessment or the finalisation of business cases.
In the case of WestConnex, the Commonwealth made a $2 billion advance loan to the NSW Government for the project as well as a $1.2 billion grant including advance payments prior to any business case being finalised.
That was a direct breach of the Liberals' 2013 election promise not to fund major infrastructure projects without the finalisation of cost-benefit analysis.
The audit will consider whether the project was, "informed by appropriate advice and made through the processes that have been established to assess the merits of nationally significant infrastructure investments."
It will also consider whether appropriate advice was given for milestone payments to be made, given that almost all of the funding has been forwarded well in advance of the project being completed.
The audit will also consider questions relating to the finalisation of concessional loans to the NSW Government for the project and whether they represented value for money and protected the Commonwealth's interests.
The WestConnex audit follows the Auditor General's damning report on Melbourne's East-West Link toll road, also conducted after representations by myself to the Auditor General.
It was a Labor Government that established Infrastructure Australia, to have proper processes for assessing the economic benefits of infrastructure projects and for this advice to guide investment decisions by the government.
It is clear that the Abbott-Turnbull Governments have undermined this process and their own election promises by cutting public transport projects that had been properly assessed in order to make advance payments for toll road projects that have not been properly assessed.
A Shorten Labor Government will restore integrity to the process of infrastructure policy and development.
Letter from Auditor-General to Mr Albanese (WestConnex) – 18 May 2016
Today the NSW Liberal Government has announced they will force local government amalgamations despite the fact that the inner west community has completely rejected this idea.
The Baird Liberal Government has not listened to people in the inner west.
Throughout this process, inner west residents have made it very clear that they are against the local government merger proposal.
Now it is clear that this amalgamation process is simply a Liberal Party gerrymander.
The dismissal of elected Mayors and Councillors and the appointment of an unelected and unaccountable administrator is an outrage.
I do not support the NSW Liberal Government's forced mergers – they should listen to inner west residents, who have made their position on this issue clear.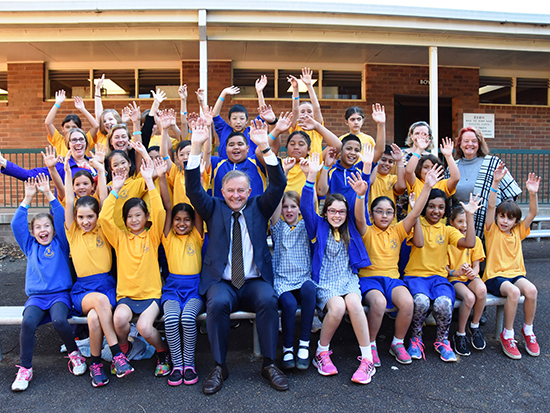 Congratulations Marrickville Public – winner of the national My Park Rules competition.
After 100 entries and 30,000 votes cast across the nation, Marrickville Public School's entry was first judged the best in NSW, and now it is the best in the nation.
The award winning design, developed by Marrickville Public students in partnership with a team from TRACT, will now become a reality.
Initiatives like My Park Rules show how we can work with communities to provide well-designed parks and green spaces.
We know that green spaces do more than just give us somewhere nice to play or sit in – they make us healthier, happier and provide places of reflection in our ever growing urban spaces.
Importantly green spaces also cool our concrete landscapes to mitigate the urban heat island effect.
In areas like the inner west our parks and green spaces make a big difference.
I know how important this well-deserved win is to the Marrickville Public community.
It's a pleasure to join students and teachers from Marrickville Public, members of the inner west community, AILA and the 202020 Vision initiative for this exciting announcement today.