Browsing articles in "Grayndler Media Releases"
A Shorten Labor Government will invest $1.25 million in the Australian Bicycle Council to ensure the ongoing development of a national cycling strategy.
The former Labor Government funded the Council in 2011 so it could develop the 2011-2016 National Cycling Strategy, in consultation with Australia's Transport Ministers and other interest groups.
The 2011-2016 strategy saw a number of improvements nationwide, which included the introduction of pedal-assist bicycles, consistency in design guidance for bicycle infrastructure, the publication of national metrics and reporting on cycling participation, safety, integrated planning and government investment in cycling.
With funding set to end in December this year, the Turnbull Government is jeopardising the development of this active transport policy by refusing to commit to any additional funding.
The Turnbull Government is kidding itself if it believes there is no further work to be done on active transport projects.
In contrast, Labor understands that our cities face challenges of increased congestion, which is why we will prioritise the cycling strategy.
A Shorten Labor Government will require that all projects submitted to Infrastructure Australia add another criterion to its assessments – the inclusion of active transport modes including cycling and walking.
We will also continue to work with States and Territories to consider establishing a new Walking, Riding and Access to Public Transport Council, as outlined in the 2013 Walking, Riding and Access to Public Transport report.
Linking active transport through walking and cycling to our public transport systems is a key part of sustainable urban design.
That's why today, we are also announcing that a Shorten Labor Government will invest $7.25 million in the Cooks River to Iron Cove Greenway to create a continuous pedestrian and cycleway along the length of the corridor.
"This is an example of how practical funding can make a significant difference to the local community," Mr Albanese said.
"Having lived in the inner-west my whole life, I understand that our open, green spaces are precious and deserve proper investment.
"The Greenway will benefit many local families, particularly kids who can now safely travel to school along the route, without having to cross Parramatta Road.
Today's announcements build on Labor's plans to improve our cities and ensure they are productive, sustainable and liveable.
I welcome the decision of the Commonwealth Auditor General to conduct an Australian National Audit Office performance audit of the approval and administration of the Commonwealth funding for Sydney's WestConnex toll road project.
News of the inquiry follows me writing to the Auditor General on 16 January, 2016 and meeting with him to discuss the project on 4 February, 2016.
It also follows me raising this issue with the Joint Public Accounts and Audit Committee of the Parliament.
Labor has consistently raised concerns about the advance payments made by the Liberal Government for major infrastructure projects like WestConnex without Infrastructure Australia assessment or the finalisation of business cases.
In the case of WestConnex, the Commonwealth made a $2 billion advance loan to the NSW Government for the project as well as a $1.2 billion grant including advance payments prior to any business case being finalised.
That was a direct breach of the Liberals' 2013 election promise not to fund major infrastructure projects without the finalisation of cost-benefit analysis.
The audit will consider whether the project was, "informed by appropriate advice and made through the processes that have been established to assess the merits of nationally significant infrastructure investments."
It will also consider whether appropriate advice was given for milestone payments to be made, given that almost all of the funding has been forwarded well in advance of the project being completed.
The audit will also consider questions relating to the finalisation of concessional loans to the NSW Government for the project and whether they represented value for money and protected the Commonwealth's interests.
The WestConnex audit follows the Auditor General's damning report on Melbourne's East-West Link toll road, also conducted after representations by myself to the Auditor General.
It was a Labor Government that established Infrastructure Australia, to have proper processes for assessing the economic benefits of infrastructure projects and for this advice to guide investment decisions by the government.
It is clear that the Abbott-Turnbull Governments have undermined this process and their own election promises by cutting public transport projects that had been properly assessed in order to make advance payments for toll road projects that have not been properly assessed.
A Shorten Labor Government will restore integrity to the process of infrastructure policy and development.
Letter from Auditor-General to Mr Albanese (WestConnex) – 18 May 2016
Today the NSW Liberal Government has announced they will force local government amalgamations despite the fact that the inner west community has completely rejected this idea.
The Baird Liberal Government has not listened to people in the inner west.
Throughout this process, inner west residents have made it very clear that they are against the local government merger proposal.
Now it is clear that this amalgamation process is simply a Liberal Party gerrymander.
The dismissal of elected Mayors and Councillors and the appointment of an unelected and unaccountable administrator is an outrage.
I do not support the NSW Liberal Government's forced mergers – they should listen to inner west residents, who have made their position on this issue clear.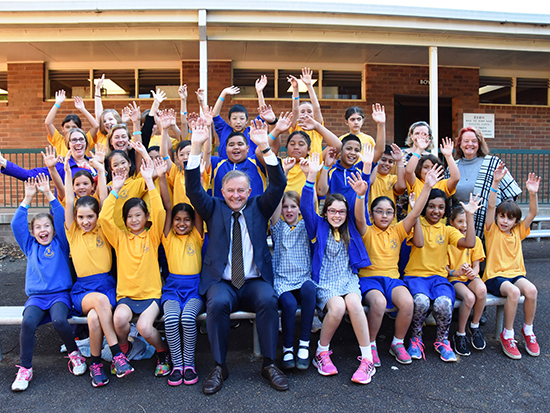 Congratulations Marrickville Public – winner of the national My Park Rules competition.
After 100 entries and 30,000 votes cast across the nation, Marrickville Public School's entry was first judged the best in NSW, and now it is the best in the nation.
The award winning design, developed by Marrickville Public students in partnership with a team from TRACT, will now become a reality.
Initiatives like My Park Rules show how we can work with communities to provide well-designed parks and green spaces.
We know that green spaces do more than just give us somewhere nice to play or sit in – they make us healthier, happier and provide places of reflection in our ever growing urban spaces.
Importantly green spaces also cool our concrete landscapes to mitigate the urban heat island effect.
In areas like the inner west our parks and green spaces make a big difference.
I know how important this well-deserved win is to the Marrickville Public community.
It's a pleasure to join students and teachers from Marrickville Public, members of the inner west community, AILA and the 202020 Vision initiative for this exciting announcement today.
A Labor Government will invest in public transport to relieve urban congestion. Left unaddressed, urban congestion will cost $53 billion by 2031 according to Infrastructure Australia.
This stands in contrast to the Coalition who want to invest in toll roads and have cut funding from public transport projects.
Recently I attended a public meeting in Rozelle where residents expressed their concern over the lack of proper planning for the WestConnex project.
In January this year, I wrote to the Auditor General demanding an audit into the WestConnex project for this reason.
Prior to that, in November 2014, I wrote to the WestConnex Delivery Authority chairman, Tony Shepherd, saying this:
'From what has been published, the proposal to widen the M5 and dump traffic at St Peters interchange is absurd. The notion that delivering additional traffic to King Street, Newtown, and parallel congested back-routes represents proper planning is beyond belief.'
Public transport must be at the heart of any government's policy to relieve the growing problem of urban congestion.
When I was the Minister for Infrastructure I invested more in public transport than all governments combined since Federation.
Only a Labor Government will deliver record public transport investment.
This week in the Parliament I spoke about my electorate's concerns over WestConnex. I said:
Last Saturday, I attended a public meeting in Rozelle, following an invitation by a member of the Annandale WestConnex Action Group who came to one of the street meetings that I regularly hold on Saturday mornings.
It was an expression of concern by the community about the lack of proper planning for the WestConnex Project and particularly the impact it will have in Rozelle.
At the moment, it is unclear how many, if any, houses will be resumed, as has occurred in Haberfield.
It is unclear where the route will go.
It is unclear where any exhaust stacks will be placed.
And that uncertainty is creating enormous concern in my local community.
This is an example of planning gone wrong.
The WestConnex Project has been funded before the planning or the business case have been conducted.
We established Infrastructure Australia to get the process right—do the planning, do the business case, then receive the funding—to make sure projects actually achieve outcomes.
And yet in last night's budget it was confirmed that Infrastructure Australia's budget will be cut by 25 per cent—precisely the wrong direction.
Infrastructure New South Wales identified freight to Port Botany as the priority for roads and rail in terms of Sydney's urban congestion challenges.
The WestConnex Project solves neither.
The WestConnex Project of course goes to St Peters.
I wrote to the WestConnex Delivery Authority chairman, Tony Shepherd, saying this: 'From what has been published, the proposal to widen the M5 and dump traffic at St Peters interchange is absurd. The notion that delivering additional traffic to King Street, Newtown, and parallel congested back-routes represents proper planning is beyond belief.'
I wrote that on 9 November 2014.
It appears that the same mistakes are being made with the rest of this project.
That is why I have requested an audit of the entire WestConnex Project, as well as of the government's infrastructure plans, because it is clear that—with regard to the East West Link fiasco, the collapse of Perth Freight Link in the courts and the blow-out on WestConnex from $10 billion to $16.6 billion—this is a failure of government planning, which is why the national Auditor-General should conduct an audit into the government's infrastructure programs.
Cuts to health and education in last night's Budget will see people across the inner west lose out under a Coalition Government.
Despite the Liberals' promises at the last election to match Labor's school funding "dollar for dollar", Mr Turnbull will cut $29 billion from Australian classrooms over the next decade.
Higher education also faces significant cuts, which will see more costs pushed on to students already struggling to afford university.
There is no relief is in sight for parents as Malcolm Turnbull discards his own child care changes until 2018.
After promising the world before the election, the Government will go an entire term without doing a single thing to assist with access to affordable child care. They will now go to election promising not to deliver relief for another two years.
What's worse is that Mr Turnbull has again smashed Australia's health system, ripping another $2.1 billion out of health spending and keeping the GP tax in place for another two years – a measure that will cost Australian families $925 million.
Families and pensioners are also vulnerable, with the 2016 Budget locking in:
Family Tax Benefit cuts to 1.5 million families;
Cuts to paid parental leave for 80,000 new mums every year, leaving some $11,800 worse off;
Cuts to 330,000 part-pensioners;
Increasing the pension age to 70;
Cuts to young jobseekers that will force them to live off nothing for a month.
Australia's foreign aid program, too, is now embarrassing and mean spirited after further cuts.
This is a Budget that reinforces inequality, which is already at a 75 year high.
In direct contrast Labor will invest in health and education because we know that securing Australia's future depends on investing in people.
The Addison Road Community Centre has successfully bid for federal funding and will receive three grants as part of the Stronger Communities Program to improve their facilities.
It was a pleasure to make this announcement at the Centre's first Night Markets on Saturday, alongside the hundreds of locals who also attended.
These grants will go a long way to improving the accessibility of the Centre and include:
$9,000 to build a path from the car park to ensure the Centre is accessible for people with a disability;
$20,000 for Youth off the Streets to fix their outdoor deck and provide a community BBQ and shade sale so the young people they help have improved facilities, and;
$20,000 for the Ethnic Community Services Cooperative to build a wheelchair accessible path around their premises so no one is excluded from their service.
The Addison Road Community Centre is an integral part of our inner west community.
For years they have worked tirelessly to make our neighbourhood a better place, ensure people are connected to the services they need and improve awareness around sustainability.
These grants will ensure the Addison Road Community Centre can continue to reach out to people.
I want to congratulate all at the Addison Road Community Centre for their hard work, especially the General Manager, Rosanna Barbero.
It was a privilege today to be the first Member of Parliament to sign the Edmund Rice Centre's pledge, calling on all candidates to not blow the dog whistle this election.
In signing this pledge I have committed to stand up to dog whistle politics in the next term of Parliament and work to improve public debate and discourse on issues such as race, immigration, refugees and asylum seekers.
This is something I have always sought to do, both in the Parliament and in my local community.
In 2006 I stood up to the Prime Minister, John Howard, and said in the Parliament that we had seen a return to the era of dog-whistling.
I said, "It is not leadership to be prepared to divide the community—people against people.
It is not leadership to be prepared to appeal to the base considerations of prejudice and discrimination."
In 2012 when Tony Abbott called asylum seekers "illegal arrivals", I moved a point of order which said, "The Leader of the Opposition is misleading the House with the term he is using and he should not be allowed to do so."
Again in 2013 when Tony Abbott used the term "illegal arrivals" I moved another point of order and said, "The Leader of the Opposition knows that, under the law prevailing under both the former government and the current government, it is not illegal to seek asylum."
Many people from all walks of life have made their home in my electorate of Grayndler.
It is this diversity that has made the inner west such a vibrant, culturally rich place to live, work and play.
Dog whistle politics has no place in Australia.
I am very pleased to announce Plumtree Children's Service in Marrickville will receive funding of $20,000 for a renovation of their bathroom as part of the Stronger Communities Program.
The Stronger Communities Program, administered through my office, will see a number of organisations across the electorate receive funding to support their activities.
Plumtree is well-known across the inner west for the work it does in supporting young children with a developmental delay or disability.
The additional funding will be transformative for Plumtree.
It will allow them to provide a more accessible environment that caters for every child, regardless of age or ability, who uses their bathroom.
The funding will go toward a new nappy change area, extra toilet and storage.
Sylvana Mahmic, CEO of Plumtree, said the funding was very welcome and would go a long way towards ensuring an inclusive space.
"There is so much more we can do as a community to ensure we include children with a disability," Ms Mahmic said.
"We're very pleased to receive this funding, which is a great example of how simple changes can make a very big difference in people's lives," Ms Mahmic said.
I want to congratulate Plumtree on their successful application and thank them on behalf of the community for their dedication to supporting children and families across the inner west.