Browsing articles in "Ministerial Media Releases"
Scott Morrison's re-announcement of his plan to invest in Stage III of the Gold Coast Light Rail project is a monument to time-wasting and needless politics.
This stage of the project, which the Prime Minister "announced'' on the Gold Coast today, was actually funded in the 2018 Budget in May when Malcolm Turnbull was Prime Minister. The news was leaked to the Herald Sun newspaper.
But the Coalition deliberately chose to delay releasing the funding as they waited for a political campaigning opportunity like Mr Morrison's current bus tour of Queensland.
In the same way, as Mr Morrison heads north through Queensland this week, he is likely to "announce'' other already funded projects like the Rockhampton Ring Road and the Mackay Ring Road (Stage II), which Labor has already committed to funding.
If the Coalition had released the funding for these important projects at Budget time, work could already be under way, creating jobs and economic activity across Queensland.
Infrastructure investment should be treated as a key plank of economic policy, but for Mr Morrison it's all about campaign opportunities.
Despite its attempts to claim credit for Gold Coast Light Rail, the Coalition is no friend of the project.
In 2009, when the former Labor Government provided $365 million for Stage I of the project as part of our economic stimulus package, the Coalition opposed the investment at the state and federal level.
Five years later, when Stage I opened, shameless Gold Coast Coalition MPs including Defence Industry Minister Steven Ciobo fell over each other to pose for media photographs seeking to claim credit for the project they had campaigned against.
If it had been left to them, Gold Coast Light Rail would never have been ready for this year's successful Gold Coast Commonwealth Games.
After five years of infrastructure cuts the Coalition is now trying to play catch-up to Labor, which has led from Opposition by developing sensible plans for rail and road investment around the nation.
Whatever Mr Morrison claims he is doing on infrastructure, the independent Parliamentary Budget Office exposed the truth earlier this year in a report warning that over the next four years, Federal infrastructure grants to the states as a percentage of GDP will halve to 0.2 per cent.
MONDAY, 5 NOVEMBER, 2018
Australia's cities are in a state of transition.
There was a time in Australia when you could live close to an Australian capital city CBD in a house on a quarter acre.
But in 2018, strong population growth is taking us into a new era featuring higher population densities and a mix of detached housing, apartments and town houses.
While that transition is manageable, the impediment we face is that in many respects our transport infrastructure is designed for the old Australia, not the nation we inhabit in the 21st century.
That is why traffic congestion is undermining economic growth and eroding our quality of life.
For millions of Australians traffic congestion is a ball and chain that is ruining their lives and forcing them to take long daily commutes, often on expensive toll roads.
Many have no access to public transport as an alternative.
It is a tragedy that many Australian commuters spend more time travelling to and from work in their cars than they spend at home playing with their children.
It is time for governments to work together to confront this serious problem in the national interest.
In the past, too many leaders have chosen to turn away.
For example, when Tony Abbott took office in 2013, he cancelled billions of dollars' worth of public transport investment that had been put in the Federal Budget by the previous Labor Government.
That included removing funding for the Parramatta to Epping Rail Line that would have been opening soon. That project would have opened up access for Western Sydney to the high-value jobs around Macquarie Park and taken pressure off the Western Line.
Mr Abbott's reason, as he outlined in his 2009 book Battlelines, was that he believes Australians don't want to use public transport and enjoy the freedom that comes with being what Mr Abbott called "kings in their cars''.
This ideological position has distorted infrastructure priorities in Sydney away from public transport, towards toll roads.
And that has meant a rush in planning so that the Westconnex project no longer resembles the priority identified by Infrastructure NSW to improve freight movements around the Port. Indeed it has become a road to more roads under the NSW Liberal Government.
Westconnex has been poorly planned, is massively over-budget and has been imposed upon communities with inadequate consultation.
But putting that aside, the problem for Sydney is that there has not been sufficient investment in rail.
That's where the Western Metro can help.
The proposal is for a 25km underground rail line with new stations, linking the Sydney CBD to Parramatta via the Bays Precinct and Sydney Olympic Park.
This would be a game changer for Parramatta and the jobs hubs around Olympic Park and the Bays Precinct.
It would not only make it easier for commuters to get to and from work, but would also strengthen links between the Sydney CBD and the Parramatta CBD.
This project can be a genuine catalyst for the creation of more jobs closer to where people live, which is a critical requirement to deal with the demographic pressures we are facing.
It is a good thing that both the NSW Government and the Labor Opposition led by Luke Foley have committed to the project.
As for Federal Labor, our intentions are clear. Labor Leader Bill Shorten has committed $3 billion to the Western Metro plus a further $3 billion for the Western Sydney Rail Line, a north-south link through Western Sydney which will connect the new Western Sydney Airport to the Sydney passenger network.
The Federal Government has yet to match Federal Labor's commitment.
It should do so now.
Australians are sick of the politics of division. They want practical action on issues that actually matter, such as Australians being able to get to and from work in a reasonable time.
This is an edited transcript of Anthony Albanese's to yesterday's (OCT 31) speech to the Western Metro Forum in Sydney.
Federal Labor and the Andrews State Labor Government will jointly fund a $15 million expansion of car parking facilities at Tarneit train station to ease shortages and encourage more commuters to use public transport.
Federal Labor's $7.5 million contribution will come from its $300 million National Park and Ride Fund for new or expanded car parks at public transport hubs.
The Tarneit station is part of the Regional Rail Link, which opened in June 2015.
Extremely strong population growth, triggered in part by the completion of Regional Rail, means the 1000-space carpark is now full by 7.30am each weekday.
Commuters rushing to catch their trains to work are forced to park in surrounding streets and walk to the station, causing more congestion and inconvenience to nearby residents.
A Federal Labor Government would partner with the Victorian State Government to deliver up to 400 extra parking spaces.
Across Australia, traffic congestion is acting as a hand brake on productivity and economic growth and is eroding our quality of life.
The problem has worsened during the five years of the Abbott-Turnbull-Morrison Government, which has cut funding for public transport projects and provided no policy leadership to other levels of government on the productivity, sustainability and liveability of cities.
Shadow Infrastructure and Transport Minister Anthony Albanese said the Tarneit expansion would make a real, practical difference for commuters while also reducing congestion for local residents.
"We'll not only invest in new public transport services, but also deliver practical measures to help commuters get to work with minimum fuss, including through our new Park and Ride Fund,'' Mr Albanese said.
"Public transport isn't just about the train line or bus route itself. It's also about the surrounding infrastructure that makes it work for local residents.''
Labor Member for Lalor Joanne Ryan said that while the Federal Coalition Government was consumed by chaos, Labor was focused on positive plans to address issues of practical concern to Australians.
"I know how important the issue of car parking is to locals in my community,'' Ms Ryan said.
"People want to catch the train to work. Governments need to work together to make that easier.''
"When last in government, Labor built the Regional Rail Link, demonstrating that people want to use public transport in Melbourne's outer western suburbs."
"If elected, Labor will again look after the residents of Melbourne's outer western suburbs by making sure that they have access to public transport."
SATURDAY, 27 OCTOBER, 2018
MEDIA INQUIRIES
A Shorten Labor Government will invest $300 million in the Suburban Rail Loop – getting the project going faster and creating jobs sooner.
Labor's investment will support the development of a business case and get the planning work done quicker, enabling the construction to commence in 2022. The project will provide a major boost to the economy, creating 20,000 jobs in the construction phase alone and employing 2000 apprentices.
This is the sort of vision Melbourne needs – to keep up with the demands of Australia's fastest growing capital city, investment in world-class, modern transport network is critical.
Melbourne is a great place to live and work. But between now and 2046, the city's population is projected to grow to 7.3 million residents. Without proper planning and investment in the city's roads and public transport infrastructure, the annual cost of traffic congestion will more than triple to $9 billion by 2030.
Labor understands how important it is to invest in decent public transport that will take the pressure off our cities, ease traffic congestion, and connect the suburbs and the regions – bringing jobs and apprenticeships along the way.
On completion, the Suburban Rail Loop will comprise of a 90 kilometre rail line through Melbourne's northern and eastern suburbs via the airport, linking all of the city's major train lines. It will connect the suburbs directly to major employment hubs, universities, TAFE and hospitals outside the city, making it much easier for Victorians to get around for work and recreation.
Labor's investment will help finalise exact station locations, route alignments, rolling stock and staging, and get construction underway faster.
Expected to be used by 400,000 passengers a day, the project will take pressure off existing lines, as well as an estimated 200,000 cars off the city's road network. Fewer cars on the road mean less congestion and shorter travel times.
Federal Labor's investment follows expert analysis showing the project will slash travel times across the city. When complete, commuters will be able to travel from Box Hill to the airport in 25 minutes and to Monash Clayton in around 15 minutes. Travel from Broadmeadows to Deakin Burwood will be less than 25 minutes – connecting Victorians to education and work opportunities quicker and easier.
This commitment to the Suburban Rail Loop builds on Labor's strong track record of delivering job-creating infrastructure that eases congestion for Victorians, and will match the funding commitment announced by the Andrews Labor Government in August this year.
Labor has made hard budget decisions to ensure our priorities are fully paid for – we will make multinationals pay their fair share and close unsustainable tax loopholes, because we want to build the cities and society that will give the next generation a better deal.
SUNDAY, 14 OCTOBER 2018
Incoming Infrastructure Minister Michael McCormack has refused to explain why he will cut infrastructure grants to South Australia to only 2 per cent of the national budget over coming years, despite the state being home to 7 per cent of Australians.
Asked to explain this extraordinary reduction in Question Time today, Mr McCormack claimed he was investing "considerable amounts of money'' in the state.
Mr McCormack, the Coalition's third Infrastructure Minister in as many months, is wrong.
The Government's own Budget papers show Federal infrastructure grants to South Australia will fall from $921 million in 2017-18 to $59 million in 2020-21.
They also show that in its first four Budgets (2014-15 to 2017-17), the Coalition Government's actual investment in South Australian infrastructure was $377 million less than its budget commitments.
Mr McCormack, who succeeded Barnaby Joyce in the Infrastructure and Transport portfolio this week, is ignorant of the cuts. Rather than admit this, he sought to defend the indefensible.
The new Minister must get across the detail, use his newfound authority to reverse the cuts and provide South Australia with the infrastructure investment it requires and deserves.
He should start by committing Federal funding to the AdeLINK light rail project to address the traffic congestion that is acting as a handbrake on economic growth in South Australia.
Liberal Party inaction is delaying progress on construction of a new Nowra Bridge, with Infrastructure Australia unable to assess the project because the New South Wales Government has yet to submit a business case.
At Senate Budget Estimates hearings in Canberra this week, Infrastructure Australia Chief Executive Philip Davies said his organisation had received only preliminary information about the project, not the detailed business case it requires.
The news comes despite an assurance last October from State Liberal MP Shelley Hancock that the NSW Government had put forward a "funding request'' to allow the project to go forward as soon as practicable.
Ms Hancock and her NSW Liberal Government must end the delays and provide the documentation required by Infrastructure Australia to progress this important project.
Federal Member for Gilmore, Ann Sudmalis, should also act by pressing her state colleagues for action on behalf of the community.
Nowra and the surrounding districts need a new bridge over the Shoalhaven River to replace the existing bridge, which has passed its useful life and is becoming increasingly congested.
Investing in the right infrastructure projects not only creates jobs and economic activity in the short term, but also boosts productivity over the long-term.
Completion of a new Nowra Bridge will also significantly improve road safety.
That's why Federal Labor has already put $50 million on the table for the project.
Ms Sudmalis and the NSW Government must move beyond rhetoric and provide actual support for this project.
WEDNESDAY, 28 FEBRUARY, 2018
Incoming Infrastructure Minister Michael McCormack has nominated a cut to Tasmanian road funding as one of the Federal Coalition Government's biggest achievements.
In Question Time today I asked Mr McCormack why his Government's own Budget papers show Federal infrastructure investment in Tasmania will decline from $174 million this financial year to $53 million in 2019-20.
I also asked why there had been no Federal Government funding for a single new major rail or road project in the State in nearly five years.
Mr McCormack ignored my question and pointed to the upgrade of Tasmania's Midland Highway as evidence of his Government's commitment to nation building.
But what he failed to point out was that as soon as the Coalition took office in 2013, it cut funding that the former Labor Federal Government had provided for the Midland Highway from $500 million to $400 million.
Mr McCormack also named the Tasmanian Freight Revitalisation Program as another of the Coalition's achievements, despite the program having been devised and funded by the former Federal Labor Government.
Mr McCormack, who succeeded Barnaby Joyce in the Infrastructure and Transport portfolio this week, is clearly ignorant of his Government's cuts. Rather than admit this, he sought to defend the indefensible.
The new Minister must get across the detail, use his newfound authority to reverse the cuts and provide Tasmania with the infrastructure investment it requires and deserves.
More than 1000 days after the creation of the Northern Australia Infrastructure Facility, the organisation has yet to refer a single major project to Infrastructure Australia for formal assessment.
The NAIF, a $5 billion fund created by the Federal Coalition Government to finance the construction of job-generating infrastructure in Northern Australia, is required to consult with Infrastructure Australia before providing loans for any project valued at more than $100 million.
But this week at a Senate Budget Estimates hearing, Infrastructure Australia Chief Executive Officer Philip Davies said: "We have had no formal submissions from NAIF to date''.
The NAIF is a dud that is fast-becoming a joke. A more accurate name for this organisation would be the No Actual Infrastructure Fund.
The people of Northern Australia need well-paid, secure jobs. The right infrastructure projects will stimulate the investment needed to create those jobs.
But the Coalition's chosen vehicle to drive this growth has produced nothing, and its only expenditure has been on executive salaries and perks for its board members.
By contrast, Labor is rolling out serious plans for infrastructure investment, including the establishment of the $1 billion Northern Australia Tourism Infrastructure Fund to provide financing and concessional loans to build new tourism infrastructure.
Last week, Labor also committed to widen the channel at the Townsville Port, build the second stages of the Gladstone Port Access Road and Mackay Ring Road and deliver the Rookwood Weir to provide 2000 agriculture jobs in the Lower Fitzroy.
These are real projects that will deliver real infrastructure in Queensland and make a real difference to the lives of people in our nation's north.
Incoming Infrastructure and Transport Minister Michael McCormack must use his appointment to fix the policy failures of his three National Party predecessors and reverse the cuts to investment in nation building infrastructure.
Mr McCormack inherits a very long to-do list.
According to the Government's own Budget Papers, Federal infrastructure investment will fall off a cliff over the next four years to its lowest level in more than two decades.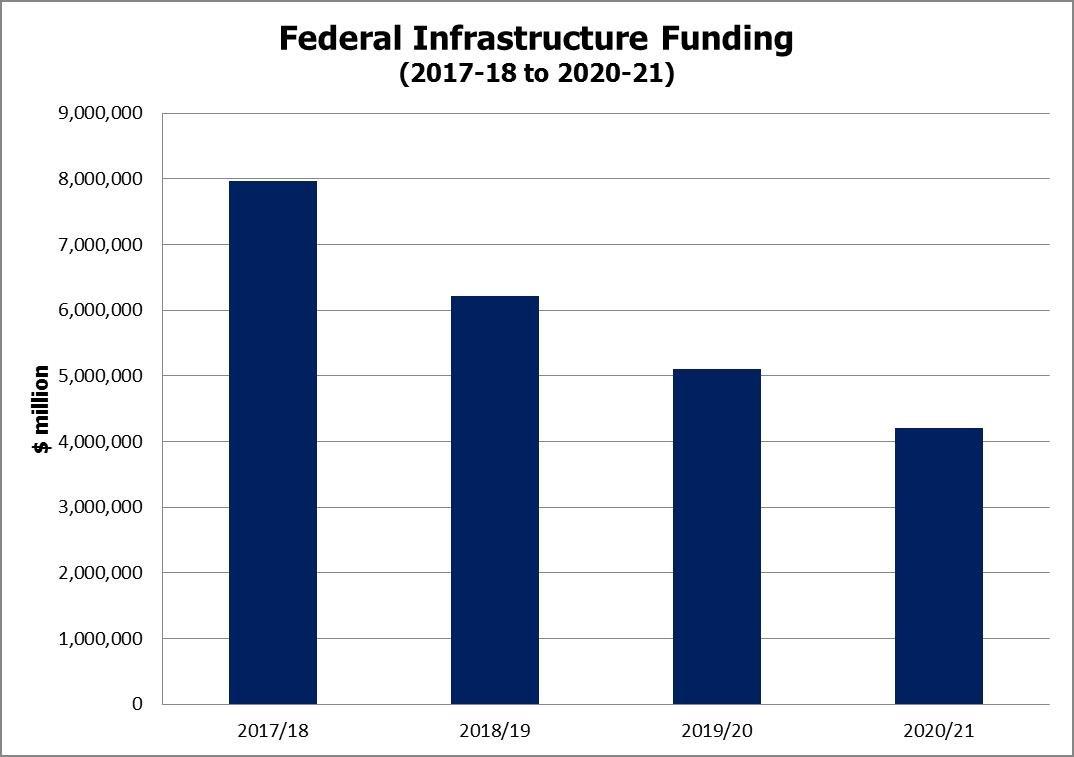 Worse still, the independent Parliamentary Budget Office has warned that if the Government does not reverse its cuts, Federal infrastructure investment measured as a percentage of GDP will halve over the next decade from 0.4 per cent to 0.2 per cent.
This will inevitably lead to slower growth, fewer jobs, higher transport costs and more urban congestion.
But the Government is not only slashing future investment; they have also failed to deliver on their past promises.
In its first four Budgets (2014-15 to 2017-18) the Government's actual investment was $4.8 billion less than its own commitments in its Budget.
And no area of the infrastructure budget has been spared.
Indeed, at the very time the national road toll has been increasing after decades of decline, they have even cut funding for important road safety programs.  For example, a third of the $305 million they promised to spend on the Black Spot Program over the past four years was never actually invested in fixing dangerous blackspots on local roads.
Properly targeted infrastructure investment boosts economic activity in the short term while lifting productivity in the longer term.
Put simply, Mr McCormack needs to do what Barnaby Joyce failed to do.  He needs to use his newfound position of influence within the Government to prevent the cuts currently in the Budget and boost investment, not just in rural and regional roads, but also in public transport within our cities.
Australia cannot afford to have yet another ineffective Infrastructure and Transport Minister.
MONDAY, 26 FEBRUARY, 2018
Federal Labor will capitalise on the ongoing growth in Tasmanian tourism with a $15 million investment to improve facilities at Cradle Mountain.
The investment will upgrade the visitor amenities and comes in addition to the $30 million committed by State Labor Leader Rebecca White to this iconic attraction.
Tourist visits to Cradle Mountain grew 9 percent last year to more than a quarter of a million.
In the same period Tasmania led the nation in terms of international tourist numbers, recording an impressive 17 percent growth.
Governments must work with industry to capitalise on this trend.
The Tasmanian tourism sector already supports more than 37,000 jobs – about 16 per cent of the State's workforce.
Improving tourism infrastructure now will enrich the experience of visitors, drive further growth and more jobs for the future.
The former Federal Labor Government invested $50,000 in the Tourism Industry Council of Tasmania research which led to the development of the Cradle Mountain Masterplan Project.
We also invested $250,000 on improvements at the iconic Peppers Lodge through our Tourism Industry Regional Development Fund.
The next Labor Government will build on these investments and continue to back tourism growth right across Tasmania.
MONDAY, 26 FEBRUARY, 2018