Browsing articles in "Shadow Ministerial Media Release"
After four wasted years, the Turnbull Government has finally accepted that borrowing to invest in productivity enhancing infrastructure can drive economic growth and job creation.
Treasurer Scott Morrison's declaration today that at a time of record low interest rates it makes sense to borrow for projects that boost economic productivity is precisely what Labor, the Reserve Bank and economists have been saying for years.
However, investing in the right projects is critical, which is why the Government must reverse its ill-advised decision to sideline Infrastructure Australia by establishing an Infrastructure Financing Unit within the Department of Prime Minister and Cabinet.
Infrastructure Australia was created by the former Labor Government to independently assess infrastructure projects and to work with states and the private sector on funding arrangements.
Its key role is to ensure that when the Government does borrow for infrastructure, it invests in projects that stack up.
Creating another bureaucracy to sideline the independent adviser makes no sense.  The Government should have already learned that lesson from its creation of the Northern Australia Investment Facility, which was announced two years ago but has not invested in a single project.
Having finally accepted economic common sense on infrastructure investment, the Government should use the 2017 Budget to tackle traffic congestion that is acting as a hand brake on economic and jobs growth in our cities.
Infrastructure Australia approved Brisbane's Cross River Rail and the Melbourne Metro projects before they received funding in the 2013 Budget.
One of the key reasons for the 20 per cent decline in total public sector infrastructure investment in the Government's first two years in office was its 2014 decision to scrap such projects in favour of dud road projects that had not been the subject of proper planning.
The Government should also work with Infrastructure Australia on other critical public transport projects including the Western Sydney Rail, Perth's Metronet and the AdeLINK light rail project in Adelaide.
A Shorten Labor Government will super charge jobs growth in Western Sydney by linking the new Western Sydney Airport with Sydney's rail network from the first day it opens.
A rail connection from day one is critical if we are make the airport a catalyst for job creation for Western Sydney – and will boost economic growth by up to $3.6 billion annually.
That's why Labor will provide $400 million to work with the NSW Government to get these works underway as soon as possible, contingent on a positive assessment from Infrastructure Australia.
Overall, the project will create more than 43,000 direct jobs and support up to 98,000 jobs indirectly in Western Sydney.
It will:
Extend Sydney's South-West Rail link from Leppington via Bringelly to the new airport;
Build a new outer orbital train line from Macarthur in the south to St Marys in the north, which would also service the airport.
A second stage of the project will complete Sydney's outer orbital rail link with construction of a new line connecting St Marys to the Sydney Metro Northwest at Rouse Hill, scheduled to open in 2019.
Without vital investments linking the new Western Sydney airport to Sydney's rail network, it will be harder for passengers to use the new airport.
Proper public transport is critical to the success of the new airport and the Western Sydney economy.  However, it is clear new services would be necessary even without the new Western Sydney Airport.
Already home to two million people – more residents than Adelaide, Canberra, Hobart and Darwin combined – Western Sydney is the country's third largest economy.  In the next two decades the region's population is expected to grow by a further one million, with more than 300,000 new homes expected to be constructed.
If planned and developed properly, the airport and surrounding business areas will attract investment that will generate thousands of jobs in aviation-related industries as well as tourism, education, advanced manufacturing, logistics and residential development.
Labor will ensure at least 10 per cent of all workers on the construction of the project and associated infrastructure are apprentices and a significant proportion of the total workforce is drawn from Western Sydney.
The new north-south rail link will transform Western Sydney's overall transport system, which is plagued by congestion and poor connectivity.
Under existing arrangements, railway lines connect parts of Western Sydney to the Sydney CBD, but there is no north-south link to allow people and goods to move more efficiently within the Western Sydney region itself.
Independent analysis from Deloitte and Arup states:
"The economic benefits of the north-south corridor are clear.  From 2024 to 2040, north south rail will add $44.7 billion in benefits to the economy, reaching $3.6 billion per year in 2040."
This problem is acting as a hand brake on economic development on a region that is crying out for productivity-enhancing investment in infrastructure.
Governments must recognise Western Sydney's potential by investing in the infrastructure required to lift productivity and accelerate growth, including better connections between its various communities.
This should be a bipartisan commitment. Labor calls upon the Turnbull Government to stop ignoring Western Sydney and make a firm commitment to connecting the new Western Sydney Airport to the rail network.
A map detailing the projects to be funded by Labor is below.  A fact sheet on today's announcement is available here.
The Coalition's announcement today of a National Cities Performance Framework is simply a reinvention of the State of Australian Cities report years after it was abandoned by the same Coalition Government.
The annual State of Australian Cities report was established by the former Labor Government.
It produced a comprehensive analysis of statistics and trends about the demographic and planning challenges facing major Australian cities.
After three years of obfuscation about the future of the State of Australian Cities report, answers provided at Senate Estimates this year revealed the Coalition was dumping it.
This is despite the fact that the report was downloaded three million times when published by the former Labor Government and considered to be a tremendous success and great resource by industry and policy experts.
But instead of building on the success of previous reports, the Coalition first abandoned this evidence-based decision making before deciding to reinvent it.
This follows a string of poor policy decisions relating to our cities.
Upon its election the Coalition abolished the Major Cities Unit, disbanded the Urban Policy Forum, marginalised Infrastructure Australia and failed to initiate a single new public transport project.
The Nobel laureate and former President of Timor-Leste, Jose Ramos-Horta, will deliver the inaugural Tom Uren AC Lecture on May 7 to commemorate the life of the former Australian politician, prisoner of war and peace activist.
Mr Uren, who served as a minister in the Whitlam and Hawke Governments, died on Australia Day, 2015, after an extraordinary life of progressive activism.
Labor Party branches in my electorate have established the annual Tom Uren AC Memorial Lecture to build upon Tom's intellectual legacy and lifelong commitment to peace and justice.
Dr Ramos-Horta is the perfect choice to deliver the inaugural address given Tom's dedicated advocacy for independence for Timor-Leste.
In 2013 the Timor-Leste Government awarded Tom the Order of Timor-Leste Medal for his long-standing support for self-determination for the East Timorese people.
On the occasion of Tom's death, the Timor-Leste Government released a statement which described him as "a man of dignity and courage''.
"Tom spoke powerfully many times over the years of struggle about what was happening in Timor-Leste and consistently gave support to Australian activists working in solidarity with the Timorese people,'' the statement said.
Dr Ramos-Horta will focus this inaugural Tom Uren AC Lecture on justice for Timor-Leste with regard to the disputed gas fields in the Timor Sea.
The lecture is being inaugurated with the active involvement of Tom's family.
It will take place at the Balmain Town Hall, in the suburb where Tom was raised and lived his final years.
For ticket information: https://tom-uren-lecture.eventbrite.com.au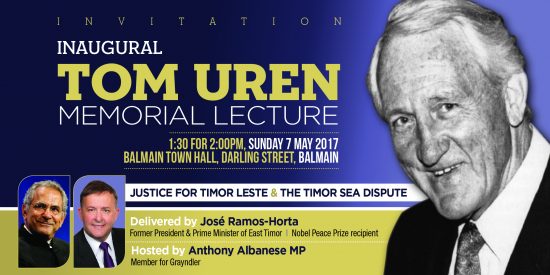 New Australian Bureau of Statistics figures identifying the biggest decline in engineering construction activity on record have again highlighted the need for increased infrastructure investment in next month's Budget.
ABS figures for the year to December 31 last year show engineering construction activity declined by 19.7 per cent over its level in 2015 – the biggest annual fall on record (see graph below).
It followed declines of 13 per cent in 2015, 9.6 per cent in 2014 and 1.3 per cent in 2013. For the first time on record, activity declined over four consecutive years.
The ABS figures cover the value of work done building or upgrading infrastructure such as roads, bridges, railways, harbours, water storage and supply, sewage and drainage, electricity generation and distribution and telecommunications.
Since taking office the Coalition has cut infrastructure investment while pretending otherwise by re-announcing old projects devised and funded by the previous Labor Government.
Previous ABS figures established that total public sector infrastructure investment declined by 20 per cent in the Coalition's first two years in office.
They also confirmed that for every one of the Coalition's 12 quarters in office, total public sector infrastructure investment was lower than it was during every quarter under the former Labor Government after its first Budget in 2008.
The Coalition cuts have come at the very time when the Government should have lifted investment to sustain economic activity in the face of the decline of the investment stage of the mining boom.
Indeed, Reserve Bank Governor Philip Lowe has made repeated calls for increased transport infrastructure investment in recent months.
After four years of cuts and spin, it is time for the Government to listen to the experts and lift infrastructure investment.
It should start by investing in urban rail projects, which Mr Lowe said just last week would ease pressure on housing affordability.
The Turnbull Government must respond to the advice of Reserve Bank Governor Philip Lowe about the link between inadequate infrastructure investment and high housing prices by lifting rail and road investment in next month's Budget.
In a speech in Melbourne last night Mr Lowe said an imbalance between population growth and housing construction had been "compounded by insufficient investment in the transport infrastructure needed to support our growing population''.
Mr Lowe continued: "Nothing increases the supply of well-located land like good transport links. Under-investment in this area is one of the factors that has pushed housing prices up".
This is the latest of several recent warnings from the RBA about the need for increased infrastructure investment, which would boost economic activity and support jobs as well as easing pressure on housing prices and delivering long-term productivity gains.
Since taking office, the Coalition has cut infrastructure investment but pretended otherwise with frequent re-announcements of old projects funded by the former Labor Government.
Australian Bureau of Statistics figures show total public sector investment in infrastructure declined by 20 per cent in the Coalition's first two years in office.
The figures also show that quarterly total public sector infrastructure investment has been lower in all 12 quarters under the Coalition than in every single quarter under the former Labor Government.
After years of pretending to have increased investment, it is time for the Turnbull Government to actually invest in new rail and road projects.
Australians are spending too long in traffic jams and, as Mr Lowe pointed out last night, the lack of adequate infrastructure is affecting housing prices.
The peak business group for the infrastructure sector has slammed the Turnbull Government's infrastructure funding model, which is expected to be a centrepiece next month's Budget.
Infrastructure Partnerships Australia's damning criticism of the proposed Infrastructure Financing Unit comes as Prime Minister Malcolm Turnbull continues to fail to match his rhetoric on infrastructure with actual investment in railways, roads and ports.
In April last year, Mr Turnbull announced he would create an Infrastructure Financing Unit within the Department of Prime Minister and Cabinet to work with the private sector to enlist private investment in infrastructure using "innovative financing solutions''.
But the respected IPA has warned that this approach would put public money at risk by effectively turning the Government into a "lender of last resort''.
There is a contradiction in the Government's position on this fund. On one hand it wants financing to be available where private financing is not. But on the other hand, it claims this unit would work on projects that would be taken off Budget as they would produce a return for government.
The IPA is correct to point out there is no lack of finance available for good projects in Australia. It is also correct to call for an increase in actual government investment.
Mr Turnbull's move to create the financing unit within his own department will also sideline Infrastructure Australia and the Department of Infrastructure and Regional Development.
This makes no sense. Part of Infrastructure Australia's role is to make recommendations on financing of projects.
The IPA's embarrassing assessment of the Infrastructure Financing Unit follows the failure of Mr Turnbull's Northern Australia Infrastructure Fund, announced two years ago.
The NAIF has yet to invest in a single piece of infrastructure. The only money going out the door at the NAIF is to cover the expenses of its directors.
The twin failures highlight Mr Turnbull's tendency to make grand announcements on infrastructure to avoid actually investing in the railways and roads Australians need.
Australian Bureau of Statistics figures show total public sector infrastructure investment fell 20 per cent in the first two years of the Coalition Government.
The ABS figures also show that quarterly total public sector infrastructure investment under the Coalition has been lower in all 12 quarters during its term in office than in every single quarter under the former Labor Government after its first Budget in 2008.
Australian needs a Government prepared to actually invest in infrastructure, not just talk about it.
Federal Labor welcomes today's compromise agreement to fund vital upgrades to the M1, but is disappointed that Logan and Gold Coast motorists have had to wait so long for the LNP to finally make it happen.
An agreement could have already been reached and construction could have already started had the Liberals not neglected Logan and the Gold Coast for so long.
Coalition delays have seen locals waste hours in traffic unnecessarily for years.
Local families and businesses have been the unwilling victims of the Federal LNP Government's incompetence and inaction and Bert van Manen's lack of influence.
Infrastructure Australia last year listed both the M1-Gateway merge and the Mudgeeraba-Varsity Lakes upgrades as priority projects.
Labor – at both a state and federal level – has been the only party prepared to tackle congestion along the M1, and locals know it.
The Coalition has finally listened to our calls on behalf of frustrated motorists and residents to deal with the State Government and fix the M1.
Today's announcement follows Federal Labor's commitment last week to back any compromise deal reached by the State and Federal Governments.
This is a victory for everyone who has joined with Federal Labor to campaign for this outcome.
We congratulate the State Government for consistently coming to the table willing to offer its fair share of funding to find a way through.
For our part, Federal Labor not only committed to the 80-20 funding split for the M1-Gateway merge upgrade, but also invested $312 million in upgrades to the Logan stretch of the M1 when we were last in Government.                                 
The commitment from the Queensland Government towards the M1-Gateway merge and to help widen the Mudgeeraba-Varsity Lakes section of the motorway now leaves the Liberals with no more excuses.
We call on work to commence as soon as possible. 
Get the shovels ready. The thousands of motorists each day who are forced to deal with congestion along the M1 have already suffered too long under this Abbott-Turnbull Government.
In Question Time today Prime Minister Malcolm Turnbull refused to confirm the availability of $1.2 billion in infrastructure investment for Western Australia.
In the campaign for the March 11 WA election, Labor Leader Mark McGowan promised to halt the Perth Freight Link – a badly designed toll road proposed by the Federal Coalition in its 2014 Budget.
Mr McGowan instead proposed to invest in the METRONET rail project.
Now that the McGowan Government has fulfilled its commitment to stop the discredited toll road, its funding should be available for Perth METRONET.
But today in Question Time Mr Turnbull refused to recognise the judgement of voters.
"If they are not going to build it (the Perth Freight Link) then the money is obviously not required,'' Mr Turnbull said.
The future of the Perth Freight Link was a key issue in the WA election and the judgement of voters could not have been clearer.
West Australians want better public transport to address traffic congestion.
Mr Turnbull should respect their judgement.
The Prime Minister enjoys taking selfies aboard trains and trams. It is time he invested in in trains and trams.
Prime Minister Malcolm Turnbull must accept Western Australia's clear rejection of his flawed Perth Freight Link toll road and instead invest in public transport in Perth.
During the recent WA election campaign, Labor Leader Mark McGowan promised to scrap the Perth Freight Link – a badly designed toll road proposed by the Federal Government – and instead invest in public transport via the METRONET rail project.
Following Mr McGowan's landslide victory, Mr Turnbull must accept the will of the people and support public transport.
The Perth Freight Link was always a dud.
The Federal Coalition proposed the road out of the blue in its 2014 Budget without any supportive research or planning.
Although it was promoted as an effective way to take trucks to the Port of Fremantle, planning has been so inadequate that on its current design, the road would stop 3km short of the port.
At the height of the WA campaign, Mr Turnbull insisted Commonwealth funding was available only for the Perth Freight Link and was not transferable.
But the election is over. It is time to put aside the politics and act in the public interest.
The last thing West Australians need is to be punished for having elected a Labor Government, as happened in Victoria after the incoming Andrews Government cancelled the East-West Link toll road in 2014.
Mr Turnbull's petulant refusal to transfer East-West Link funding to the Melbourne Metro rail project means Victoria is now receiving 7.7 per cent of Commonwealth infrastructure investment despite being home to a quarter of Australians.