Browsing articles in "Shadow Ministerial Media Release"
Scott Morrison must get to the bottom of the worsening infrastructure project delivery crisis within his Government that has seen it fail to deliver $4.9 billion worth of promised infrastructure projects over the past five years.
 
The Final Budget Outcome document for the 2017-18 Budget, released yesterday, shows that over the year to June 30, the Government promised to invest $7.9 billion on rail and road projects but in fact invested $6.9 billion.
 
Over the Coalition's first five Budgets, the difference between what it promised and what it actually spent was $4.9 billion.
 
Projects promised but not delivered include general rail and road investment as well as literally hundreds of road safety projects under the Black Spot Program.
 
The Bridges Renewal Program, created by this Government, is underspent by more than half, with $290 million promised but $135 million delivered.
 
The 2017-18 result was no aberration. The Abbott-Turnbull-Morrison Government has failed to deliver infrastructure as promised in each of its four Budgets.
 
This is nothing short of a crisis in project delivery.
 
It is clear the Government's revolving-door parade of infrastructure Ministers, including Warren Truss, Jamie Briggs, Darren Chester, Barnaby Joyce, Paul Fletcher, Michael McCormack and Alan Tudge, have all lacked the competence to deliver their own promises.
 
The Budget update follows recent news that earlier this year the Government approved more than $7 billion for new projects around the nation, but decided not to commence or even announce them until the next election campaign.
 
Instead of cynically holding back announcements for its political purposes, Mr Morrison must get on with the job of providing Australians with the railways and roads that he has promised and that they have paid for through their taxes.
 
Investing in the right infrastructure projects creates jobs and economic activity in the short-term, while boosting productivity and economic growth over the long-term.
UNDERSPEND: PROGRAM BY PROGRAM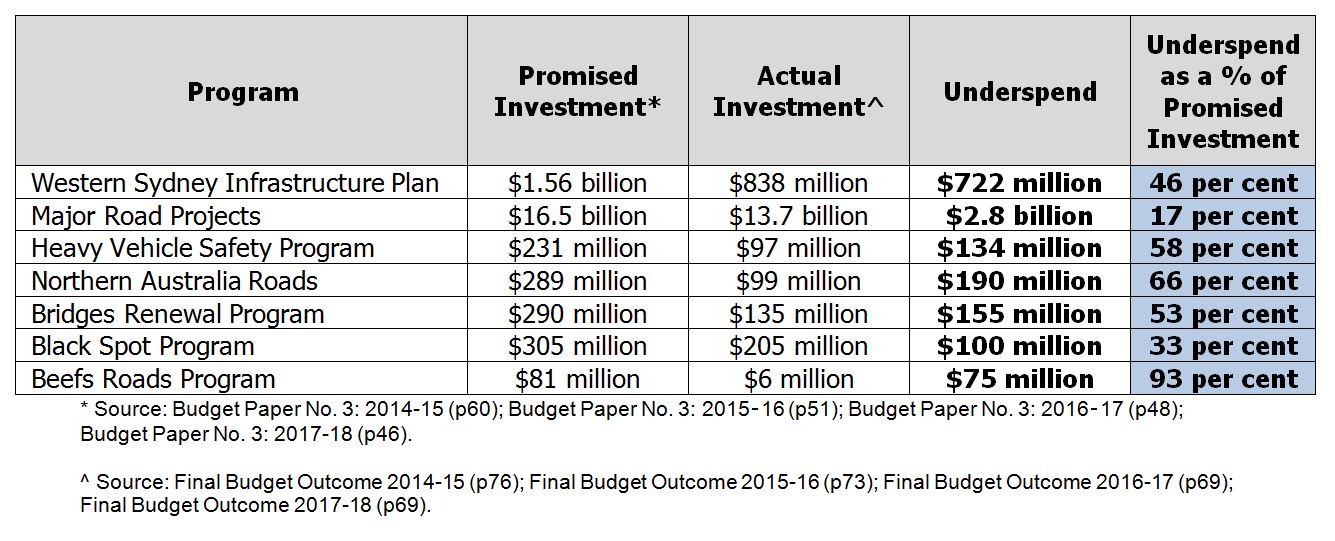 The Abbott-Turnbull-Morrison Government's politicisation of the independent Infrastructure Australia has reached a new low, with the organisation listing Adelaide's Gawler Line rail electrification project as a priority project.

While the listing is welcome, Infrastructure Australia first listed this important public transport project as "ready to go'' in 2009 and the former Federal Labor Government committed nearly $300 million in the 2009 Budget toward its delivery.

In 2013 the incoming Coalition Government stopped the project midstream, returned half the funding that had not been invested to the Budget and it was removed from the Infrastructure Australia National Priority List.

While it is a good thing that the Gawler Line project is finally being advanced, it would have been completed years ago if the Coalition had acted upon the independent advice when it took office.

The former Labor Government created Infrastructure Australia to independently assess infrastructure proposals on the basis of costs and benefits.

The fact that the organisation removed the Gawler Line from the list after the Coalition refused to provide funding, only to replace it now that the Government says it will deliver the project, confirms Infrastructure Australia no longer operates at arms' length of government.

Cities Minister Alan Tudge today released a statement expressing excitement that the Gawler Electrification project had been listed on the Infrastructure Australia Priority List.

Mr Tudge should be apologising to the people of Adelaide for being part of a Government that has needlessly delayed the project for five years.

A Labor Government will respect Infrastructure Australia's independence and return it to the centre of an evidence-based infrastructure process.
The Morrison Government should stop dithering and match Federal Labor's commitment to partner with the Queensland Government to deliver the Rockhampton Ring Road.
While Federal Labor has already committed to building the 22km Ring Road, the Coalition has not, despite the project appearing on a leaked list of Coalition funding commitments that have been decided upon but not announced.
It's clear the Coalition decided months ago to back this important project but has cynically decided to withhold confirmation until a time that suits its political needs.
The Coalition should stop playing games. The people and businesses of Rockhampton deserve certainty.
The Rockhampton Ring Road was recommended in the Fitzroy River Floodplain and Road Planning Study, which investigated long-term solutions for Bruce Highway flooding, impacts on freight, road and rail transport in and around the city of Rockhampton.
It was commissioned by the former Labor Government in June 2009 and was concluded in December 2011.
The Ring Road will run from the Yeppen Roundabout, along the western side of the airport to a third bridge crossing before reconnecting with the existing highway at Parkhurst.
It would reduce congestion on local streets, improve road safety and enhance liveability for local residents.
It would also boost the economic capacity of Central Queensland, supporting the growth of new local industries and new jobs.
Shadow Minister for Infrastructure and Transport Anthony Albanese said the Queensland Government was doing its job by moving ahead with planning, but the Coalition was yet to confirm its position.
"After the recent political chaos within the Liberal Party that led to the dumping of Malcolm Turnbull as Prime Minister, Australians are sick of needless politicking and partisanship,'' Mr Albanese said.
"It is time for the Coalition to back the Rockhampton Ring Road and deliver funding as soon as possible, rather than taking its usual position of promising money but pushing its delivery off into the Never-Never.''
Labor candidate for Capricornia Russell Robertson said Labor was strongly committed to investing in infrastructure in regional Queensland. '
"The Ring Road will create jobs and take thousands of trucks off our streets, making Rocky safer and easier to get around," Mr Robertson said.
Labor's commitment to the Rockhampton Ring Road builds on our strong track record of delivering for Central Queensland's road network, including the major Yeppen Roundabout and Bridge upgrade.
State and Federal Labor will collectively invest $30 million towards the expansion of parking facilities at Schofields train station in North West Sydney to help commuters overcome worsening parking shortages.
 
The commitment is jointly funded with $15 million from Federal Labor's National Park and Ride Fund and $15 million from a NSW Foley Labor Government. 
 
This critical local project is part of Labor's $300 million National Park and Ride Fund for new or expanded car parks at public transport hubs, such as train stations.
 
Each weekday the existing 230-space car park at Schofields Station is full before 7am.
 
This means commuters rushing to catch their trains to work are forced to park in surrounding streets including Railway Terrace down to Burdekin Road and Pelican Road and walk for up to 20 minutes just to get to the station.
 
Across Australia, traffic congestion is eroding our quality of life and acting as a hand brake on productivity and economic growth.
 
More than 300,000 workers commute from Western Sydney to other parts of the city each day for work. Up to 90 per cent of them travel by car on increasingly congested roads.
 
Despite this, the Berejiklian Liberal Government has failed to deliver the infrastructure we need now and into the future.  
 
Federal Labor's Park and Ride Fund will provide real and practical support for communities like Schofields by making rail travel more attractive and improving the quality of life of local residents.
 
By contrast, the Abbott-Turnbull-Morrison Government has no strategy to address traffic congestion and is continuing to refuse to invest in important public transport projects like the Western Sydney Rail.
 
Shadow Minister for Infrastructure, Transport and Cities Anthony Albanese said it would take a Labor Government to deal with traffic congestion in Australian cities after five years of Coalition cuts and neglect.
 
"We'll not only invest in new public transport services, but also deliver practical measures to help commuters get to work with a minimum of fuss, including through our new Park and Ride Fund,'' Mr Albanese said.
 
"Public transport isn't just about the train line or bus route itself. It's also about the surrounding infrastructure that makes it work for local residents.''
 
He was joined in Schofields today by NSW Shadow Treasurer Ryan Park who said the $30 million commitment from State and Federal Labor was a game changer for Schofields.
 
"Labor will invest in making life easier for local communities."
 
"Helping Western Sydney families access public transport is a top priority for Labor while the Liberals' priority is an unfair toll on western Sydney."
 
Labor Member for Greenway Michelle Rowland said that every time she doorknocked residents in Schofields and The Ponds or held mobile offices at Schofields the number one issue raised was the lack of car parking at the train station.
 
"Labor has listened and will act,'' Ms Rowland said. "It's tough enough commuting to the city every weekday without being unable to find a car park.''
 
"A Federal Labor Government will work with Blacktown Council and the State Government to assess the available options and deliver improved car parking as quickly as possible.''
 
Labor candidate for Riverstone Annemarie Christie said projects that could make a real difference would be fast tracked under Labor.
 
"Easier access to jobs and a quicker trip home to your family makes improving parking at Schofields station a no-brainer," Dr Christie said.
Federal Labor undertakes to work with the Coalition Government in a spirit of bipartisanship to address the findings of the inquiry into the National Road Safety Strategy 2011-2020, which was delivered today.
This important report, produced by a panel of experts, argues that Australia's road safety performance has stalled in recent years.
It calls for a greater focus on road safety to save lives and reduce the economic cost of road trauma.
The report says:
The scale of the personal and financial cost of road trauma is unacceptable, and current actions and investments are not achieving the desired results.
Australia needs a dramatic change in road safety management, given the national road injury epidemic and the enormous economic cost from road crashes.
Failing to improve our current situation will result in 12,000 people killed and 360,000 injured at a cost of $300 billion by 2030 alone."
Labor will review the report's key findings and work with the Federal Government, the States, law enforcement, motoring organisations and other relevant stakeholders on the important task of improving Australia's road safety performance.
Over the past ten years, there have been 14,525 road fatalities in Australia, including 1226 road deaths in 2017 and 665 so far in 2018.
With the report placing the annual economic cost of road crashes in Australia at $30 billion, and the effect that fatalities have on families and communities who have lost loved ones through vehicle accidents, we must lift our game.
Victoria will continue to be ripped off on Federal infrastructure investment despite Scott Morrison's ascension to the prime ministership.
According to a leaked list of infrastructure projects approved in the 2018 Budget but not announced, there are no new projects in Victoria other than the already announced $150 million for a Geelong City Deal.
Instead, the Morrison Government will focus its investment on marginal seats in New South Wales and Queensland.
The Federal Coalition has been ripping Victoria off for years, with the state receiving as little as 8 per cent of annual Federal infrastructure grants despite being home to a quarter of the national population.
In this year's Federal Budget, then-Treasurer Mr Morrison tried to hide his cuts with promises of new projects. But 85 per cent of the promised investment will not be delivered for at least four years.
Victoria needs investment now to cope with its strong population growth.
But the switch from Malcolm Turnbull to Scott Morrison has changed nothing – the Federal Government is continuing to punish Victorians for having the temerity to elect a State Labor Government.
The Coalition's cuts were further highlighted yesterday by new research from the independent Parliamentary Budget Office.
The PBO found that Federal infrastructure grants to the states expressed as a proportion of GDP will halve from 0.4 per cent in 2017-18 to 0.2 per cent over the next four years.
Australia needs to increase infrastructure investment to protect our quality of life in the face of the demands of our strong population growth.
Instead, the Coalition is cutting investment and its cuts disproportionately affect Victoria.
Subjects: Morrison Government's leaked infrastructure plan; Peter Dutton; ACT election; Leadership spill; Federal election; Wentworth by-election; Australia-India Business Council.
RICHARD PERNO: Anthony Albanese I'll bet you're glad you're not a Liberal.
ANTHONY ALBANESE: I sure am. They're having a very rough time at the moment but it's deserved.
PERNO: You reckon it's a good kick in the pants, a wakeup call, water in the face, run over, whatever?
ALBANESE: Well they certainly are a mess at the moment. We had in my portfolio this morning quite an extraordinary leak on their infrastructure plans – ten different projects worth $7.6 billion. Decisions that were made in the Budget in May but not yet announced and just put all out there. A very significant budget leak from documents that would have gone through the Cabinet and the Expenditure Review Committee and it just shows what a state of chaos the Government is in.
PERNO: Hey, hang on, they're giving us money. What's chaotic about that?
ALBANESE: What's chaotic is announcements not being made by the Government but being made by a leak to a journalist in Canberra.
PERNO: But you know Anthony Albanese, you've been around a while, there's no such thing as a leak.
ALBANESE: There absolutely is a flood going on at the moment. So you're right that it's not so much a leak, more a torrent of information. Quite clearly what's …
PERNO: A tsunami, Anthony.
ALBANESE: That's right. Well clearly what's happened here is that people who were part of the old regime in the Abbott-Turnbull Government. Abbott-Turnbull-Morrison Government now, have decided: 'Well we're not going to allow Scott Morrison to get credit for these projects, so we'll just chuck it out and let everyone know that these decisions were made in the lead up to the Budget in May'.
PERNO: Okay, Home Affairs Minister Peter Dutton has threatened to turn the tables on you if you keep pursuing him over the au pair scandal. You haven't got – have you got an au pair? I didn't know that, Anthony.
ALBANESE: I wish him the best of luck because he's going to need it. This is a fellow who it's unclear whether he's entitled to be in the Parliament. I mean, that issue hasn't been resolved yet. That can only be resolved by a reference to the High Court. And then you've got multiple interventions, not through the normal process of representations by Members of Parliament, but by people who apparently had the Minister on speed dial and all of a sudden we hear words that haven't passed Peter Dutton's lips too often of compassion and justice and people have a look at what he's said in the past about other cases where he's been completely resolute in not showing any compassion and compare the circumstances. And that's why people are scratching their heads.
PERNO: Okay, you haven't got an au pair in the cupboard somewhere have you Anthony?
ALBANESE: I certainly have not, let alone one from the south of France.
PERNO: Yeah it's an interesting case isn't it? I got something to tell you from Canberra too, the Member for Grayndler, Shadow Minister for Infrastructure, Cities and Regional – do you really like all those titles? – Shadow Minister for Tourism,  Anthony Albanese. Two years until the ACT's next election, minor parties are already making battle plans to overcome the tough odds they face to win a seat in the Legislative Assembly in Canberra. Members from the – I don't know whether you know these – Australian Progressives, Reason Party – they were the funny other party weren't they? The Reason Party ACT – the Sex Party, Sustainable Australia, Liberal Democrats ACT, will host a question and answer at King O'Malley's Pub this Thursday. You're welcome and they've invited you Anthony Albanese and it starts at six. What question would you ask them?
ALBANESE: Why?
PERNO: Simple.
ALBANESE: Why.
PERNO: Well they don't like any of the major parties …
ALBANESE: Just why.
PERNO: They don't like you. They don't like any of the others. They just want to get together.
ALBANESE: The problem is of course, is that when people get elected from these minor parties what the Senate has shown us – it keeps reminding us unfortunately. Is that they change which party they're in. You have One Nation people who become Katter people and Family First people become Liberals and independents and Jacqui Lambie Party people become National Party in Tasmania, that didn't even exist prior to that. So I think I'm a bit old fashioned which is that if you want to get things done, vote for a party of government.
PERNO: Yeah.
ALBANESE: I hope that's Labor but if it's not the alternative. I'm not sure what they call themselves in Canberra, the conservative parties, I guess it's just the Liberal Party rather than the Liberal-National Party but I do think that there is a lot to be said for having parties of government hold office.
PERNO: I guess in a way though, really Anthony Albanese, what you're saying is the chaotic measure of politicians and one party after the other party after the other party all the time …
MUSICAL INTERLUDE
PERNO: I mean it is chaotic at the moment, right across the political spectrum. Is it any wonder that we go, 'up you we don't want anything'?
ALBANESE: Look I'm not surprised that there is a great deal of disillusionment out there. I think that people are entitled to think that when they vote for a Prime Minister the Prime Minister will be allowed to serve. I was flabbergasted by the actions of the Liberal Party in knifing Malcolm Turnbull. Malcolm Turnbull was in a reasonable position, he was a bit behind us, but he was ahead in terms of preferred Prime Minister and had been from the time he took over the leadership.
And he, to be cut down not by someone who was more popular, but someone who was less popular, the idea that whoever thought that Peter Dutton would be a good choice as Prime Minister was quite bizarre. As it is they've got Scott Morrison and immediately our primary vote has lifted by six points. And of course the popular choice apart from Malcolm Turnbull to lead the Liberal Party was Julie Bishop, so of course they put her last.
PERNO: Well she got knocked out in the first round as you know Albo. The problem is that you have now got, if you like, prime box haven't you in the race? You're solid; you've been solid for a while now. Bill Shorten will no doubt take you to the next election and should you be victorious in the next election, Anthony Albanese, will you keep him there or do you think there might be a bit of a spill in your party?
ALBANESE: No, we will be as united as we have been for the entire couple of terms. The fact is that people in the Labor Party are looking forward to having the opportunity, if we are successful, to serve as Ministers. People have been in the same portfolios for some time. One of the interesting things about today's leak, which is about infrastructure projects that were funded but not announced in the Budget, is that so many of them are projects that we had already announced our support for from Opposition. So I think there's a range of areas in which Labor has been leading from Opposition. We've been doing the hard policy work and we've been acting like a team.
PERNO: Yes, okay. The accusations, the criticism with your party though Anthony is the perception that if you get in you'll spend like drunken sailors. That's what we always hear, you blow the budget.
ALBANESE: Well if you actually have a look at what Labor Governments have done, if you look at the proportion of spending compared with GDP what you'll find is that Labor has been more economically responsible than the Coalition, even though we had to deal with the Global Financial Crisis. And of course what we've seen is the debt more than double under this Government's watch and that was with no excuse, with no need to deal with the potential of a global recession. They haven't had the natural disaster crisis that we had on top of that, in terms of bushfires in Victoria and the floods in Queensland, and they have shown themselves to not be responsible when it comes to the Budget and indeed one of the things that we've done is to announce savings that we would make. We've been prepared to make tough decisions and of course we wouldn't have even proposed giving a huge tax cut to the banks.
PERNO: And you were flabbergasted when the Liberal Party stabbed one of its own – like Caesar in the back. But didn't you knife Julia and Kevin?
ALBANESE: Well and at the time – I certainly said back in 2010 that was a mistake. I said at the time, that we would destroy two Labor Prime Ministers through that action and I think that's been proven to be historically correct. And one of the extraordinary things though, is that we had Tony Abbott after that – come into office and be replaced. We have then had Malcolm Turnbull be replaced.
PERNO: We're sick of it.
ALBANESE: We're now on our third Liberal Prime Minister within two terms.
PERNO: All right let's cut to the chase of Wentworth. They're not going now on either the sixth or the thirteenth, Albo. The Wentworth by-election isn't going to go – I reckon Turnbull should have stuck around and done the honourable thing like Julie Bishop did. She went to the backbench and she said she'll contest her Western Australian seat. Do you agree with me, Albo, that he should have stuck around, not spat the dummy and taken his bat and ball and gone home and cost a Wentworth by-election? Although they can afford it, they're pretty rich. A by-election, he should have stuck around?
ALBANESE: Well its taxpayers' money, of course.
PERNO: That's right.
ALBANESE: Everyone – you're paying, the people of Canberra are paying as well.
PERNO: I don't want to pay! I mean, he should have stuck around. So if it's not going to be held on October 6 or 13, when is it going to be held?
ALBANESE: It should be held, in my view, it should be held as soon as possible. Wentworth – the people are entitled to be represented.
PERNO: The people are revolting.
ALBANESE: They can't get their act together. They have a preselection, Labor's had ours.
PERNO: Fifty year-old Tim Murray, he's going to do this in Wentworth for you. Who is Tim Murray?
ALBANESE: Look he's a local who's been very active in the local branches. He's been active in the business community and he's putting himself forward to have a crack – of course we don't expect it to be overwhelmingly successful in Wentworth of course.
PERNO: Why not?
ALBANESE: Well it's a seat that we've never held.
PERNO: So what? A man never went to the moon until 1969 Anthony, come on!
ALBANESE: When you doorknock around Point Piper you don't necessarily – it doesn't necessarily strike you that these are natural Labor voters.
PERNO: Obviously you have not been to Point Piper, you don't doorknock in Point Piper, you ring the buzzer at the front gate. There is no door knock.
ALBANESE: You probably have to walk a fair way (inaudible).
PERNO: That's right and they've got they've got these walloping great Mastiffs and you've got to go past the chauffeur before you can get to the door. A couple of quickies – you're on Q&A tonight, yes?
ALBANESE: I am indeed. Maybe some of your listeners can ask some questions tonight.
PERNO: And then on September 11, that's a holy number, you're going to be at the Australian-Indian Address at the Hyatt. Nice place to have an address.
ALBANESE: I am indeed. The Australia-India Business Council is a really important organisation. India is of course a growing economy; it will be the third largest in the world in a short period of time. And everyone talks about China but our relationship with India is very important. It's a democratic nation. It's one one in which we have close ties, including a large Indian diaspora here in Australia. And of course many Indians come and study here as well and go back. And it's important for our economy that we keep those relations, but you can't beat, I don't think, people to people relations. So I'll be very pleased to be supporting the Australian business community doing more activity in India as well.
PERNO: Now you know you don't have knives and forks when you're eating Indian food, you mop it up with the rice and the bread. You're aware of that aren't you Anthony? So you'll be handed a very large napkin to place over that tie of yours so you don't make a mess of yourself. All right?
ALBANESE: Well I do like Indian food I have had the pleasure – I've been to India a couple of times. (Inaudible) once many years ago, my first trip to India was back in 1991 with a backpack, where myself and my now wife took buses and trains and really got amongst the people. It was quite a rewarding experience. It's a difficult place to travel, but the people are wonderful and it was a great pleasure to be able to go back there just last year.
PERNO: All right. Well behave yourself. We'll see you on Q&A tonight.
[ENDS]
MONDAY, 03 SEPTEMBER, 2018
A Shorten Labor Government will help deliver the new Rockhampton Ring Road project.
This project will mean a new 22 kilometre ring road running from the Yeppen Roundabout along the western side of the airport to a third bridge crossing before reconnecting with the existing Highway at Parkhurst.
This is a transformative project for Central Queensland, helping ease congestion on the Bruce Highway and boosting liveability for local residents.
The new Rocky Ring Road will provide a big boost to the economic capacity of Central Queensland, supporting the growth of new local industries and new local jobs.
The Ring Road will take thousands of trucks off local streets, cut travel times, improve road safety and allow the airport to grow into a freight hub
The Bruce Highway presently runs through the heart of Rockhampton meaning increased congestion with vehicles forced to navigate 18 signalled intersections and a further 47 without.
Not only does this impact liveability for residents but the delay in the movement of freight has a significant economic cost for industry.
Specifically, long delays are currently being experienced at Denison Street where slow moving North Coast Line trains close the Highway for long periods, and the road network often takes a long time to dissipate the resulting congestion after each train passes.
A business case is currently being undertaken by the Queensland Government which will determine the final cost of the project. Community consultation is a key element of this work.
This initial planning phase is expected to be completed in the next 18 months' time.
This commitment to the Rockhampton Ring Road builds on Labor's strong track record of delivering for Central Queensland's road network, including the major Yeppen Roundabout and Bridge upgrade.
MONDAY, 3 SEPTEMBER 2018
The deep divisions within the Morrison-Turnbull-Abbott Government are now derailing its attempts to play catch-up on rail and road investment following years of cuts and neglect.
The leak to the Herald Sun of a list of the Government's infrastructure project Budget decisions taken but not announced is a major embarrassment for Prime Minister Scott Morrison and his rabble of a Government, which has an abysmal record when it comes to nation building.
Federal infrastructure grants to the states will fall off a cliff over the next four years, from $8 billion in 2017-18 to $4.5 billion in 2021-22.
And research by the Independent Parliamentary Budget Office shows that under the Coalition, Federal grants will halve over the next decade from 0.4 per cent of the national GDP, to 0.2 per cent.
In this year's Budget, the Government tried to hide its cuts behind promises of new projects in major cities.
But none of the money was new and 85 per cent of it won't be spent for at least four years.
Given this record, Australians should be skeptical about the Government's new list of promised projects, which represent a case of too little, too late.
Indeed, Labor has already committed to most of the projects on the Coalition's list, including the Western Sydney Rail, Mackay Ring Road Stage II, Rockhampton Ring Road, Brisbane's Linkfield Road Overpass, Adelaide's South Road upgrades and the AdeLINK Light Rail project.
Labor has also committed to advancing High Speed Rail, including by moving Private Member's Bills which are currently before the Parliament.
In recent weeks I have visited both Geelong and Darwin and called for the finalisation of the City Deals for these cities.
While years of division have paralysed the Government on infrastructure, Labor has been leading from Opposition.
Only a Shorten Labor Government will deliver the rail and roads our nation needs to underpin economic growth and tackle the traffic congestion that is eroding our quality of life.
MONDAY, 3 SEPTEMBER, 2018
A Shorten Labor Government will invest $500 million to deliver a staged upgrade of Queensland's inland road network, meaning up to 3000 kilometres of better, safer roads and up to 300 wider, stronger bridges.
Labor's plan will get the arteries of regional and rural Queensland pumping again, it will make it easier for farmers to move cattle and sheep and feed, and it will put the regions at the heart of our infrastructure plan. It will also mean tourists can better and more easily explore the towns of Western Queensland.
This massive project has been estimated to create over 13,000 direct and indirect jobs in Queensland over the next decade, along with an additional $2.5 billion economic boost to the regional Queensland economy.
Half of Queensland's economy activity takes place outside of Brisbane – Queensland is Australia's most decentralised state – but for too long crucial regional roads have not received the attention they deserve:
• the Barkly Highway between Mt Isa and Cloncurry
• the Capricorn Highway between Emerald and Rocky
• the Mitchell Highway from Cunnamulla to Charleville
• the Kennedy Highway between Cairns and Mareeba
Queensland transports the greatest volume of cattle by road compared to any other state and makes up for half of Australia's cattle herd. The industry employs around 20,000 Queenslanders. This investment not only improves safety on key freight routes but will also help reduce the cost of transporting cattle to market.
This investment is a big boost for the Queensland economy; particularly regions feeling the impact of the drought.
When regional roads get neglected, drivers' safety gets put at risk, truckies are forced to go the long way round, flood damage is a bigger problem than it ought to be and the same few reliable roads suffer wear and tear.
Just like every infrastructure project a Shorten LaborGovernment invests in, we will insist on Australian materials, Australian jobs and we'll make sure one out of every ten people working on site is an Australian apprentice.
Today's $500 million announcement is just one part of Labor's Plan for Real Jobs in Regional Queensland. We will:
• Widen the Townsville Port Channel ($75 million)
• Extend the Bruce Highway to Cairns Airport ($40million)
• Deliver the Rookwood Weir ($176 million)
• Invest $100 million in Townsville Water Security and $200 million in the Burdekin Dam
• Help build Stage 2 of the Mackay Ring Road ($100million)
• Construct the Rockhampton Levee ($25 million)
• Upgrade the Rockhampton-Yeppoon Road ($47.5million)
• Help build the Gladstone Port Access Road  ($100million)
Federal Labor's commitment to making this substantial investment in Queensland's vital inland roads and highways follows the strong advocacy and work of the Inland Queensland Roads Action Project, which brings together 28 local governments, five Regional Development Australia committees, and the RACQ.
SATURDAY, 1 SEPTEMBER 2018