Browsing articles in "Shadow Ministerial Media Release"
Incoming Infrastructure Minister Michael McCormack has nominated a cut to Tasmanian road funding as one of the Federal Coalition Government's biggest achievements.
In Question Time today I asked Mr McCormack why his Government's own Budget papers show Federal infrastructure investment in Tasmania will decline from $174 million this financial year to $53 million in 2019-20.
I also asked why there had been no Federal Government funding for a single new major rail or road project in the State in nearly five years.
Mr McCormack ignored my question and pointed to the upgrade of Tasmania's Midland Highway as evidence of his Government's commitment to nation building.
But what he failed to point out was that as soon as the Coalition took office in 2013, it cut funding that the former Labor Federal Government had provided for the Midland Highway from $500 million to $400 million.
Mr McCormack also named the Tasmanian Freight Revitalisation Program as another of the Coalition's achievements, despite the program having been devised and funded by the former Federal Labor Government.
Mr McCormack, who succeeded Barnaby Joyce in the Infrastructure and Transport portfolio this week, is clearly ignorant of his Government's cuts. Rather than admit this, he sought to defend the indefensible.
The new Minister must get across the detail, use his newfound authority to reverse the cuts and provide Tasmania with the infrastructure investment it requires and deserves.
More than 1000 days after the creation of the Northern Australia Infrastructure Facility, the organisation has yet to refer a single major project to Infrastructure Australia for formal assessment.
The NAIF, a $5 billion fund created by the Federal Coalition Government to finance the construction of job-generating infrastructure in Northern Australia, is required to consult with Infrastructure Australia before providing loans for any project valued at more than $100 million.
But this week at a Senate Budget Estimates hearing, Infrastructure Australia Chief Executive Officer Philip Davies said: "We have had no formal submissions from NAIF to date''.
The NAIF is a dud that is fast-becoming a joke. A more accurate name for this organisation would be the No Actual Infrastructure Fund.
The people of Northern Australia need well-paid, secure jobs. The right infrastructure projects will stimulate the investment needed to create those jobs.
But the Coalition's chosen vehicle to drive this growth has produced nothing, and its only expenditure has been on executive salaries and perks for its board members.
By contrast, Labor is rolling out serious plans for infrastructure investment, including the establishment of the $1 billion Northern Australia Tourism Infrastructure Fund to provide financing and concessional loans to build new tourism infrastructure.
Last week, Labor also committed to widen the channel at the Townsville Port, build the second stages of the Gladstone Port Access Road and Mackay Ring Road and deliver the Rookwood Weir to provide 2000 agriculture jobs in the Lower Fitzroy.
These are real projects that will deliver real infrastructure in Queensland and make a real difference to the lives of people in our nation's north.
Incoming Infrastructure and Transport Minister Michael McCormack must use his appointment to fix the policy failures of his three National Party predecessors and reverse the cuts to investment in nation building infrastructure.
Mr McCormack inherits a very long to-do list.
According to the Government's own Budget Papers, Federal infrastructure investment will fall off a cliff over the next four years to its lowest level in more than two decades.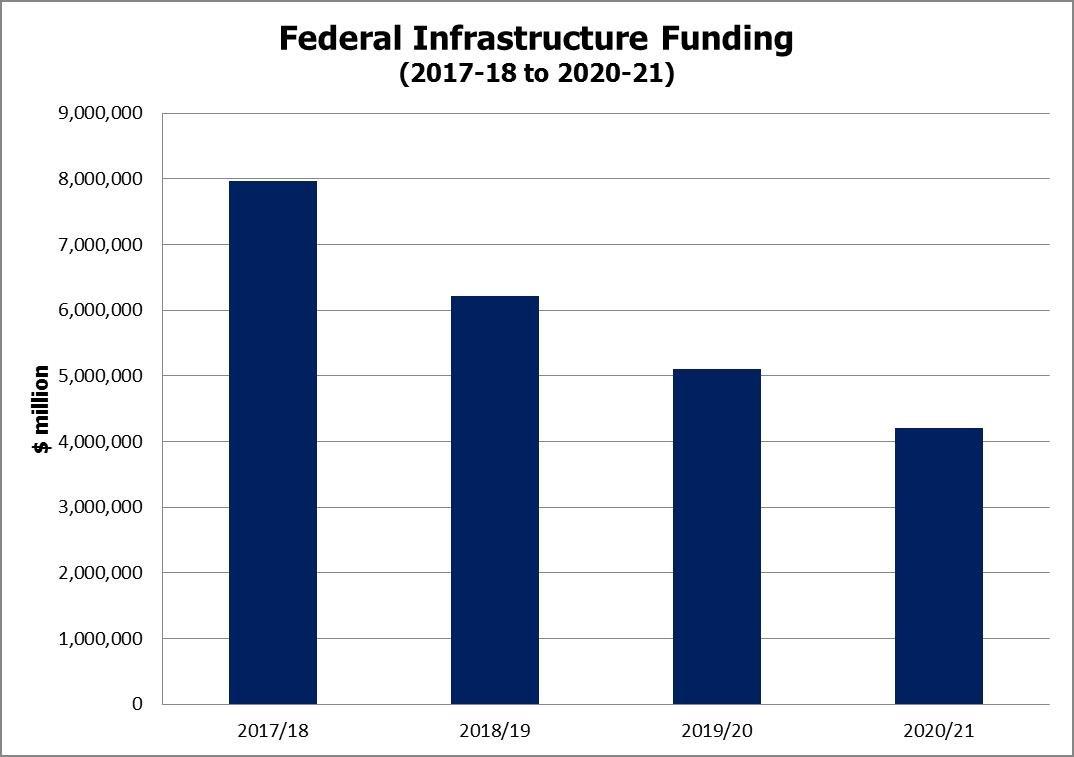 Worse still, the independent Parliamentary Budget Office has warned that if the Government does not reverse its cuts, Federal infrastructure investment measured as a percentage of GDP will halve over the next decade from 0.4 per cent to 0.2 per cent.
This will inevitably lead to slower growth, fewer jobs, higher transport costs and more urban congestion.
But the Government is not only slashing future investment; they have also failed to deliver on their past promises.
In its first four Budgets (2014-15 to 2017-18) the Government's actual investment was $4.8 billion less than its own commitments in its Budget.
And no area of the infrastructure budget has been spared.
Indeed, at the very time the national road toll has been increasing after decades of decline, they have even cut funding for important road safety programs.  For example, a third of the $305 million they promised to spend on the Black Spot Program over the past four years was never actually invested in fixing dangerous blackspots on local roads.
Properly targeted infrastructure investment boosts economic activity in the short term while lifting productivity in the longer term.
Put simply, Mr McCormack needs to do what Barnaby Joyce failed to do.  He needs to use his newfound position of influence within the Government to prevent the cuts currently in the Budget and boost investment, not just in rural and regional roads, but also in public transport within our cities.
Australia cannot afford to have yet another ineffective Infrastructure and Transport Minister.
MONDAY, 26 FEBRUARY, 2018
Federal Labor will capitalise on the ongoing growth in Tasmanian tourism with a $15 million investment to improve facilities at Cradle Mountain.
The investment will upgrade the visitor amenities and comes in addition to the $30 million committed by State Labor Leader Rebecca White to this iconic attraction.
Tourist visits to Cradle Mountain grew 9 percent last year to more than a quarter of a million.
In the same period Tasmania led the nation in terms of international tourist numbers, recording an impressive 17 percent growth.
Governments must work with industry to capitalise on this trend.
The Tasmanian tourism sector already supports more than 37,000 jobs – about 16 per cent of the State's workforce.
Improving tourism infrastructure now will enrich the experience of visitors, drive further growth and more jobs for the future.
The former Federal Labor Government invested $50,000 in the Tourism Industry Council of Tasmania research which led to the development of the Cradle Mountain Masterplan Project.
We also invested $250,000 on improvements at the iconic Peppers Lodge through our Tourism Industry Regional Development Fund.
The next Labor Government will build on these investments and continue to back tourism growth right across Tasmania.
MONDAY, 26 FEBRUARY, 2018
A Federal Labor Government will upgrade the Bass Highway between Marrawah and Detention to improve road safety and increase growth in the region's economy and tourism sector.
The Bass Highway is critical to Tasmania's economy, carrying more than one million tonnes of freight each year, worth about $1 billion. It is also important for tourism at a time when visitors are increasingly exploring the state beyond Hobart and Launceston.
The Marrawah-to-Detention section has been identified as the most-dangerous part of the Bass Highway.
This is why Tasmanian State Labor Leader Rebecca White has committed $6 million to upgrade the road.
A Federal Labor Government will match that investment, taking the total commitment to repairing the Highway to $12 million.
Australian governments must work together to upgrade our railways, roads, ports and other infrastructure to drive economic growth and job creation.
This is particularly important in regional areas.
The former Federal Labor Government invested heavily in infrastructure in Tasmania, increasing investment from $157 per Tasmanian to $264 during our six years in office.
By contrast the Federal Coalition Government has failed to commence a single new major infrastructure project in Tasmania in nearly five years in office.
And the situation is about to get worse with Federal infrastructure grants to Tasmania set to fall from $174 million in 2017-18 to $62 million in 2020-21.
The next Federal Labor Government will provide Tasmania with the infrastructure investment it deserves and requires to drive sustained economic growth.
MONDAY, 26 FEBRUARY, 2018
There are many sayings about tourism and travel, but I like the one that goes, 'travel is the only thing you buy that makes you richer.'
Indeed, in Australia travel is always an enriching experience.
Our beaches are regularly ranked amongst the best in the world.
Our cities are incredibly vibrant and exciting.
Our outback offers a landscape unrivalled by anywhere else.
Whether it's WA's brilliant coastline, the expanse of red desert that dominates Central Australia, the rainforests of Tropical North Queensland, the rolling hills of wine country in the Hunter Valley, mountainous Tasmania, the sun setting over the Top End, or Kangaroo Island in SA – there's something here for everyone.
And of course our history, which dates back at least 65,000 years, means we are home to the world's oldest living culture.
Today, our first people continue to play an integral role in sharing this past and teaching not only us, but international visitors as well, about the importance of appreciating and caring for the land.
And as the challenges associated with climate change continue to grow, this is more important than ever before.
So I congratulate each of the Award nominees and recipients. The incredible diversity of the Australian tourism sector is certainly on show tonight.
Tourism has been identified as one of Australia's super-growth sectors.
It underpins the local economies of towns and cities across the nation, generating more than $100 billion in overall economic activity.
And each year as the number of visitors to our shores increase – 8.8 million in the year ending December 2017, up 6.5 per cent from the year before – it's clear that the work you do is making a difference.
It's also significant that the awards are here at Perth Stadium – one of the first corporate events to be held here.
Quality infrastructure such as this is an essential part of the tourist experience.
Just the other week I visited the iconic tourist destination, Scarborough Beach, with my colleague and Member for Perth Tim Hammond.
There the City of Stirling is continuing its work to revitalise the area.
This will see WA continue to build its prominence as a world-class surfing destination.
Investment such as this becomes even more important in the light of several emerging trends, including an increase in independent travel from international visitors, particularly those from China.
But there's also much to see outside our big cities.
If we can encourage visitors to get out into regional Australia, we can increase the average number of nights visitors stay as well as their expenditure.
Here in WA, nearly 1 million international visitors visited the state in the year ending September 2017.
That's fantastic.
And the new Perth-to-London direct by Qantas, starting next month, will bring enormous tourism benefit to WA, as people take the opportunity to stop over to and from Europe and see what WA has to offer.
WA received a huge boost from Roger Federer's famous 'quokka selfie' on Rottnest Island.  More than half a billion people in 45 countries saw this photo.
If just 1 per cent of those who saw this decided to come get a selfie of their own, that would result in five million visitors.
Get that quokka a contract.
We know that tourism marketing works, with return on investment delivering $16 benefit for every $1 invested.
But while we continue to promote Australia to international markets, there's also an opportunity to increase our domestic visitor market, both intra-state and inter-state, as well through tourism promotion.
Prominent WA author Tim Winton had this to say about Australia:
"It's good for the spirit, to be reminded as an individual or a community that there will always be something bigger, older, richer and more complex than ourselves to consider."
It is through tourism and the work you do, that we have an opportunity to experience the many wonders of our nation and showcase them to the rest of the world.
FRIDAY, 23 FEBRUARY, 2018

A Federal Labor Government will help eliminate Perth's most-congested road intersection by funding construction of an overpass to separate the Leach Highway from Welshpool Road at Welshpool.
Every peak hour, congestion around the existing intersection creates queues of vehicles stretching as far as 1km. This holds up traffic headed to and from important industrial areas of O'Connor and Welshpool as well as the Kewdale Intermodal Freight Terminal, Perth Airport and the Port of Fremantle.
Separating the highway with an overpass will make a real difference to the Perth economy by lifting productivity and driving economic and jobs growth.
The project would also include an upgrade to the Leach Highway Bridge over rail south of the proposed Welshpool Interchange. Upgrading this bridge would ensure the southbound ramp and merge lane is not constrained, providing adequate long-term capacity on the Leach Highway.
Federal Labor would contribute half of the project funding, which has a current estimated cost of $93 million.
Construction is expected to create 385 direct and indirect jobs and work could begin as early as June, 2019.
Western Australia must broaden its economic base.
Governments must facilitate this process by investing in transformative infrastructure projects like the Welshpool Interchange to make it easier for businesses to get their goods to market.
The Leach Highway-Welshpool Road intersection is immediately south of the Gateway WA project, which was funded by the former Federal Labor Government and delivered benefits for the entire Western Australian state economy.
The former Labor Government also funded the Perth City Link, the Swan Valley Bypass (now known as NorthLink), the Tonkin and Leach Highway upgrades and work on the Great Northern Highway and the North-West Coastal Highway.
The next Federal Labor Government will build on this record.
As with the $700 million Labor has already committed to the extension of the rail line to Ellenbrook, the funding for the Leach Highway/Welshpool Road Intersection Upgrade will come from our $1.6 billion Fair Share for WA Fund, to be established in recognition of WA not receiving a fair share of GST receipts.
FRIDAY, 23 FEBRUARY, 2018
Infrastructure Australia's call for increased Government investment in public transport has highlighted the folly of the Turnbull Government's failure to invest in mass transit at a time of intensifying growth of Australian cities.
Infrastructure Australia's Future Cities report, released today, warns: "Investment in mass transit is crucial to reducing congestion, increasing accessibility and reducing the rate of emissions growth.''
The report comes just a day after an International Monetary Fund report called on Australia to lift its infrastructure investment, noting it had over-invested on roads at the expense of railways, ports and airports.
As soon as the Federal Coalition Government took office it refused to work with states to invest in public transport and withdrew funding for all urban rail projects except those that were already under construction.
Since then, the Coalition has refused to back critical public transport projects including the Melbourne Metro, Brisbane's Cross River Rail, the Western Sydney Rail and the AdeLINK light rail project in Adelaide.
After nearly five years of drift under the Coalition, it is time for a policy shift to tackle the traffic congestion that is acting as a handbrake on economic growth and eroding the quality of life of the four out of five Australians who live in cities.
Australians who live in drive-in, drive-out suburbs with no access to public transport spend hours a day commuting on increasingly congested roads.
Indeed, it is a tragedy that many Australian parents spend more time in their cars commuting than they spend at home playing with their children.
The former Federal Labor Government invested more on public transport than all previous commonwealth governments combined since Federation.
We also created the Major Cities Unit and the annual State of Australian Cities Report and produced a comprehensive urban policy Our Cities, Our Future to drive policy to improve the productivity, sustainability and liveability of Australian cities.
Both the Major Cities Unit and the State of Australian Cities Report were abolished by the Coalition.
The next Federal Labor Government will re-engage with cities policy and start by re-establishing the Major Cities Unit within Infrastructure Australia.
We will work with States, councils and the planning sector to meet the growth pressures facing urban Australia and provide the investment required to bring our public transport system into the 21st century.
FRIDAY, 23 FEBRUARY, 2018
Subjects: Adani coal mine, Batman by-election, Peter Dutton.
PATRICIA KARVELAS: Welcome.
ANTHONY ALBANESE: Good to be with you Patricia.
KARVELAS: Now Bill Shorten has said repeatedly that Labor will support the Adani mine if it stacks up. What does that mean? Paint us a picture of the scenario in which the ALP backs the mine.
ALBANESE: Well Patricia, you are asking the wrong question because the Adani Mine has been approved by the EPBC approvals. Not once, but twice. It was approved firstly and then they made a decision that what they would need to do is to re-examine it in light of the potential impacts on the Great Barrier Reef and again it was approved. It has received its state approvals – both of those rounds of approvals by the way under Coalition governments, not Labor governments.
What we have said though, and what indeed the conservation movement said to me repeatedly, was this project doesn't stack up unless it gets some public subsidy through the rail line. Now we ensured that that would not occur and indeed the Queensland Labor Government has also said that they won't support that subsidy and hence we have a project that doesn't have any finance, doesn't have finance here in Australia, unable to raise funds in the US, unable to raise funds in China. And therefore it is hard to see this project going ahead because of the economics of the project.
KARVELAS: OK. So if they sort out the economics, you talked about all the approval processes …
ALBANESE: Well, economics is the way that the private sector operates and is run. They are either profitable or they are not.
KARVELAS: So the question still stands. If the project becomes economically viable, then Labor would have to support it under your rationale.
ALBANESE: But that is absurd that you are asking. That is the wrong question.
KARVELAS: No, it's my question. I ask the questions here. It's not the wrong question.
ALBANESE: Yes and it is wrong because it has already been approved. The question that you might ask is would Labor go through a process of rewriting the Environmental Protection, Bio-diversity and Conversation Act? Will we rewrite the way that environmental legislation is conducted in this country? And certainly there has been no suggestion from Labor that that is something that we should do.
KARVELAS: So you don't think that you should rewrite the environmental processes?
ALBANESE: What we think is good policy happens when you establish good, proper settings, be it in terms of energy – the Renewable Energy Target, putting in place a policy framework which then drives a change across the economy. What you don't do is single out particular projects and then retrospectively change existing laws which would have ramifications across the board.
We haven't said at any stage that we would do that. What we have said very clearly is because of what is happening in the global thermal coal market, which includes, by the way, India saying that they will not import coal after the next few years, is that there is not a market for this.
KARVELAS: So you are saying that project is dead, so it doesn't matter what your position is. Is that what you are telling me?
ALBANESE: No. It's not up to me to say that. I am saying that very clearly the economics of the project haven't stacked up, otherwise the financing would have occurred, otherwise any one of the many deadlines which have been established by the company where they have said we will start certain operations by particular dates, would have been met. The fact is they haven't been met. The financing isn't in place for the project.
KARVELAS: Shadow Resources Minister Jason Clare, in response, has said that that Labor is not in the business ripping up contracts. Do you agree with that?
ALBANESE: Oh absolutely. The Federal Labor Party is in the business of making sure that you have proper policy settings in place and that you can have a proper economic policy operating as well. I do find it somewhat extraordinary that the Greens Political Party, who voted against having a price in carbon in 2009, which would of course have had an impact, had the CPRS been in place on projects like this one because of the fugitive emissions that come from the mining sector, that they are belatedly, after the approvals have occurred, have been running a campaign a long way after the approvals had occurred both federal and state.
KARVELAS: The national convenor of the Labor Environment Action Network, Felicity Wade, says that it is time for Labor to make its position on Adani clear. Have you made it unclear?
ALBANESE: Well, what we have said very clearly is that Labor will put in place mechanisms to drive energy policy, to drive climate change policy, to move to a clean energy economy and we will do that …
KARVELAS: But on Adani, I have put a very specific question to you.
ALBANESE: No, you have put a position based upon what should have been put five years ago when it was being put before the EPBC Act on any of the occasions …
KARVELAS: So you are saying it is just too late, the horse has bolted on Adani?
ALBANESE: No we are not saying that. We are saying that the economics of the project mean that it is not proceeding because they haven't been able to get the financing of the project. And indeed, indeed the conservation movement – what you can't have is people come through your door and say if you stop this project getting public subsidy effectively for the rail line then the project won't occur. That was the demand certainly in meetings that I had with the environmental al movement. Labor made our position very clear on that and that is appropriate because it is appropriate that the private sector operate the private economy but the public sector – the Government –  determines whether there will be any government subsidy for particular projects and that the Government put in place economy-wide policies and programs to drive the change that we want to see in the economy.
KARVELAS: CFMEU national president Tony Maher says that if you oppose Adani and win Batman you will end up losing seats in central Queensland. Is he right?
ALBANESE: This isn't about the politics of the project. This is about getting the policy mechanisms right. What you can't do is look at any one electorate and say this is why we are going to determine national policy on something like mining or energy or climate change action. What you have to do is to get the policy mechanisms right and that is what we have done. We have because of Labor's 20 per cent by 2020 renewable energy target. In spite of the efforts of the Government it will be met and when we determined that policy, I was the Environment Shadow Minister, the existing target was 2. So it was a tenfold increase that we committed to.
KARVELAS: OK Let's just talk about Batman. You have been campaigning with Ged Kearney. You have built expectations that Labor is likely to win that seat. You have been campaigning there now. What do you think after being on the ground? Will Labor win that seat?
ALBANESE: Well, I have had a very positive reaction with Ged Kearney. She's a great candidate. She is someone who has been a nurse for 20 years. She understands the services sector, She understands people and she understands that electorate and certainly the reaction has been very positive. Ged is someone who has stood up for working people her whole life, as a nurse, but then as a Nurses' Unions official.
KARVELAS: So she will win that seat?
ALBANESE: Well I certainly hope that she will.
KARVELAS: I know you hope that she will. I am asking whether she will, your assessment.
ALBANESE: Well you can never judge things until the ballot papers are in the box. But what we can say is that historically it has been a Labor seat. We've got a fantastic candidate who understands the electorate, who I think is a very good fit for the electorate.  Last night at her campaign office opening there were hundreds of people. They couldn't fit into the campaign office. Her volunteers are very committed, not just inside the Labor Party. The great thing about a candidate like Ged Kearney is that she is bringing in community activists – people from the environmental movement, the union movement the feminist movement – who understand that she will be a voice in a Labor Government, not someone sitting back waiting until decisions are made and then trying to work out whether they will have a protest about it or not.
KARVELAS: The Home Affairs Minister Peter Dutton has spoken today at the Press Club. He wants school children of all cultural backgrounds to recite a US-style pledge of allegiance to uphold laws and people's rights. Do you support the idea?
ALBANESE: It looks like Peter Dutton really wanted to have something to say at the Press Club after Tony Abbott pre-empted it last night.
KARVELAS: But do you support the idea?
ALBANESE: Well already in New South Wales schools, Peter Dutton mightn't be aware of this, people sing both verses by the way or the first two verses of the Australian national anthem, they do that and they do that regularly,
KARVELAS: Yes but do you support a pledge?
ALBANESE: Well what pledge? Again this is a thought bubble from a minister who has had the former Prime Minister essentially try to bomb his portfolio in a speech to the Sydney Institute last night that he put in the newspapers yesterday morning.
KARVELAS: Do you think the national anthem is enough?
ALBANESE: Well I would wait and see what any proposal is. But I don't think – you've got to identify what the problem is before you look for the solution. Is there a problem …
KARVELAS: Yes well he is saying civics educations should be stronger. Australian identity should be built. This is the framework.
ALBANESE: Australian identity is very important and Australian identity, from my experience as someone who has a son who is about to finish school this year and who has gone through the public school system the whole way, has had good civics education, has had the national anthem at every assembly, at every event. There is acknowledgement of country. There is here is a good position in my view in New South Wales in place. As to what the national situation is, I am not an expert in what happens in Victorian schools or Queensland schools for that matter, but I should imagine that similar things are in place in schools right around the nation.
KARVELAS: Anthony Albanese, I will let you go. But in Victoria we are definitely singing the national anthem at the school, or at least in my kids' school.
ALBANESE: And it is a fantastic thing that it happens.
[ENDS]
WEDNESDAY, 21 FEBRUARY, 2018

Commonwealth infrastructure grants to Victoria will collapse to just $46 per Victorian by 2020-21 – down from a yearly average of $201 per head during the period of the former Federal Labor Government.
The figures highlight the way in which the Abbott and Turnbull Governments have dudded Victoria – including the people of Batman – when it comes to infrastructure since taking office in 2013.
We already knew that this financial year (2017-18) Victoria, home to 25 per cent of Australians, will receive only 9.7 per cent of the total Commonwealth infrastructure budget.
But the situation will deteriorate over the next four years, with Commonwealth infrastructure grants to fall from $791 million this year to $280 million in 2020-21.
The Coalition's infrastructure rip-off began as soon as it took office and cut funding from Victorian projects including the Melbourne Metro and M80 upgrade.
By contrast, the former Federal Labor Government invested in transformative projects such as the Regional Rail Link, the M80, the Princes Highway Upgrades, Geelong Ring Road and the upgrade of the Western Highway.
The Turnbull Government's rip-off for Victoria means less money for trams, trains, bike paths and roads in Batman.
Victorians need strong Labor representatives like Ged Kearney who understand that investment in public transport and other infrastructure is the key to dealing with urban congestion.