Despite its spin and the region's rapid population growth, the Abbott-Turnbull-Morrison LNP Government has significantly scaled back Federal investment in South East Queensland's road and public transport infrastructure.
According to a new analysis of funding data produced by the Government's own Infrastructure Department, the LNP has committed $5.5 billion towards the delivery of major new road and rail projects during its first six years in office.
This compares to the $7.5 billion invested by the former Federal Labor Government over a similar period of time.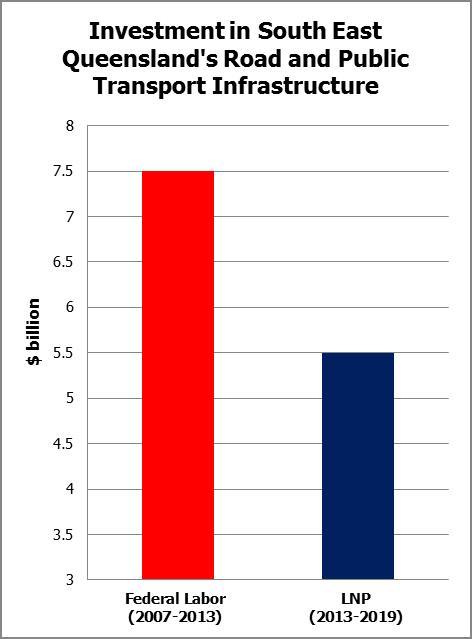 Worse still, of the funding announced by the Government to date, 40 per cent won't flow until the 2022-23 financial year at the earliest.
Simply put, delivery of projects such as the Bruce Highway upgrades between Pine Rivers and Caloundra, as well as the M1 Upgrade and duplication of the North Coast Line between Beerburrum and Landsborough, are off on the never-never.
The LNP's record has been one of broken promises, delays and cuts.
Indeed, one of the first acts of the incoming ATM Government was to cut all the funding allocated to Cross River Rail by the former Federal Labor Government and redirect that money to build new toll roads in Sydney and Melbourne.
If they had not done that, this project would today be nearing completion.
Without transformative projects like Cross River Rail, the economic cost of traffic congestion in Brisbane and across South East Queensland will increase almost five-fold to $9.2 billion a year by as early as 2031.
In addition to investing in Cross River Rail, the former Federal Labor Government also upgraded the major roads connecting Brisbane to Ipswich in the west – a $2.9 billion investment in the Ipswich Motorway; Brisbane to the Gold Coast in the south – a $455 million investment in the Pacific Motorway; and Brisbane to the Sunshine Coast in the north.
We also cooperated with the Queensland Government to fix congested sections of the Gateway Motorway, and construct a new interchange at the intersection between Mains and Kessels Roads.
And we partnered with Brisbane City Council to deliver the $1.5 billion Legacy Way.
Federal Labor understands that the only to keep South East Queensland moving is by investing in both their road and rail infrastructure – as we have done before and we will do it again