Browsing articles in "Grayndler Hansard"
Federation Chamber
Mr ALBANESE (Grayndler) (10:00): Last week, I had the privilege of once again visiting the Ella Centre in Haberfield in my electorate. It is a local organisation that works hard to support people in the inner west with disability, servicing the area now for more than 40 years. In that time, the Ella Centre's passion for social justice has ensured support for people with disabilities or dementia, older people and carers, as well as those struggling to get by.
My colleague Jenny Macklin, the shadow minister for disability reform, joined me as we celebrated the announcement that the National Disability Insurance Scheme will be arriving in the inner west in 2017. For people with disability, their carers and families, this is a significant milestone. Jesse Ellis currently relies on the Ella Centre. They help him with issues relating to his cerebral palsy. For people like Jesse, whom we met at the centre, the NDIS will make a world of difference. The NDIS is an example of how the decisions that governments make have the capacity to shape people's lives for the better. I am very proud to have been part of the former Labor government which fought hard to see the NDIS introduced. I know that many local residents with disability have waited their whole life to get the care and support that they need. It is a huge breakthrough for people in my local community. Now they have the certainty of knowing when they will be able to access services as part of the NDIS. Because of the NDIS, people with disability will have their needs met in a way that supports them to live with the choice and the dignity that they deserve.
It must be noted that campaigns are only won when they have the support of the community. I thank local supporters for their work in advocating for the NDIS over the past few years. Their voices have been critical throughout this process. I would also like to recognise some of the other organisations in my electorate that make a positive difference each and every day in the lives of people with disability. FRANS in Croydon and the Infants' Home in Ashfield are two more examples of local organisations committed to ensuring equality of opportunity. The history of FRANS dates back to 1983. Today they run life skills programs, vacation care, supported living and recreational activities. I visited FRANS with former Prime Minister Julia Gillard some few years ago. The Infants' Home looks after young children with disability, providing critical support.
I want to thank Phil Coller, the CEO of the Ella Centre, and Sonja Despotov, the services manager, along with board members David Pigott and Phil McCrea, for hosting us last week. I wish them all the best as they continue to support people with disability, their carers and families in the inner west.
Federation Chamber
Mr ALBANESE (Grayndler) (17:45): On Thursday of last week Labor's leader, Bill Shorten, outlined our plan for infrastructure in Australia. In his speech the Leader of the Opposition recognised that in order to generate economic growth, in order to generate more jobs and in order to generate more liveable cities and regions that are connected we need more infrastructure. In spending taxpayers' money on infrastructure we need to do it in a transparent and responsible way. That is why we established Infrastructure Australia, making sure that projects stacked up in a transparent way and that those projects were funded that would produce the greatest return to the national economy and to the improvement of the living standards of the Australian people. That is why we have been very critical that projects that had been through the Infrastructure Australia process, including the Melbourne Metro, the Cross River Rail project and the Managed Motorways program, were all cut, as well as projects that had not had published business cases funded, including the East-West Road project in Melbourne, the Perth Freight Link and WestConnex in Sydney.
The WestConnex project, of course, is connected to my electorate. I am in favour of roads. I do not believe that you can have just public transport. But I am also in favour of public transport, because I do not believe you can just have roads. You need to have an integrated transport system in order for cities to function properly. In relation to WestConnex I agree that people travelling from Western Sydney need an improved M4, that the current circumstances whereby it just stops at the T-junction and traffic is funnelled onto Parramatta Road is not acceptable. I also agree that there needs to be much better access for freight on the M5 to and from the port of Botany. As I said in a speech to the Bus Industry Confederation on 24 March 2015:
For as long as this project has been discussed, its object has been to take cars from Sydney's west to the CBD and freight to Port Botany.
As it is currently proposed, Westconnex does neither.
I'm all for a solution to ease traffic congestion in Sydney.
But this project will not meet its objective, and I am concerned that it could add significant congestion where WestConnex meets the local street network. What concerns me is that it is unclear where the traffic will go once it reaches the St Peters Interchange. There are also concerns for the residents of Haberfield, Rozelle and Annandale about the traffic implications of the extended M4. We do not know where the exhaust stacks will be, and we do not really know the impact the project will have on these suburbs.
The other thing that concerns me is that governments are investing millions of taxpayer dollars on this infrastructure but the decisions have not been transparent and we do not know whether they are based on a business case that stands up to scrutiny. In fact, when in government Labor funded $25 million for a study to ensure that the business case into any improvements on Sydney's road network, particularly getting freight to and from the port, was complete and transparent. We are yet to see the result of that study.
In May 2014 I wrote an article for the Daily Telegraph in which I said:
Investing in new roads or new rail can be a very effective way to reduce congestion and boost economic productivity …
but that when governments spend scarce dollars they ought to be certain up-front that they get it right and that the investment delivers on the desired outcome. I wrote that under the current design WestConnex was 'a road to a traffic jam'. That was nearly 1½ years ago, and we still do not know whether they have it right, and it still looks like being a road to a traffic jam. With the WestConnex project we are told that the business case has been done, but I call on the Baird government to release the business case to public scrutiny.
In December 2014 I called on the premier, Mike Baird, to release the full business case after the Audit Office of New South Wales report identified serious deficiencies in the planning and quality assurance processes surrounding the project. The audit report stated that the preliminary business case:
… fell well short of the standard required for such a document.
While the New South Wales audit did not address the issue of value for public money, it identified serious deficiencies in the project planning and evaluation. The plan that has been done to date does not demonstrate the benefit to the public. I am concerned about where the cars that travel to the end of the interchange are going to go and the impact that will have on our local community. Cars will be transferred onto local streets that are already congested.
They will impact on the traffic on the exciting main street of Newtown. We are told that there will be no clearways in King Street, and I have spoken to the New South Wales minister, Duncan Gay, and got an assurance that that will be the case. But we need to make sure that that is made absolutely certain, otherwise the Newtown CBD will be impacted adversely—with consequences for jobs and for economic activity.
The Newtown shopping area is the most-visited shopping, food and entertainment area outside the CBD. This is an interesting, active and energetic area, and it has a great sense of community. This has partly built up by people using the main street and walking around the area. They see their neighbours, talk to each other and the community is built. While we have been told that there will be no clearways, WestConnex is not in control of what happens in the local streets. So we need to make sure that it occurs, because the RMS is not part of this project. The WestConnex project stops and the RMS takes over. I have not seen—and the local people have not seen—any plan from the RMS to show that it has the flow-on traffic organised. That is a concern.
Likewise, traffic could be channelled onto Campbell Street in St Peters. Anyone who has a look at that street and then into Edgeware Road in Enmore knows that the consequences of this are quite bizarre—to suggest that this will be a major thoroughfare that will then just stop at that intersection. No wonder the local community is concerned.
The other thing which appears not to have been considered by either the RMS or the WestConnex Delivery Authority is the integration of roads and public transport. The former prime minister, we know, had no interest in public transport. However, when planning major infrastructure road projects it is incumbent on the planners to ensure that, where possible, roads and public transport are integrated. In a city of the size of Sydney, which is continuing to grow, we must plan to ensure that we are not continually putting more cars onto our roads. It just leads to further congestion. We need to plan to enable the use of public transport and active transport to promote sustainability and liveability in our cities. There is no evidence to date that these issues have been considered or planned for in any serious way by any of the relevant authorities. Part of the problem, of course, is that there are so many different authorities; it is very hard for the local community to be able to engage in proper community processes.
The WestConnex Delivery Authority website shows cute little icons that tell us of the jobs to be created, the apprentices who will be trained, that drivers will save 40 minutes from Parramatta to the airport, that urban renewal will occur and that traffic will be removed from local roads. But it does not pass proper scrutiny. Anyone who goes to that area around the St Peters interchange knows that it is already a massive struggle to get from there either to the airport or to the port. Increased traffic flow into this area, where you have the largest residential growth occurring anywhere in Australia—around that South Sydney area—means gridlock. The New South Wales government really needs to explain far better what will happen to the traffic once it leaves that interchange. While traffic will be removed from local roads in some areas, it will be transferred onto the narrow streets of the inner West and the inner city.
Of course, as we know, the greatest way to have urban renewal is public transport. Have a look at projects like the Regional Rail Link in Victoria and you can see how successful urban renewal projects can be. This is, of course, a state government project. It is partly funded by the federal coalition government, but it is managed and operated by the state government. It has a responsibility to give the community information, to give assurances that they can rely upon, to show the community the plan for dealing with the traffic that arrives at the end of the WestConnex route and, importantly, to show the business case. I think communities are prepared to accept some disruption for infrastructure development. What they will not accept is that disruption when you have no business case and no transparency in the process, and providing those things is what the New South Wales government must do when it comes to this project.
Federation Chamber
Mr ALBANESE (Grayndler) (10:01): In 1963 John F Kennedy said: 'I see little of more importance to the future of our country and our civilization than full recognition of the place of the artist. If art is to nourish the roots of our culture, society must set the artist free to follow his or her vision wherever it takes him or her.'
Indeed, here in Australia, I believe that our arts and creative industries are a critical part of our vibrant social tapestry. They nourish our communities and provide opportunities for local artists to perform, create and cultivate. Those more like me who are not artists have the opportunity to learn from, appreciate and engage with this talented and multifaceted industry. Yet our federal government has lost its way when it comes to nourishing and promoting arts and culture. It has forgotten that the best communities are diverse and in order for talent to flourish it must first be cultivated or, as John F Kennedy explained, 'society must set the artist free'.
That is why it is very disappointing to see George Brandis, our arts minister, take an axe to funding for the Australia Council. After attacking the arts in their first budget the coalition have continued on their crusade. This year they have cut another $104.7 million from the independent Australia Council and transferred it to Senator Brandis and his department to oversee. Over the next year, grants to individuals and groups and small arts organisations will total just $12 million. To put this into perspective, the Australia Council allocated $46.2 million in grants and initiatives, just two years ago, in 2013-14. The Australia Council has a proud history of independence and is well-known for its work in supporting emerging artists, yet Senator Brandis seems to think he knows better than they when it comes to championing artistic excellence.
My own electorate of Grayndler is home to many theatres and spaces where local artists perform and display their work. Live music venues thrived, including the Factory Theatre, the Enmore Theatre, New Theatre and Camelot Lounge as well as Lazybones and Gasoline Pony just down the road from my office in Marrickville. The Chrissie Cotter Gallery in Camperdown features regular exhibitions and events and the Addison Road Community Centre gallery is joined by the extraordinary work of students at Dulwich High School of Visual Arts and Design and Newtown High School of the Performing Arts.
This diversity contributes to our inner-west community, giving people opportunities that might not otherwise exist. The government has a role to play when it comes to arts and creative industries, providing support not trying to control it. Cutting funding is certainly not what is required. The minister and the Prime Minister must restore independence to arts funding. That is what the arts community expects and that is what the Australian community supports.
Federation Chamber
Mr ALBANESE (Grayndler) (12:25): I am pleased to make a contribution today to discuss the upcoming ReclinkCommunity Cup. The Reclink Community Cup began in Melbourne some 21 years ago. Games have also been held in my electorate, in Henson Park, Sydney, for the past four years. The matches raise funds for Reclink, a fantastic organisation that promotes sporting and artistic programs for young people experiencing disadvantage. Reclink was established in Victoria, in 1990, and now operates nationally. It provides over 4½ thousand activities and 80,000 participation opportunities for disadvantaged young people every year. It targets some of our communities' most vulnerable and isolated people, including people experiencing significant mental health challenges, disability, homelessness, substance abuse, culturally and linguistically diverse communities, correctional services and economic hardship. Reclink bases its operations on the importance of sport and the arts in engaging young people.
The Melbourne event will be held this Sunday at Elsternwick Park. Gates open at noon, with bands playing, and the game gets underway at 2.30 pm. The Sydney match will be held on Sunday, 2 August, at Henson Park, Marrickville, in my electorate. Gates open at 11 am. It will, once again, see the music industry based Western Walers take on the media based Sydney Sailors. I will be playing again, after my debut for the Western Walers last year. The Western Walers are yet to win a game; they are old school. They do not win on the field, but they are pretty good fun off the field and play in the spirit in which a social game should be played. In the lead-up, on the Friday night beforehand, I will be participating in a fundraising event at the Newtown Social Club, with FBi radio, once again, raising funds for Reclink to undertake this important work that they do for disadvantaged young people. I hope people can get along there and enjoy the music played on that evening.
Federation Chamber 
Mr ALBANESE (Grayndler) (10:35): Recently I had the honour of meeting Latifa Hekmat, her brother Abdul, and local community activists in my electorate office. Latifa asked me to share with you her story, which is as follows: Imagine that on one day you have a beautiful and peaceful life. You live in the countryside of Ghazni province in Afghanistan on a big farm sprawling with different crops, vegetables and animals. Your parents weave carpets and rugs under the trees during spring and you love to eat sweet grapes plucked from the nearby vines. Imagine that on the next day, you go to school. But on this day your school principal reads aloud a letter. It is from the Taliban. It says all girls' schools must close. You are only seven years old but, because you are female, you cannot go to school. You cannot see a doctor. You cannot leave your home. You become paralysed by fear. And, before you know it, you become a refugee stripped of your identity, passport, and basic rights.
Latifa met with me because she wanted to know how she could bring humanity to the discussion on refugees, an issue many constituents have raised with me. Australia has always done its part as part of the international community, and hundreds of thousands of former refugees have made extraordinary contributions to their new nation. The government should not simplify the discussion needed in our community by using three-word slogans. You can be opposed to people smugglers, which I am, but we need to be very careful about drawing a distinction between them and people themselves. The government must respond to the claims that it used taxpayers' funds to pay people smugglers. These are extraordinary claims, and the government simply needs to be transparent with the Australian people about these events.
Today Latifa is completing her honours degree in social science at UNSW. She already has a bachelor degree in social research and policy. In her spare time, Latifa helps first-year students transition to uni life by working as a volunteer mentor. She also volunteers at the Auburn Salvation Army as an interpreter and works at UnitingCare Burnside as a casual caseworker. Her brother Abdul came to Australia by boat. Today he works at the Migrant Resource Centre, helping the most vulnerable immigrants and refugees integrate into their local communities.
The story of Latifa and her family, while exceptional, is not the exception. Every day refugees and migrants give back to the nation that they are proud to call home. This week is Refugee Week. The 2015 theme—'With courage let us all combine'—is taken from the Australian national anthem. While this reminds me of the courage shown by refugees like Latifa, it also makes me think that, by coming together as a community, we can bring dignity and compassion to our discussion on refugees.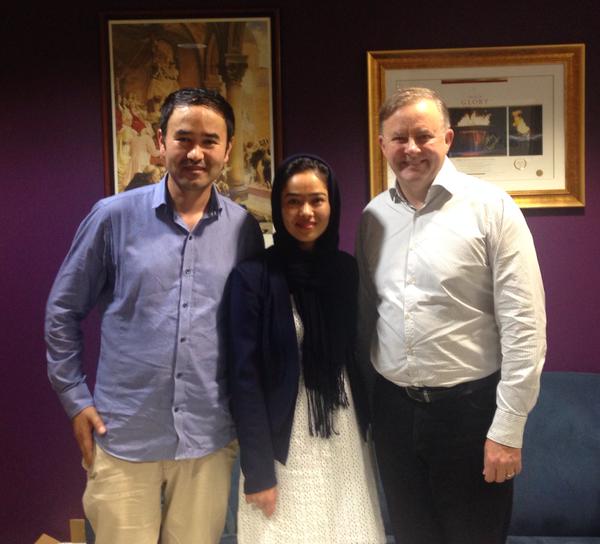 Federation Chamber
Mr ALBANESE (Grayndler) (12:06): I rise to pay tribute to my friend Joan Kirner, a passionate advocate for social justice. Joan was born Joan Elizabeth Hood in 1938. Her father was a fitter and turner, and her mother was a music teacher. Joan took her principles of social justice from her parents. She went on to have opportunities in life, graduating from the University of Melbourne and working as a teacher in state schools. She married Ron Kirner and had three children: Michael, David and Kate. Dave Kirner was a good mate of mine when we were in student politics together. The first time I met Joan was not a great experience, because we had a debate over whether I was leading David astray or he was leading me astray. I think it was probably a bit of both. She was always good fun and great company. She had no malice towards anyone on either side of politics or in society. She uplifted any meeting, group or gathering where she was present. She was an absolute delight to be around.
She came up through the community. She was the President of the Victorian Federation of State School Parents' Clubs—P&C, basically. When she went into the Victorian parliament in 1982, she was still a pioneer. It was still very much a male dominated sphere. She first entered the Legislative Council, and she went on to move into the lower house. She became the Minister for Conservation, Forests and Lands and was instrumental in forming the first Landcare groups. Landcare is now accepted throughout the nation as an organisation that has done magnificent work to conserve the extraordinary natural environment that we enjoy here in this great land of Australia.
It was as Minister for Education that she then made an even larger mark. Because of her passion as a parent, she brought, I think, a perspective different from some of the technocratic ways in which education had been dealt with. She was passionate about involving the local community in the way schools were run and was very successful in achieving that. That is why she was promoted to Deputy Premier in John Cain's government and then became, historically, the first woman Premier of Victoria, a position she held from 1990 through to 1992.
She had to cop a fair bit of criticism as the first woman Premier. I went down from New South Wales to work on the 1992 election campaign, assisting the Victorian ALP in what was a difficult campaign after a long-term Labor government. The focus on what Joan wore is something I have never seen, before or since, with any male leader of any political persuasion, but it was very much there. She took it in good humour. In that campaign I remember T-shirts and tea towels being produced—with a bit of irony—that said, 'Spot on Joan'. I remember going to the show in Melbourne and handing out bags with insignia saying 'Spot on Joan' as well. She kept her sense of humour in what were very difficult times and took Labor through to the election knowing that it was highly likely that Labor would not be re-elected.
Even though she left parliament in 1994, she certainly understood that politics was about more than parliament. She continued to engage in the community and the Australian Labor Party. She was absolutely committed to the promotion and mentoring of young women coming through the Australian Labor Party and more broadly. As one of the driving forces behind EMILY's List, I know she was particularly proud of the rise of her friend Julia Gillard to become the first female Prime Minister of Australia. But Joan, regardless of where people lined up factionally in the Labor Party or where they stood on particular issues, supported women across the spectrum with consistency and with absolute commitment.
During my leadership campaign, when I was running against Bill Shorten after the 2013 election, I attended an EMILY's List function organised in Melbourne. Joan Kirner was there sitting at the front—despite the fact that she had serious health issues at the time. She wanted to play her role and she was very supportive of democratisation and giving rank and file members more say in the Australian Labor Party. I continued to have contact with Joan. She would send me messages—indeed I received my last messages from her only last week. She was still emailing me, from hospital, as late as last Friday. She was still putting forward ideas and suggestions in a constructive way. We will miss her. We as a party will miss her, but I think she is also a great loss to the community.
In 2012, when she received the Companion of the Order of Australia, her citation said:
…for eminent service to the Parliament of Victoria and to the community through conservation initiatives, contributions to gender equality, the development of education and training programs and the pursuit of civil rights and social inclusion.
That is an appropriate tribute to the public contribution of Joan Kirner. But today I particularly want to pay tribute to her private contribution as a thoroughly decent, committed human being as well. She will be missed. May she rest in peace.
Federation Chamber 
Mr ALBANESE (Grayndler) (16:01): On Saturday 23 May, it was my pleasure to be at the celebration of 40 years of the existence for the Ella Centre in Haberfield. This centre undertakes extraordinary work on behalf of some of the most disadvantaged people in the inner west. It was my great honour to speak about the Ella Centre's commitment to taking care of some of the most vulnerable in our community. It was good to welcome the new chief executive officer, Philip Coller, and to be in the presence of the board, including the chair, David Pigott.
The Ella Centre was once the Methodist church in Haberfield. It opened its doors as a community centre in 1974. It received set-up funding from the Whitlam government and later a very generous donation from Henry Ella, which helped create a trust fund. Since then, the Ella Centre's passion for social justice has ensured support for people with disabilities, dementia, older people and carers—as well as for those simply struggling to get by. The Ella Centre continues to make a significant difference in the everyday lives of people across the inner west. It has played a historic role in our community and is a constant reminder that, when we look out for each other, everyone benefits.
This is a community based organisation that is embedded in the local community of Haberfield. People from all walks of life were at this function in Haberfield in order to pay tribute and make a contribution towards the future activity of the Ella Centre. People made donations for specific purposes, including providing support for people with disabilities. I congratulate the Ella Centre for its tireless work over the last 40 years and I wish those at the centre all the best for the many years to come.
Mr ALBANESE (Grayndler) (13:14): The Centenary of the Anzac landing at Gallipolli on 25 April provided an opportunity for our nation to reflect upon war, patriotism and the nature of sacrifice. From older Australians whose fathers or grandfathers were veterans of Gallipolli or other conflicts in World War I, to younger Australians who enjoy the freedoms that have been preserved by their sacrifice, our nation stopped to remember. The crowds were huge, not just at the dawn service on the beaches of Gallipolli, and not just at the huge Canberra service, but in cities and towns right across the nation, including in my electorate of Grayndler. They were recognising not just the diggers themselves but the women who served in support roles like nursing, as well as those who toiled on the home front, and the thousands of widows and orphans left after the conflict. On 25 April, Australians reflected on the terrible toll of war. The statistics tell us just how terrible it was. At Gallipoli there were 26,111 Australian casualties, including 8,141 deaths. Across World War I, out of a population of less than five million, 61,522 Australians lost their lives.
The historical facts surrounding the Gallipoli landings are well-known. Australians landed Anzac Cove on 25 April 1915 and established a foothold on the steep slopes above the beach. Concerted but unsuccessful allied attempts to break through in August included the Australian attacks at Lone Pine and the Nek. All attempts ended in failure for both sides, and there was a stalemate for the remainder of 1915. The most successful operation of the campaign was the evacuation of the troops on 19 and 20 December under cover of a comprehensive deception operation.
It is often said that the Gallipoli campaign established Australia's sense of identity. It certainly is the case that the diggers showed extraordinary mateship and loyalty towards each other. Through their egalitarianism, the diggers exemplified the values of equality and the fair go that underpin contemporary Australian values. One thing about getting older is that it gives you the opportunity to observe changes in social patterns and values over time. When I was young, the annual Anzac Day marches were always led by Gallipoli and First World War veterans. First they were marching; later they were in jeeps because they were too frail to march. But, as I grew older, there were fewer diggers each year. I often wondered during that period what would happen when all the World War I diggers were gone. I wondered how future generations would view these veterans when they were no longer alive to lead the parade.
Decades later, the level to which successive generations have embraced the Anzac legend is extraordinary. Indeed, Anzac Day continues to thrive. Parents pass the legend down through the generations. Schools give our youngsters the facts of about what happened a century ago. People engage with the Australian War Memorial to learn more about relatives who served. People do not forget. They will not forget.
It was a terrible war, but there is something very positive about the way in which our nation continues to remember the sacrifice of earlier generations. These commemorations are not about flag-waving or jingoism. They are about people honouring sacrifice of others and thinking hard about the necessity to promote peace.
Gallipoli and World War I had an impact on every community in his nation—from the biggest cities to the smallest country towns. In my own community, the roll of honour at Marrickville includes the names of 26 people who died at Gallipoli. About 6,500 people from the Marrickville area alone served in the war.
I am pleased that this year saw the re-establishment of the Winged Victory statue, a 31-foot tall statue of Nike, the Greek goddess of victory. The original statue was unveiled in 1919 in front of 15,000 people, to commemorate the sacrifice of 450 Marrickville residents who died in World War I. It was designed by sculptor Gilbert Doble. But the statue was taken down in 2008 due to concerns about its condition and threats to public safety. A new version, by artists Peter Corlett and Darien Pullen, was unveiled on Sunday, 19 April, 2015, outside Marrickville Town Hall. In the original statue, the goddess's sword was raised, though her eyes were cast downward in a pose that spoke of a mix of sorrow and pride in victory. In the new version, Nike's sword is at rest, while the original statue is proudly on display at the Australian War Memorial here in Canberra.
Across my electorate of Grayndler, large crowds turned out for the Marrickville Remembers march, which included 25 schools, seven bands and no less than seven military and emergency services groups. Local councils and, of course, the Marrickville, Canterbury-Hurlstone Park, Petersham and Campsie RSL clubs also observed the centenary.
As part of the Centenary of Anzac year, the Commonwealth offered grants to organisations to preserve the Anzac heritage under the Anzac Centenary Local Grants Program. Recipients in Grayndler included: Kegworth Public School, which received a grant to create a memorial garden there in Leichardt, and Dulwich High School of Visual Arts and Design, which received a grant for production of artworks commemorating Anzac. The Marrickville Council received a grant to help meet the cost of the plinth for the new Winged Victory statue. The Ashfield Council received a grant to restore an honour board at Haberfield. The Leichhardt council received a grant to restore a memorial board at Leichhardt. The Polish Club at Ashfield also received a small grant to fund a World War I exhibition. Finally, the Addison Road Community Centre received a grant of $30,000 to commemorate the role of war horses that served in World War I with the light horse. I was very proud to attend that event paying tribute to the Walers, as the horses were known, who also of course served their nation; unfortunately, they did not get to return back home
The centre at Addison Road is located in former Army barracks where, during World War I, many diggers and their horses spent their time as they prepared for departure to the Middle East. Australians did themselves proud in the way they recognised the Centenary of Anzac. At the end of last year I attended an extraordinary function at Canterbury-Hurlstone Park RSL along with Brendan Nelson, the former minister now in charge of the War Memorial. He gave an extraordinary speech that evening. We did our nation proud in the way we celebrated the Anzacs and also remembered and paid tribute to those whose efforts and sacrifice means that we can enjoy the lifestyle we have in Australia today.
I congratulate all those involved around the nation in planning these commemorations. I congratulate the current government and the former government for the way in which they organised the logistics, which must have been extraordinarily difficult—particularly for the widows and veterans travelling to European and Middle Eastern theatres of war. It was an extraordinary effort. I congratulate the government on that. In particular, I congratulate the Department of Veterans' Affairs for the way in which they handled the event. I am confident that, when the 200th anniversary of Gallipoli comes around, Australians will live up to the sentiments of the famous ode: 'We will remember them. Lest we forget.'
Mr ALBANESE (Grayndler) (16:19):  Many of my constituents were overjoyed at the overwhelming vote in support of marriage equality in Ireland at the weekend.
This means at least 20 nations support marriage equality, including the United Kingdom, Canada and New Zealand.
It is now time for Australia to join the nations which have recognised that people should be allowed to marry the person that they love.
Institutions, just like society's values, evolve over time.
Only 22 years ago, homosexuality was illegal in Ireland.
Now marriage equality is a reality.
When I introduced a Private Members Bill in my first term in Parliament to give same-sex couples equal rights on superannuation, it was seen as a radical proposition.
The Howard Government prevented it going to a vote.
By the time the Rudd Government removed discrimination on the basis of sexual preference in more than 80 pieces of legislation, it carried the Parliament with broad support.
Giving one group of people the rights they have been denied does not, in any way, diminish the rights that currently exist for the rest of us.
I fail to see how the institution of marriage is weakened if more people have the right to participate.
I strongly believe there should be a vote in this Parliament this year.
It should be a conscience vote.
That would enable parliamentarians to have a mature debate in both the House of Representatives and the Senate.
Whilst I have strong views in support of marriage equality, I respect those who hold a different view.
You cannot promote diversity and tolerance whilst not showing tolerance for those who disagree with you.
I have argued consistently that the Coalition needs to allow a conscience vote on this issue.
It is inconsistent to argue something different within the Labor Party.
In 2002, as a member of the ALP National Executive, I dealt with a report to resolve the issues surrounding the use of conscience votes in a process which included Labor's pre-eminent authority on our internal history and processes John Faulkner.
There have been conscience votes on a range of issues over the year including the Family Law Bill 1974, euthanasia in 1996 and the Marriage Bill (1961).
The ALP National Executive decided unanimously that "the most appropriate model is the case-by-case, political model, but with consideration and tolerance of other factors relating to religion, the party platform and precedent''.
As the document says: "These types of questions are not easily resolved in the party room, so conscience votes provide a way in which divisions over contentious social or moral issues carry over into the Parliament without adverse repercussions for those who differ from the majority view.''
There is also a pragmatic reason to argue for a conscience vote across the Parliament and it is this.
It is my judgement that there are now majorities in favour of marriage equality in both the House of Representatives and the Senate.
There is therefore no argument to delay this reform.
Let's get this done.
Federation Chamber
Mr ALBANESE (Grayndler) (10:50): I think it is appropriate that this parliament pay tribute to a great Australian in Richie Benaud. Is there any other sports commentator in the world who is so much of a cult figure that literally hundreds of grown men are prepared to don white wigs and cream-coloured suits in an annual fancy dress party to pay tribute? I doubt it. But, once a year at the test at the Sydney Cricket Ground, hundreds of cricket fans dress up as Richie Benaud. I noticed during this year's test it was not just men. It does not matter if the temperature is 40 degrees. They are there all day—'The Richies'—paying homage to a man who became a familiar and a very welcome presence in their lives and in the lives of millions of people around the world over a period of more than six decades. I suspect there is something very Australian about The Richies' presence at the SCG, and I think next year will break the record for the number of Richies, as I am sure even more people will pay tribute to this great Australian.
So much has been said about the death of Richie Benaud that it is hard to break new ground in any tribute to his remarkable life. The key word that comes to mind when I think of this great sportsman and journalist is integrity—integrity as a bowler and batsman; integrity as a captain who led his team with an intense fighting spirit but never forgot to treat his opponents with courtesy; and, later, absolute integrity as a journalist and commentator.
It is often difficult to explain to visitors to our great land how people can sit and watch every ball of a game that goes for five days without, potentially, getting a result. But what cricket is about is not just what is written down. It is what is unwritten: the culture of sportsmanship that someone like Richie Benaud embodied—a man who would never have claimed a catch that he knew had not been taken; and a man who played absolutely within the spirit of the game and embodied it as a sport—a contest, yes—but a sport. It was about relationships and bridging those relationships between all countries who play that great sport.
What made Richie Benaud stand out was his understanding that, while winning was important, what was more important was the way that you played the game. After his death last month, many people described him as the voice of the Australian summer. But the truth is he was the voice of world cricket—a man known as widely in other cricket-playing countries as he was in Australia. He was also the voice of English summer, which is remarkable—broadcasting every year, regardless of whether Australia was playing or not. He loved cricket, but he refused to let that affect his commentary as an Australian. He was above all a cricket enthusiast. He was as generous about the great batting of Tendulkar, or performances by Botham or Viv Richards, as he was about Mark Waugh or Allan Border or Dennis Lillee.
He was happy to offer criticism where it was warranted. When Greg Chappell ordered his brother Trevor to bowl underarm against New Zealand in 1981, Richie Benaud had no hesitation in condemning the decision. Whoever was playing, you always felt that when Richie was commentating, his key concern was you—the listener. He did not see his job as barracking for any particular team. His concern was to use his special knowledge and experience to help people understand and enjoy cricket. Much-loved ABC commentator Jim Maxwell perhaps put it best when he described Richie as 'cricket's pope'.
He was indeed a gentleman who I had the honour of meeting on a number of occasions. His knowledge, his authenticity and his genuineness just shone through. I will miss hearing that voice: he was very much a part of our lives. He played 63 tests for Australia; he was the first player to score 2,000 test runs and take 200 wickets. As Australian captain, he never lost a series; as a commentator, he had no peer.
Recently I was listening to an ABC radio documentary about the 1961 West Indies tour of Australia, which of course featured the famous tied test at the Gabba. Richie was interviewed for the program along with other greats of the era. What impressed me the most was the way that Richie and his opposing captain, the great Sir Frank Worrell, formed an informal pact at the beginning of the series. Of course they were going to try to beat each other, but the most important thing was they were going to play to win, not just to draw, and they played an exciting brand of cricket that re-energised cricket from that 1961 series on. I think that tells you everything that you needed to know about Richie Benaud: just as he put his viewers first when he was in the commentary box, he put those people at the ground watching the game first when he was a player and a captain. He knew that they wanted to be concerned about the style of the game as well as the outcome at the end of a test match. I think that was the secret of his greatness.
Even in his final months, as he fought the melanoma that he linked to sun exposure during his playing career, he was happy to appear publicly to urge children not to make the same mistake. His tribute to Phil Hughes was quite remarkable, even though he himself at the time was going through his illness. He never looked for sympathy. What he wanted though, with his campaign against sun cancer, was to make sure that others benefitted from his experience.
To his family and many friends, particularly his wife, Daphne, whom he spoke about often and so affectionately, I offer my sincere condolences. And to cricket fans here and indeed everywhere throughout the world, I say we are all very lucky to have shared time on this earth with Richie Benaud.