SCOTT MORRISON ADDS BILLION DOLLAR ADVERTISING BILL TO TRILLION DOLLAR DEBT
Scott Morrison is about to become the billion-dollar man when it comes to wasting public money on taxpayer funded advertising.
Taxpayers have spent $913 million on advertising since the year the Government took office and at the current rate Scott Morrison will crack the $1 billion mark this year.
Scott Morrison's gift to Australia is a trillion-dollar debt and a billion-dollar bill for self-promotion.
His obsession is marketing, photo-ops and favours for Liberal mates, rather than delivering for Australians.
For example, in 18 months Mr Morrison has failed to invest a cent from his $4 billion fund for bushfire relief and natural disaster mitigation. But as communities affected by last year's bushfires continue to struggle, he has given a former Coalition staffer $190,000 to produce video material for his bushfire response marketing.
He has splashed $15 million on the "Our Comeback" economic campaign this financial year, based on $1 million worth of research by a Liberal mate.
In another indication of his warped priorities, Mr Morrison recently announced plans for a $24 million Coronavirus vaccine marketing campaign before he had even finalised plans for the actual roll-out of the vaccine.
Then there was the $140 million pre-election advertising blitz in 2018-19, which included $15.9 million towards the dud "Powering Forward" campaign later criticised by the Australian National Audit Office.
Mr Morrison's professional background is marketing. First as Treasurer, and now as Prime Minister, he has made an artform of using public money on self-promotion.
He treats taxpayers' money as though it is the Liberal Party's money.
Mr Morrison's obsession with advertising is matched only by his propensity to make grand announcements but fail to deliver.
Scott Morrison is always there for the photo-op but never there for the follow up.
TABLE: GOVERNMENT FIGURES ON ADVERTISING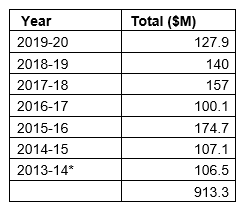 Sources:
Department of Finance campaign advertising report 2019-20
Department of Finance campaign advertising report 2018-19
Department of Finance campaign advertising report 2017-18
Department of Finance campaign advertising report 2016-17
Department of Finance campaign advertising report 2015-16
Department of Finance campaign advertising report 2014-15
Department of Finance campaign advertising report 2013-14
FRIDAY, 8 JANUARY 2021