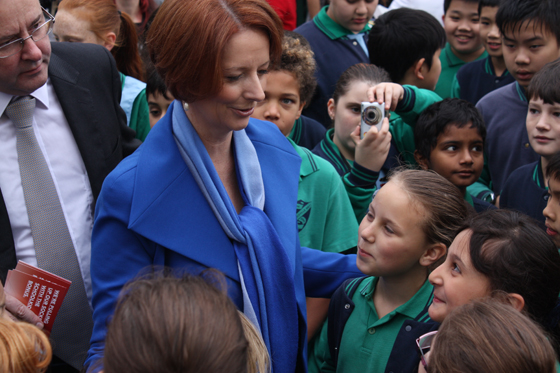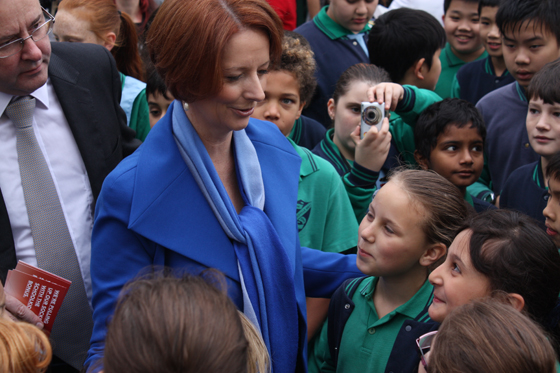 Prime Minister Julia Gillard visited Marrickville West Public School today with Member for Grayndler Anthony Albanese to talk to parents and students about the Government's Schoolkids Bonus.
More than 4400 local families will benefit from the cash bonus which will help them meet the costs of having kids in school.
Mr Albanese said eligible local families would start seeing some extra money in their bank accounts from 20 June.
"Families will receive $409 for each child in primary school and $818 for each child in high school," he said.
"I know that with kids in school, it can be pretty tough for local parents to keep up. This automatic payment will give these families a bit of extra breathing space."
Local families receiving fortnightly Family Tax Benefit Part A payments will automatically receive the cash bonus with their usual FTB payments from next week. Families who claim their Family Tax Benefit Part A as a lump-sum at the end of the financial year, will automatically get their cash payment then.
All eligible families will receive the payment – which is the full amount of the Education Tax Refund for 2011-12 – without having to fill out forms or lodge receipts.
Mr Albanese said that unlike the old Education Tax Refund, the new bonus will be paid to families in full and up front.
"I know many families were finding it really tough waiting until tax time to claim the Education Tax Refund," he said.
"They just couldn't wait months to get some money back, and many were missing out on the full amount they were entitled to.
"The Schoolkids Bonus will mean that parents have the extra cash in their pocket before the costs start piling up and without having to keep track of all of the receipts. It's not everything, but it's another step in the right direction."
The Schoolkids Bonus and Education Tax Refund cash payment will be available to local families receiving Family Tax Benefit Part A plus young people in school receiving Youth Allowance, as well as some income support and veterans' payments recipients.
Local families can find out more about the Schoolkids Bonus by calling 132 468.