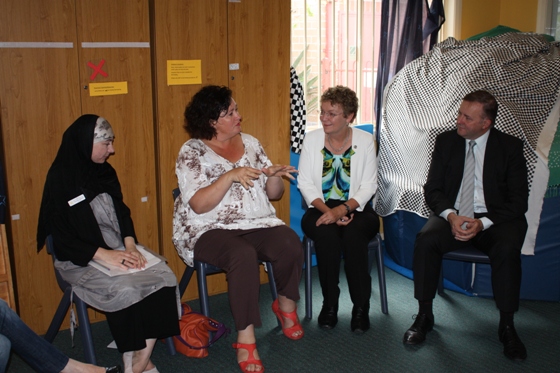 Parliamentary Secretary for Disability and Carers, Jan McLucas and Member for Grayndler Anthony Albanese today joined children and carers at Pathways Early Childhood Intervention to celebrate Carers Week.
Carers Week runs from 14- 20 October and is a national celebration which aims to recognise and support Australia's 2.6 million carers who are making a difference in the lives of others. 
Mr Albanese said he was proud to be able to show his support for carers in the Inner West.
"Many carers work, sometimes 24 hours a day to care for a friend, family member or others in the community. This week is about recognising the remarkable commitment and dedication that carers demonstrate day in, day out."
The Parliamentary Secretary for Disabilities and Carers, Senator Jan McLucas said the Government is delivering $1 billion for the launch of a National Disability Insurance Scheme (NDIS) in mid-2013.
"More than 20,000 Australians with disability, their families and carers will benefit from the first stage of an NDIS from the middle of next year, which will include Early Intervention Services."
"The NDIS will build on the steps our government has already taken to support carers, including historic increases to the Carer Payment, a permanent $600 Carer Supplement and a boost to respite services for carers of people with severe mental illness."
Mr Albanese also congratulated Pathways Early Childhood Intervention for their ongoing efforts to give children the best start in life through programs such as the Helping Children with Autism initiative.
The Director of Pathways for Early Childhood Intervention Sylvana Mahmic said that there was strong support for the packages which help children access essential early intervention services.
"Getting help early really makes a difference.  These packages support families to get the practical help and guidance they need," said Ms Mahmic
Mr Albanese said "Every parent wants the best for their child. However, a big challenge for many local families is the cost of early intervention services. Our early intervention packages are making quality services and therapies more accessible."
Mr Albanese encouraged parents to register for Better Start and Helping Children With Autism.
"Parents can receive up to $12,000 for early intervention services and therapies that they can choose themselves through Better Start or Helping Children with Autism funding.
Mr Albanese thanked Pathways for Early Childhood Intervention for hosting the Carers Week event.
For more information on Better Start or Helping Children with Autism, visit www.fahcsia.gov.au.
For more information on Carers Week, visit www.carersaustralia.com.au