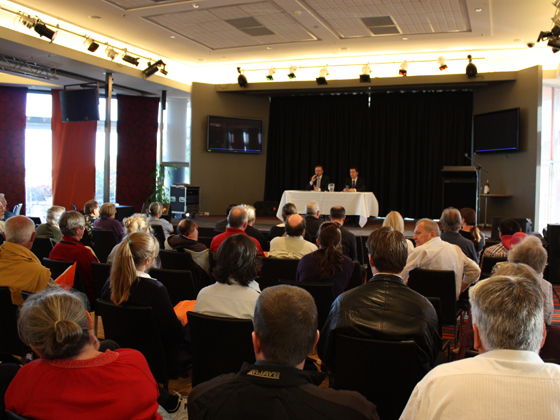 The Minister for Mental Health and Ageing, Mark Butler, today joined the Member for Grayndler, Anthony Albanese, at a community forum in Ashfield to discuss how national mental health reform would benefit the Inner West.
Over 100 people attended the forum, which included representatives from local mental health organisations, service providers, consumers, carers and mental health advocates, providing an important opportunity for Mr Butler and Mr Albanese to hear first-hand what services were needed in the area and how they could be delivered.
Mr Butler told the forum that inner Metropolitan Sydney would benefit from the Australian Government's record $2.2 billion investment in national mental health reform in a variety of ways, including through a boost to the Access to Allied Psychological Services initiative funding.
"The Central Sydney General Practice Network is being provided with funding of almost $1.3 million this financial year to deliver ATAPS services, ensuring more Inner West residents living with mental illness are able to access the care and support they need," Mr Butler said.
"ATAPS enables GPs to refer patients diagnosed with depression, anxiety and other high-prevalence mental disorders for face to face counselling services from allied health professionals including psychologists, mental health nurses and social workers.
"National mental health reform and national health reform are also delivering more subacute mental health beds to Sydney hospitals, increasing the number of early intervention services for young people experiencing mental illness—including services provided by headspace sites in inner and western Sydney, and boosting community mental health services and support for carers."
"This funding will mean that more people who are diagnosed with mental illness by their GP will be able to obtain the psychological treatment that they need – at low to no cost," Mr Albanese said.
"Today's mental health forum is part of the Australian Government's ongoing commitment to communicate and consult with people directly affected by mental illness and the wider community so, together, we can get these historic reforms right and deliver more services to the people who need them.