Grants
Stronger Communities Programme (SCP) – Round 5 – is now CLOSED.
Up to $150,000 of funding will be available for local organisations located in Grayndler for small capital projects which improve community participation and contribute to the vibrancy and viability of our local community. Please read the program guidelines before you apply.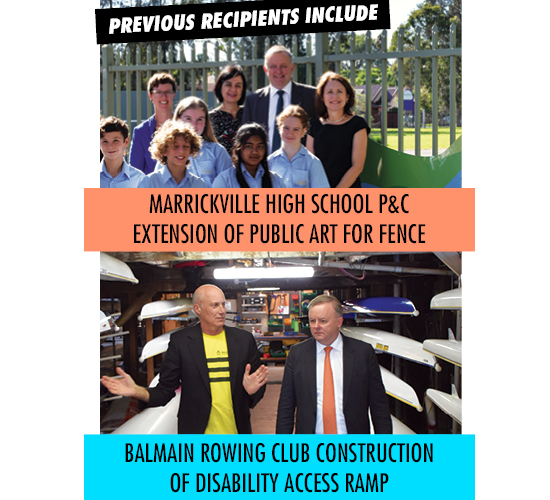 Who can apply?
To be eligible for funding an applicant must be a legal entity with a current Australian Business Number (ABN) and:
A local governing body; or
A community based not-for-profit organisation in its own right, that is not
owned by a state or territory government.
Examples of projects that may be funded include:
Fit-out of community centres, health centres, including kitchen upgrade and equipment purchases such as computers, TVs and furniture and fittings;
Sporting facility upgrades, including new scoreboards, seating, new turf, fitout of change rooms, new canteens, new lights, upgrade water systems, gymnasiums, skate parks; Streetscapes; Bike paths; and purchase of equipment for local SES.
How do I apply?
Applying for SCP is a two-step process.
Fill out an Application which will be considered by the Community Consultative Committee by 10 October 2019.
Successful applications will be invited to submit a formal submission to the Department of Business tbc.
For more information visit here
For information on submitting an application or to find out about the eligibility criteria please call the electorate office on 9564 3588.