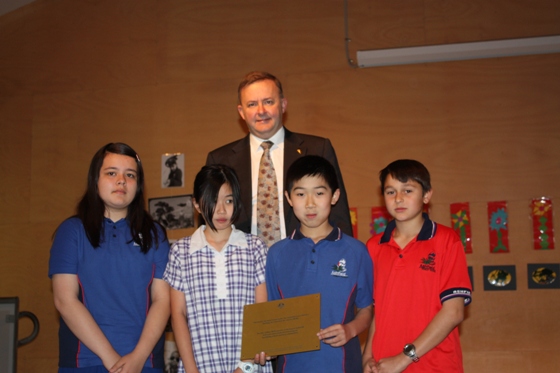 Member for Grayndler Anthony Albanese today officially opened the refurbished classrooms and school facilities at Ashfield Public School built under the Gillard Labor Government's historic Building the Education Revolution (BER) program.
"Projects like one at Ashfield Public School are making a real difference by improving the learning environment for our children," said Mr Albanese.
"The bricks and mortar of these buildings are the foundations on which long term educational benefits will be built and continue to flow to Australian students for years to come."
Mr Albanese said the Government's investment had resulted in libraries, science labs, classrooms and multipurpose halls being built across the country.
"The BER is a $16.2 billion investment in the nation's future and is delivering modern facilities to more than 9500 schools in across the country," he said.
"It is the single biggest investment in Australian schools in our history.
Mr Albanese thanked the Principal, and everyone who has worked hard to deliver this important project – school staff, parents, tradespeople and the wider Ashfield community.
"This is a fantastic opportunity for the whole Ashfield community to come together and celebrate the new facilities.
Further information about this project and all schools funded under the BER is available at www.buildingtheeducationrevolution.gov.au