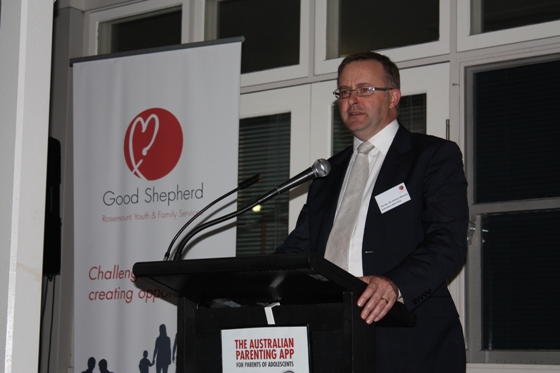 I was pleased this evening to officially launch the Australian Parenting App produced by Rosemount Good Shepherd Youth and Family Services in Marrickville.
The Australian Parenting App is an exciting use of technology that delivers Rosemount's proven expertise free to assist the parents, not only of teenagers in our local area, but to the parents of 3.3 Million teenagers across Australia.
This App allows parents to realise they are not alone in facing challenges with adolescents.  By downloading the app, parents will instantly be able to access techniques that can assist in avoiding confrontation and give them confidence in the decisions they are making for their family.
Rosemount has been providing assistance to families and their young people in our area for nearly 30 years.
Its approach to supporting young people to reach their potential is unique because they provide services that not only assist the young person, but concentrate on strengthening the very foundations that support that person's growth.
Their focus on education and families means that as a young person overcomes their personal barriers, they have the best network of people around them to ensure they continue to thrive as they journey into adulthood.
I am excited to be launching the Australian Parenting App which will assist in strengthening the foundations of the many families across Australia who are raising our next generation.