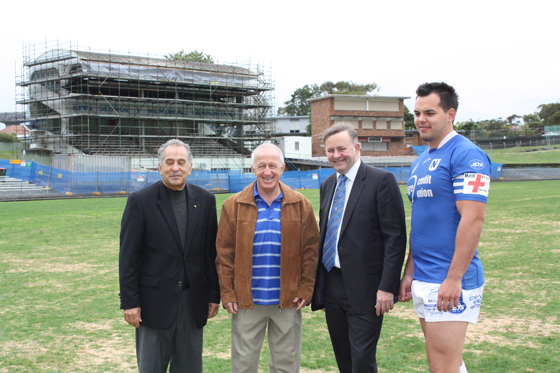 Anthony with Marrickville Mayor Morris Hanna, Newtown Jets President Barry Vining and player Ryan Verlinden.
Work has now begun on a major upgrade to one of Australia's most iconic sporting grounds with a $920,000 contribution for Henson Park from the Gillard Labor Government.
Federal Infrastructure and Transport Minister Anthony Albanese will be joined today by Newtown Jets President Barry Vining at Henson Park to inspect the work, which includes refurbishing the grandstand, toilets and canteen as well as installing an electronic score board.
"This historic sporting facility opened in the 1930's and was the site of the closing ceremony for the 1938 British Empire Games making it a part of the culture of the inner-west for more than 80 years," Mr Albanese said.
"Henson Park is widely used by local schools and community groups as well as being host to the Newtown Jets, AFL games and international Rugby Unions squads.
"The Jets are a part of the history of Newtown and I am proud to be able to deliver this funding to ensure Henson Park remains the home of the Jets for decades to come."
Newtown Jets Club President Barry Vining said Henson Park has been the Newtown Rugby League Football Club's home ground for more than 75 years and it is part of the very heart and soul of Australia's oldest Rugby League club.
"This generous and timely financial grant from the Gillard Labor Government will provide a modernised and refurbished home base for the Newtown Jets, the inner-west's favourite sporting club, and improved facilities for our large number of loyal supporters, for our steadfast group of sponsors and for the broader inner-western community," Mr Vining said.
"We are very grateful that our Federal member Anthony Albanese initiated the request for this funding."
The $920,000 in funding has come from the Gillard Labor Government's Community Infrastructure Grants program. The proposed works include:
 

Improvements to the grandstand building including replacement of the roofing, waterproofing, improved handrails and repainting
Reconstruction and resurfacing of the grandstand forecourt to provide an accessible entry ramp to the building and repair damaged pavements
Refurbishment of the public toilets and sports canteen in the tower building (adjacent to the grandstand) and refurbishment of the canteen in the scoreboard building
Installation of an electronic scoreboard to replace the existing manual scoreboard