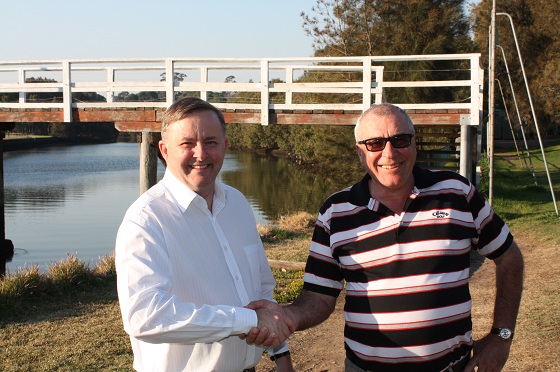 A re-elected Rudd Labor Government will provide federal funding to upgrade facilities at the Marrickville Golf Sporting and Community Club.
Federal Member for Grayndler, Anthony Albanese today announced the government would provide $340,000 for a new verandah and function space which will help the club cater for the needs of the growing community and hold more community functions.
"Located on the banks of the Cooks River, the Club has been an important part of the Marrickville community for over 60 years. It's not only one of the busiest clubs in Sydney with over 25,000 games played every year, but the Club is also home to junior golf programs and has been used as a hosting venue for Seniors Week events.
"There's no doubt – it is a fantastic piece of local community infrastructure and an integral part of Marrickville's history and future."
"The Club will continue to grow in popularity and this funding will help it to thrive for many years to come.
"The Rudd Labor Government is serious about investing in local sporting communities and helping them grow into the future – and that's what this funding is all about."
The upgrade of facilities at the Marrickville Golf Sporting and Community Club will build on the funding the Rudd Labor Government has already provided to boost community infrastructure in the Inner West.
Since 2007, the government has delivered more than $27 million worth of upgrades at Inner West sports clubs and grounds including:
Henson Park
Mackey Park
Fraser Park
Arlington Oval
Leichhardt Oval
Hammond Park
Leichhardt Secondary College Oval
Funding for this project is included in the budget.