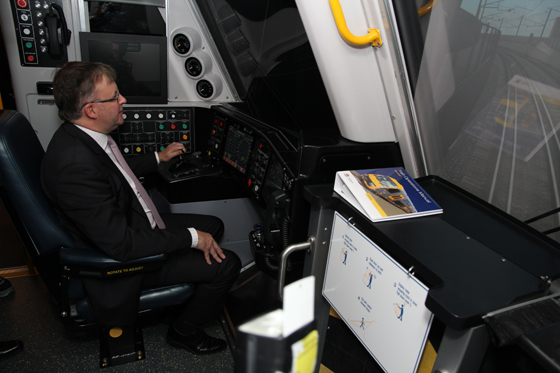 In a rail industry first, Members of Parliament will take a turn at the steering wheel driving a train on Sydney's Rail Network, one of the most complex rail systems in the world.
A state of the art, multi-million dollar train simulator is being stationed in Canberra for three days (26-28 November), recreating the experience of driving a Waratah train from Central to Chatswood Stations and possible environmental and driving conditions.
Minister for Infrastructure and Transport, Anthony Albanese, said the simulator is one of four and has already been put to use training drivers and guards.
"The simulator is normally used to provide crew with ongoing refresher training at depots around Sydney and has helped train over 1,000 drivers and guards in the last year alone," Mr Albanese said.
"Australian designed and built, it is an exact replica of a train driver and guard cabin and cleverly uses 3D animation to recreate the Central to Chatswood train journey, including every gradient and turn on the rail network."
With rail increasingly on State and Federal agendas, Australasian Railway Association (ARA) CEO Bryan Nye said the simulator will allow Parliamentarians and their staff to gain a better understanding of rail.
"Train drivers and crew are responsible for the safe movement of hundreds of people each day and with the simulator we aim to provide Parliamentarians with some understanding of the complexities involved to operate trains," Mr Nye said.