DICK ADAMS (Lyons MP) – My question is to the Minister for Infrastructure and Transport.  How is the government's national Nation Building Program helping to build infrastructure that boosts productivity around Australia? How are these investments being received, and are there any other proposals?
ANTHONY ALBANESE – I thank the Member for Lyons for his question.  Indeed, just before Christmas the Government opened the largest-ever road project in Tasmania, the Brighton Bypass.  Work is continuing on the $200 million revitalisation of the Tasmanian freight rail network to take trucks off the road and put freight onto rail.
Our Nation Building Program is fully costed, fully funded and is being delivered.
I am asked about other proposals, and in Tasmania there have been some other proposals recently.  The Leader of the Opposition [Tony Abbott] went to Tasmania just a couple of weeks ago and repeated his promise that they would fully duplicate the Midland Highway.  He was asked how much money they had, and he said, "$400 million".  He was asked where he got that from and he said he had had informal discussions with road engineers.  Unfortunately, it is a $2.7 billion project.  His was done on the back of an envelope, and indeed I am advised that $400 million will not get you from Brighton to the Mood Food servo in Kempton.  Perhaps that is where he did the maths for this project?
But when it came up in Senate Estimates yesterday, it went from being fully-funded. Senator Eric Abetz now says that a Liberal government would "assist" with the upgrading, and that it was always going to be a "combined project".  The Leader of the Opposition's commitment did not last two weeks.  It is not surprising.
Last week we began construction on the Majura Parkway and we also began construction on the WA Gateway project in Perth, the biggest road project ever in Western Australia.  In 2010 those opposite said they would give it consideration for some time after 2014-15.  It did not appear in their forwards and did not appear in their costings.  Construction is now underway as a result of the real money we're delivered.  They go and bag our projects, but they are happy to turn up to the sod turnings.
In this photo (see below), there is myself, the Member for Perth [Stephen Smith], the proud local Member, and there is the [Liberal] Member for Swan [Steve Irons].  He's got the hard hat on, the shovel out and he is in front of the Federal Government's Nation Building Program sign.  That is how you can identify him!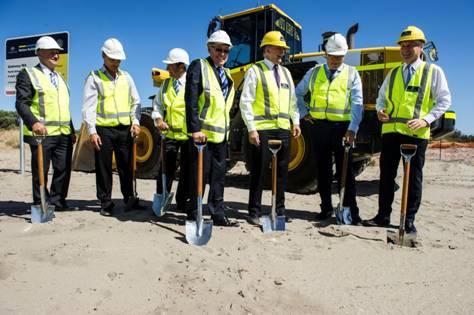 They (Federal Opposition) go out, they do not do their homework, they do not put in the costings and they do not provide proper funding.  You just did not fund it (WA Gateway).  You just did not fund it!  Nothing there in the budget!  You said you would do it in the never-never.
SUPPLEMENTARY QUESTION
DICK ADAMS – Madam Speaker, I ask a supplementary question.  The Minister talked about a range of infrastructure projects, including many in my electorate and some in Western Australia.  Why is it important, Minister, for proper planning to occur on all of these projects?
ANTHONY ALBANESE – I thank the Member for his question.  He is aware that you have to do the planning first, then you have to have the funding available, then you can begin construction and get the infrastructure built – something not understood by those opposite.
I was referring before to the Pacific Highway.  When the Leader of the Opposition did his little truck tour down the Highway, he got all his facts wrong the whole way.  Included in that, was his statement made standing in Coffs Harbour.  He said:
"My understanding is the $7 billion or so that will be spent does include a bypass."
The Member for Cowper, poor Stanley, [Luke Hartsuyker] then had to ring around his local press and say, 'No, it doesn't; he was only joking'.
He had not done the homework.  He said the funding was available straightaway.  It's not.
On the WestConnex project in Sydney, he said he wanted to provide people with access to the city and freight with access to the port.  The only problem is that the proposal, which he has already ticked off on and said he would provide funding for before the planning is done, does not take people to the city and does not take freight to the port.
That is why this Government has made sure, along with the campaigns of people like the Member for Lindsay [David Bradbury] and others in Western Sydney, that it will be properly delivered.