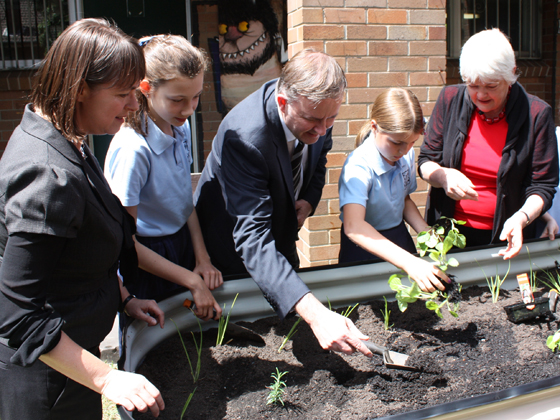 Kids at another 50 schools around Australia are set to join 128 schools that are already growing tomatoes, green beans, sweet corn and other veggies while learning about food and healthy eating habits.
Minister for Health and Ageing Nicola Roxon today joined local Federal Member for Grayndler Anthony Albanese and Stephanie Alexander at Stanmore Public School to announce the latest 50 schools to participate in the Stephanie Alexander Kitchen Garden National Program.
"Teaching kids how to make healthy choices is an investment in our future," Minister Roxon said.
"Engaging kids in growing, harvesting, preparing and sharing fresh food promotes healthy eating and healthy lifestyles that will see these kids grow into healthy adults.
"The $12.8 million Stephanie Alexander Kitchen Garden Program has now provided 178 schools around Australia with up to $60,000 to help with the construction of kitchen and garden infrastructure."
Local Federal Member for Grayndler Anthony Albanese said that the kids at Stanmore Public School will now be able to get their hands dirty in the garden and get involved in growing fresh veggies.
"This is a practical way of getting kids involved in making healthy food choices – it teaches kids that healthy food can be fun," Mr Albanese said.
"The Stephanie Alexander Kitchen Garden National Program aims to improve nutrition and develop lifelong healthy eating habits among children which is part of the Government's commitment to preventive health.
"The Gillard Government is doing more than any other to keep Australians healthy and out of hospital – that's why we have invested $872 million, the largest investment ever, in health prevention."
Stephanie Alexander said that partnering with the Commonwealth Government to roll out the Kitchen Garden Program in schools has resulted in tens of thousands of kids getting into the garden and into the kitchen.
"This program has really opened up kids' eyes when it comes to the joys of fresh food – we're teaching them that tasty, fresh food can be both fun and good for you," Ms Alexander said.
The fourth and final funding round brings the total number of participating schools to 178. The Government has also announced another $1 million over three years to develop curriculum resources to support the program.
For more information about the Stephanie Alexander Kitchen Garden National Program, please see: www.kitchengardenfoundation.org.au