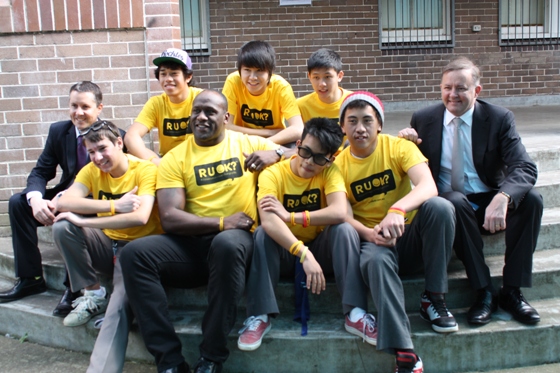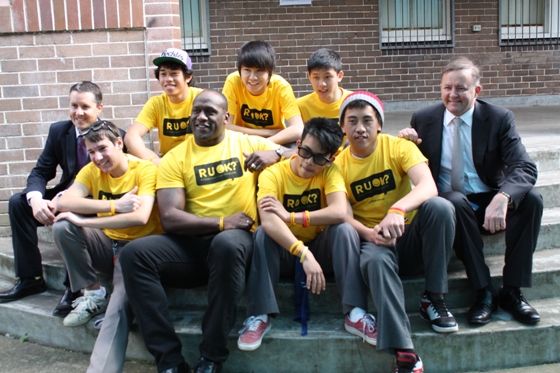 The R U OK? Foundation is taking suicide prevention to the schoolyard, launching the new R U OK? at School program in Sydney today.
Minister for Mental Health Mark Butler today launched the program with Member for Grayndler Anthony Albanese and former rugby league star Wendell Sailor at Canterbury Boys High School to raise awareness of mental health issues.
Mr Butler said the program will help Australian teenagers better support each other in the schoolyard and in the community.
"Suicide is the leading cause of death among young people so clearly we have to find ways to help teenagers talk about the issues affecting them before those issues escalate."
In the past five years, an average of 2,100 Australians have died by suicide each year, accounting for more than one fifth of deaths in that age group and more than transport accidents during the same period.
Local MP Anthony Albanese said the program allows students to drive the conversation.
"Students and teachers from Canterbury Boys and other schools in Sydney helped design this program to reflect their needs and the issues they experience at school," Mr Albanese said.
"It's a program aimed at encouraging students to have open and frank conversations with each other which could ultimately save lives."
"We want to empower students to ask the question 'are you ok?' and also find the courage to say 'I'm not ok', which is often the toughest step."
The R U OK? at School program, developed in partnership with online youth mental health initiative ReachOut.com, was successfully piloted in 2011.
The dedicated schools-based program will deliver relevant educational support to both students and teachers on topics including peer support and how to manage school pressures.