Browsing articles in "Grayndler Speeches"
More than 100 years after the end of the First World War, we gather again today to recognise and remember the sacrifices made by those Australians who served, as well as the service and the sacrifices made by those Australians who followed in their footsteps.
As the dawn breaks on ANZAC Day, all over Australia, we come to places like these, solemnly, silently, and respectfully.
We do not come to glorify war.
We come here to remember the sacrifices of so many ordinary Australians, caught up in extraordinary events throughout our history.
Young people who, in the prime of their lives, in places a world away from home, made the ultimate sacrifice for Australia, and for their mates alongside them.
Sacrifice means giving something up.
These Australians gave up their youth, their health, and many gave up their lives for Australia.
Young Australians like Henry Drysdale, who was 20 years old, and a junior blacksmith.
Or Roy Bogle, who was 23 years old, and a butcher.
Both young men were from Balmain.
They walked these streets.
Henry and Roy died within days of one another at Villers-Bretonneux in July of 1918, just months before the Armistice was declared and the guns finally fell silent.
The world would be a very different place without the service and the sacrifice of Australians like Henry Drysdale and Roy Bogle.
The world would also be a very different place without the sacrifice of Australians like Sister Marie Eileen Craig.
Sister Craig was born in Balmain, and joined the Royal Australian Air Force Nursing Service during the Second World War.
She flew into combat zones in New Guinea that were only accessible from the air, to care for and evacuate Australians who were wounded in the fight to defend our country from Japanese forces.
On the 18th of September 1945, the aircraft carrying Sister Craig and 27 of her patients went missing on a flight between Biak and Horn Island. She was 33 years old.
She gave her life to care for other Australians.
We must remember the sacrifice of people like Sister Craig.
We must remember all of those men and women who served in both World War One and World War Two.
Just as we must never forget the sacrifices of hundreds of other Australians who served in the Korean War, in the Vietnam War and in the many conflicts that followed.
Just as we must recognise the commitment of Australians who are currently serving around the world today.
Australians are fortunate to live in a democracy.
Ours is a wonderful nation, where people are free to make their own choices, to hold their own views and to live life as they choose.
We are so lucky.
On Anzac Day, we reflect on those who paid the price of our freedom.
Our nation owes them a great and incalculable debt.
We will remember them.
Lest we forget.
I want to begin by thanking my two friends and shadow ministerial colleagues Penny Wong and Richard Marles for the constructive engagement, along with other caucus members, who participated to get an outcome, which really takes us forward today.
Nuclear weapons are the most destructive, inhumane and indiscriminate weapons ever created.
Today we have an opportunity to take a step towards their elimination.
Ours is a great Party.
Our members have seen a lot of history over more than 120 years.
One of those was my mentor, a fellow called Tom Uren.
In 1945, having served his country and fought for his country, and been captured in Timor in 1941 – and had a tour of Asia – Changi Prison, Burma-Siam Railway, he ended up on an island close to Nagasaki.
He saw there the second atomic bomb with his own eyes.
He came back, having fought for Australia, a fighter for peace and disarmament.
And he described in his retirement speech: "The struggle for nuclear disarmament is the most important struggle for the human race."
And delegates, there is a continuum.
Gareth Evans, one of Labor's great Foreign Ministers, spoke just a couple of weeks ago at the Tom Uren Lecture that I host in my electorate.
He said that the difficulty of achieving disarmament was no excuse for inaction.
He said and I quote: "Nuclear disarmament is core business for any Labor government worth the name."
And that is why I am pleased that this motion before us today says that Labor in government will sign and ratify the UN Treaty on the Prohibition of Nuclear Weapons.
It also says these issues are complex – they're not simple.
That we need to take into account and work through a range of complex issues on enforcement, on effectiveness and on verification.
But we must not be timid when it comes to verification.
Article Four of the Treaty outlines a process of verification.
Article Three sets out the safeguards which are as strong as those in the NPT (Treaty on the Non-Proliferation of Nuclear Weapons).
Some argue that signing the treaty will undermine the Nuclear Non-Proliferation Treaty.
But that's not the view of the experts.
UN Secretary-General, António Guterres, said recently: "It must be said that the ban is fully compatible with the Non-Proliferation Treaty. I think there is complementarity."
The third issue that we need to consider is universal support, and that's very relevant.
That's a practical issue of how we bring those states, which are nuclear states, forward, so that this isn't just a gesture – and we want outcomes, that's what we're about as a political party.
But one way in which you secure universality of support, in terms of a step towards that, is by Australia playing a role. And Australia, of course, played no role at the UN processes where this treaty was finalised.
Others have raised concern that somehow this would interfere with our relations with the United States.
Not true.
I am a very strong supporter of our friends and our alliance with the United States, it goes beyond a relation between individuals.
The fact is that we can disagree with our friends in the short term, while maintaining those relations.
When other treaties such as landmines first came up, the United States and many other countries that ended up supporting it today were hostile to the idea.
But the fact is that we have, on our side, the overwhelming support of the Australian people.
The fact is that around four in five of our Federal Labor Caucus have signed up to support this process, and that's because it's consistent with the Labor way.
It's consistent with what we did on the Canberra Commission.
It's consistent with what we did on the NPT.
It's consistent with the role that we've played internationally.
It was of course a Labor Member, a Labor leader, Dr Evatt, who became the first President of the United Nations.
So we're up to the task of advocacy, 122 countries have signed up and ratified already.
We need to be out there advocating advancement on these issues because progress always requires leadership. And there's a lot of discussion about what leadership looks like.
Delegates, this is what leadership looks like.
This is a Nobel Peace Prize.
Awarded to an organisation made up of activists concerned about our place in the world, formed in Melbourne.
ICAN (International Campaign to Abolish Nuclear Weapons) won the Nobel Peace Prize in 2017, just 10 years after they were formed.
That is something that we should be incredibly proud of and I'm pleased that the resolution today recognises that.
The fact is the people who change the world are those that are ambitious.
We just had a debate and changed the Labor Party policy with people campaigning for it, consistent with what's happening internationally.
I don't argue that this is easy.
I don't argue that it's simple.
But I do argue that it's just. I do argue that it's consistent with what the Labor Party is about.
I believe that unless we do move down towards the path of disarmament, then we know the concern that the global community, including us right here, felt when North Korea was so close to being in a position whereby someone erratic would have their finger on a button.
That's why we need to be a part of the global community.
This resolution is Labor at our best.
It enables us to participate in the debate in a constructive way and move it forward.
I commend the resolution to the conference.
Today, the 11th of November 2018, marks the 100th Anniversary of the end of World War One – Remembrance Day.
On the 11th hour of the 11th day of the 11th month our entire nation takes pause to recognise and honour those who lost their lives or were injured serving our country in the line of duty. Not only during World War One, but all conflicts where Australians were and are involved.
This morning we are gathered in Petersham Town Hall, in the heart of the Inner West, to commemorate those lost to our local community in times of war.
Men like Walter Ernest Brown.
Mr Brown, a grocer, lived in Petersham and enlisted to fight in World War One on the 26th of July 1915, aged 30.
Brown first served in Egypt in the Imperial Camel Corps and later transferred to the 20th Battalion, comprised of men from the suburbs of Marrickville, Petersham, Leichhardt, Bexley and Hurstville and headed for the Western Front.
Brown fought in the Battles of Morlancourt and Villers-Bretonneux.
On the 6th of July 1918, Brown and his unit were pinned down by a sniper post near Accroche Wood.
Brown located the position of the snipers and ran towards their post alone, with two grenades in-hand. Brown threw the first to no effect. He then threw himself into the sniper post, knocking down one enemy soldier and threatening the remaining men with the final grenade. The 13 men, including one officer, surrendered and were captured by Brown.
Corporal Brown received the Victoria Cross, the highest and most prestigious award within the British and Australian honours system, on the 7th of October 1918 from King George V for his efforts. Brown returned to the front until Armistice Day, but his story did not end when the First World War concluded.
Brown returned home to work and married his wife, Maude Dillon, on the 4th of June 1932.
In 1940 Brown enlisted to serve in World War Two, lying about his age and stating that he was 43-years-old, not 57.
On the 14th of February 1942 Walter Ernest Brown was fighting in Singapore when the order to surrender to the Japanese came through. Brown turned to his mates and said: "No surrender for me." He picked up several grenades and ran to meet the enemy.
He was never seen again.
Today, we remember Corporal Brown.
We honour Corporal Brown.
The Bindoff family lived at 17 Windsor Road in Petersham. Alfred Edward Bindoff, a railway signalman, was married to Phoebe Alice Butler, a Budawang Aboriginal woman from Yuin country on the South Coast of New South Wales.
Married in 1893, they had seven children. Alfred and his three sons – Harold, David and Edgar enlisted. Only Alfred and Harold would return home.
Edgar was the first member of the family to enlist on the 28th of January 1915. He was also the first to fall.
On the 13th of September 1915 at Lone Pine, Gallipoli, Edgar George Bindoff, aged 20, succumbed to wounds sustained on the battlefield and died.
After Edgar's death, his father Alfred, and his brothers David and Harold, aged 18 and 22 respectively, immediately enlisted, sailing to the front on the 30th of September 1915, a mere 17 days after Edgar's death.
At the age of just 18, David Bindoff was killed in action in France on the 27th of July 1916 during the Somme Offensive.
The Bindoff family were among several Indigenous men from Petersham who fought in World War One. The neighbouring suburbs of Marrickville, St Peters and Leichhardt also had a number of Indigenous volunteers, a small and largely unrecognised proportion of the local population.
The contribution of Indigenous soldiers is still not fully recognised. Legislation at the time prevented Indigenous people from enlisting. Some Army recruiters adopted a variable approach to Indigenous volunteers, both accepting and, at other times, rejecting them. Many volunteers pretended to be of Southern European Ancestry to enlist.
Just think about that.
The fact that Indigenous volunteers were required to lie about their ancestry to fight for their own country remains a sad and shocking part of our history.
Today, we remember the Bindoff family and all Indigenous Australians who have fought for our country, past and present.
Indeed, we remember all Australians lost to us in conflict; whose selflessness and ultimate sacrifice, secured our future.
Across World War I, out of a population of less than five million at the time, 61,522 Australians lost their lives.
During my most recent visit to Canberra, I stopped at the Australian War Memorial to visit the 62,000 poppies display.
Spread across the memorial gardens, the hand-made display of thousands of red flowers commemorates the recorded number of Australian casualties sustained throughout World War One.
62,000 hand-made red poppies.
The culmination of a project began by Lynn Berry and Margaret Knight, who crocheted 120 poppies to plant at the Shrine of Remembrance in Melbourne on the 11th of November 2013, in honour of their fathers.
Twenty-five years ago today, Prime Minister Paul Keating gave his remarkable eulogy at the internship of the Unknown Soldier at the Australian War Memorial.
In this historic Town Hall where I had the honour of hosting Paul Keating two years ago, I wish to quote an excerpt from that speech.
"He may have been one of those who believed that the Great War would be an adventure too grand to miss. He may have felt that he would never live down the shame of not going. But the chances are he went for no other reason than that he believed it was his duty – the duty he owed his country and his King.
Because the Great War was a mad, brutal, awful struggle, distinguished more often than not by military and political incompetence; because the waste of human life was so terrible that some said victory was scarcely discernible from defeat; and because the war which was supposed to end all wars in fact sowed the seeds of a second, even more terrible, war –  we might think this Unknown Soldier died in vain.
But, in honouring our war dead, as we always have and as we do today, we declare that this is not true.
For out of the war came a lesson which transcended the horror and tragedy and the inexcusable folly.
It was a lesson about ordinary people – and the lesson was that they were not ordinary.
On all sides they were the heroes of that war; not the generals and the politicians but the soldiers and sailors and nurses – those who taught us to endure hardship, to show courage, to be bold as well as resilient, to believe in ourselves, to stick together.
The Unknown Australian Soldier we inter today was one of those who by his deeds proved that real nobility and grandeur belong not to empires and nations, but to the people on whom they, in the last resort, always depend.
That is surely at the heart of the ANZAC story".
I hope that in another 100 years' time this Town Hall is again as full as it is today.
With people once again remembering the sacrifice of soldiers and civilians alike in wars long past, both won and lost.
And I truly hope that in 100 years there is also silent gratitude, that there has not been another significant armed conflict to commemorate.
It is vital that we as a nation remember the sacrifice of veterans, and their families, current serving members of our armed forces and civilians, affected by war.
It is also vital that as we remember their sacrifice, we also hope for a present and future without war.
Today, we honour those who have served.
We honour those who continue to serve overseas and at home.
Lest we forget.
ENDS
SUNDAY, 11 NOVEMBER, 2018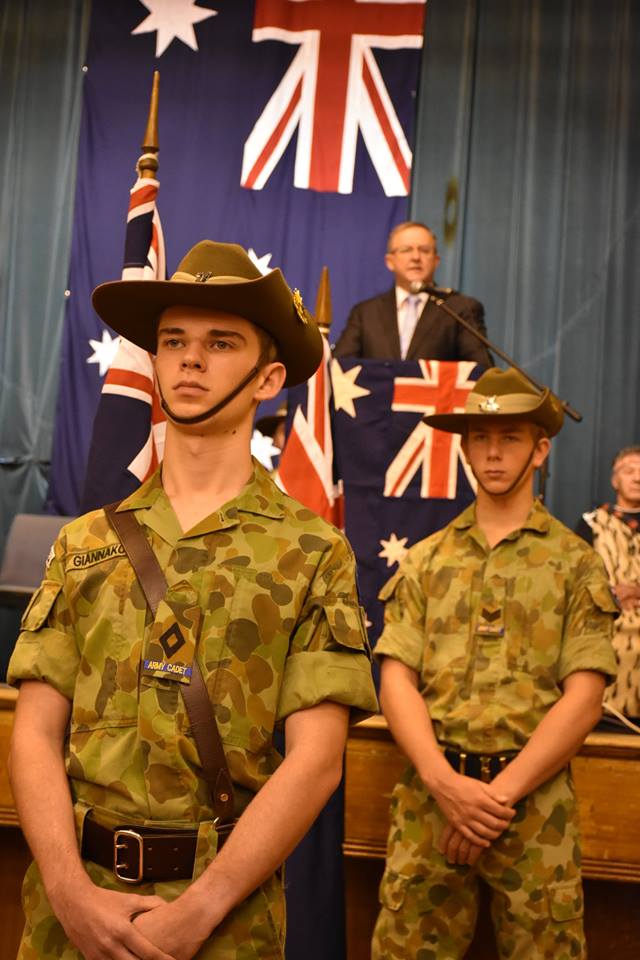 Earlier this month some of our greatest sporting heroes thrilled the nation at the Commonwealth Games.
Australians watched with pride as young people from all over the Commonwealth played together in a spirit of friendly competition.
In many ways, sporting events celebrate freedom – the freedom to test yourself against your peers in a celebration of shared humanity.
ANZAC Day is a time to reflect on freedom – how it was won and how it has been maintained over our nation's history.
In 2018 each of us is at liberty to pursue our lives and passions in whatever way we choose.
Whether it is sport, the arts, business or any other endeavour, being Australian means you have at least the potential to do what you want and be who you want.
But our freedom did not appear out of nowhere.
It was won for us by generations of men and women who served our nation in war.
We owe those men and women a debt of gratitude.
They were ordinary people, just like the people gathered in this historic Town Hall.
They were young.
They were optimistic.
They had the world at their feet.
They were poised to make their mark.
But because of circumstances beyond their control, they were required to shelve their aspirations and risk their lives to preserve freedom – their freedom and ours.
Many never came home.
At Gallipoli, for example, there were 26,111 Australian casualties, including 8,709 deaths.
Across World War I, out of a population of less than five million, 61,522 Australians lost their lives.
Today that would be like having over 300,000 leaving our shores never to return.
Just imagine all of those lives cut short.
… and all of that precious human potential that was never given a chance to bloom.
There will always be debates about the rights and wrongs of war.
They are important debates.
But Anzac Day is not about that.
It's about recognising the extraordinary grit and courage of generations of average Australians, many of them from our own community in Sydney's Inner West.
One of them was William Mathew Currey, who was born in Wallsend in 1895 but moved to Leichhardt for work before joining the army in October, 1916.
Less than a year later William won the Victoria Cross for single-handedly attacking and defeating the crews of two field guns, which prevented them firing upon his comrades.
After the war William became the first VC winner to enter the NSW Parliament as the Labor MP for Kogarah.
He died in 1948.
William was one of us – just a bloke from the Inner West.
So was John Bernard Mackey, known to his mates as Jack.
Jack went to school just down the road at St Colomba's at Leichhardt and Christian Brothers' High School, Lewisham.
In May of 1945, on Tarakan Island in Indonesia, Jack Mackey charged two machine gun positions, killing the Japanese soldiers firing on his mates before being shot dead as he attacked a third.
Jack was awarded the Victoria Cross posthumously.
John William Best was from Petersham. He died in action at Gallipoli, aged 18.
Victor Stringfellow worked at the Petersham Post Office. He died in action near Polygon Wood on 27 September, 1917, aged just 17.
Victor's father, Private Charles Stringfellow, also served in the AIF and was killed in action in April 1917.
And it wasn't just men.
Jean Keer Greer, known to her friends as Jenny, was also from Petersham.
She was imprisoned by the Japanese for three and a half years in Sumatra.
Ordinary people.
But they did extraordinary things and we are the beneficiaries.
Today is also a day to recognise the extraordinary efforts of today's members of the Australian Defence force, including those based in Australia and those who are on duty overseas.
Like the men and women of previous generations, today's young Australians can be counted on to not just enjoy the benefits of freedom, but to put their lives on the line to defend it.
When I was young, it was common to meet veterans of the two world wars.
You could shake their hands and hear their yarns.
But back then, people wondered whether ANZAC Day would continue after all of those men and women had passed away.
It has not only continued, but gained significance.
Australia has been involved in many other conflicts and all service people, wherever and whenever they served, deserve and receive our recognition and our gratitude.
That will continue.
But beyond this, Australians have a deep cultural understanding of the significance of ANZAC Day.
This is partly due to the growing interest in ancestry and the ease with which people can access the service records of their forebears at places like the Australian War Memorial.
But our national memory goes deeper than that.
We feel in our bones that if history had taken a different turn, it might have been us having to fight for freedom instead of the Jack Mackeys and Jenny Keer Greers of this world.
And as we contemplate whether we would have risen to the challenge as they did, we cannot help but be deeply moved by their selfless sacrifice.
That's why so many people attend ANZAC Day commemorations.
It's why schools teach the history and why parents make sure to pass down their stories through the generations.
It's why people buy Legacy Badges and bow their heads when they hear The Ode.
So today, let's count our blessings and remember where they came from.
And once again resolve that we will never forget.
Just the other week in Perth I spoke at a conference about the pace of technological change.
We know that change can improve our lives and we know it frees us from certain kinds of labour.
But, of course, change has no conscience.
It does not care or even consider its impact on people.
And this is where we come in.
The fact is that governments, business leaders like you, and industry leaders such as Google have such an important role to play when it comes to making sure people continue to have access to the opportunities they need to stay ahead in a fast-paced world.
So congratulations for thinking ahead. I want to recognize the hard work of Google, the NSW Business Chamber, the Leichhardt & Annandale Business Chamber and the Balmain Rozelle Chamber of Commerce in organising today's training session.
BALMAIN
It is a pleasure to be here in Balmain – the old, industrial working heart of the inner west.
I grew up near here, in Camperdown.
Like many of you I have observed Balmain and Camperdown transform over the decades.
In many ways these suburbs are emblematic of our nation's economic transformation from industrial to knowledge-intensive and skills-based.
Old workers cottages now sell for well over $1 million.
Warehouses have been filled in with designer apartments.
And our local businesses are increasingly diverse.
They reflect the assortment of needs each person in our community has.
But of course a number of local businesses have endured the test of time and I want to acknowledge one, in particular; the iconic Brays Books on Darling Street.
I remember the emergence of e-books. Many said then bookshops were dead.
However in the US independent booksellers are thriving and here, in Australia, book sales have picked up since 2015.
The simple fact is, reading an e-book isn't the same as a physical book.
And that's one of the reasons why bookshops are still here.
But it's also because businesses like Brays Books adapt to change.
Brays today has Facebook, Twitter and a blog.
And I know the inner west is home to many businesses that have popped up inside people's houses.
These business owners are creative. They are responsive to technological change and determined to succeed.
And with higher internet uptake in our area than any place in Australia, online presence and accessibility is crucial for our businesses.
What's more, the benefits that come with the conversion of White Bay and Glebe Island into a technology hub must also not be lost.
I will continue to advocate for government action to achieve this.
ROLE OF THE COMMONWEALTH
The Commonwealth should be doing everything in its power to support the development of small business.
After all they underpin both the economy of places like Balmain, but also the nation.
We should be investing in creativity and leading the way internationally when it comes to small businesses.
But of course politics can get in the way of the basic realities that confront us and affect the way we live.
Let's take the NBN for example.
Labor had a plan for high-speed, fibre-to-the-premise, broadband for Australia.
We were determined to do it once, do it right and do it with fibre.
We had funded it, and we were building it.
The Coalition, in contrast, always had another plan.
First Tony Abbott appointed Malcolm Turnbull as Shadow Minister for Communications saying, "Who better to hold the government to account here than Malcolm Turnbull … who has the technical expertise and business experience to entirely demolish the government on this issue."
Then, after the Coalition was elected in 2013 it declared the NBN could not be funded off Budget.
Sometime after that the Coalition changed its rhetoric – adopting the principle, but none of the substance, abandoning fibre-to-the-premise for its significantly inferior hybrid model.
The result is Fraudband, not high speed Broadband.
And earlier this month it has been revealed that Malcolm Turnbull has purchased 15 million metres of copper wire for his second rate network.
Fifteen million metres.
Enough to wrap around Australia.
They have increased the cost and decreased the speed.
Our businesses need better than this from the Commonwealth.
They need reliable, fast broadband so that they can be connected to this increasingly technological world.
TRANSITION
In some ways, today's children are already being schooled to think differently from previous generations.
They are already experts in coping with change, because during their short lives, it has been a constant.
For example, anyone who uses a computer knows the software is constantly upgraded and updated, requiring us to amend our habits when it comes to simple functions like creating and sending documents.
While many older people find that frustrating, for young people it is a natural part of life.
In the future workforce, jobs will evolve in the same way.
The role you take on one year could evolve considerably in a very short time to something that looks quite different.
While today's young people are already thinking in more flexible ways, I worry about older people losing their jobs now and in the next few years.
I worry about their ability to reskill, both in terms of personal mindset and in terms of the opportunities that will be available to them.
In particular, I worry about what will become of low-skilled workers who occupy the jobs that will be eliminated first.
CONCLUSION
And that's why today's Digital Skills Workshop is so critical.
It encourages business owners and leaders like you to not only continue to adapt, but also to come together and talk to each other about the change we face.
I look forward to continuing to work with you in my capacity as the Member for Grayndler and wish you all the best.
I grew up in council housing in Camperdown, in one of those neighbourhoods where everybody knew everybody – for better, or for worse.
We were a real tight knit community.
So when the Sydney City Council decided to sell-off our houses, the residents banded together to fight the decision, eventually winning.
You see, we weren't just fighting for bricks and mortar.
We were fighting for our homes.
For our community.
For respect.
If this sounds like a familiar tale, you would be right.
Recently, the NSW Government sold more than 200 homes in Millers Point.
It intends to do the same with the iconic Sirius Building in the Rocks.
Residents, like 90 year old Myra Demetriou from Sirius, have lived in the area for more than sixty years.
They don't know anything else.
But they do know the intricacies of their neighbourhood.
They know their local doctor.
They know the people next door.
Now the Government argues that through the sale of these homes more funding will be available to build extra social housing elsewhere in Sydney.
As students, as future leaders, this is something for you to think about – what would you do?
The so-called greater good argument can be convincing.
On a simplistic level, the argument that many more people will benefit from the sale of these homes than those adversely impacted sounds attractive.
But this argument does not stand up to proper scrutiny.
This is certainly the case for those directly impacted, but it is also the case for the health of the city as a whole.
I fundamentally believe successful cities are not disconnected enclaves of privilege and disadvantage.
They are diverse.
Their people come from a multitude of backgrounds.
People are connected to their communities.
EDMUND RICE IN TODAY'S WORLD
This brings me to Edmund Rice.
It was Edmund Rice who said:
"Were we to know the merit and value of only going from one street to another to serve a neighbour for the love of God, we should prize it more than silver and gold."
But the world has shifted dramatically since Edmund Rice founded his schools, the legacy of which is your school today.
Indeed, the world has changed since my childhood and teenage years spent growing up in Camperdown and attending a Christian Brothers' school, St Mary's Cathedral.
The challenges you face are different.
But I believe many of the same principles still hold their relevance.
Sydney is a brilliant city.
We're on track for rapid growth.
The fact is; urbanisation is transforming our nation.
As our cities grow, and increase in density, we need to think about how we can create opportunities to build and enhance the quality of life of local communities.
So that people choose to cross the street, as Edmund Rice said, to help a neighbour.
As the Shadow Minister for Cities, this is something I'm passionate about.
GLOBALISATION
But if the world is changing so fast, how can we sustain the social justice agenda of Edmund Rice throughout this century?
In New York, in 2002, Brother Phillip Pinto spoke about the Edmund Rice tradition.
He said:
"Our schools exist to challenge popular beliefs and dominant cultural values, to ask the difficult question, to look at life from the standpoint of the minority, the victim, the outcast, and the stranger."
The thing is; an aspiration for social justice is always relevant.
It's always needed.
Particularly now.
What we don't always understand is that because of globalisation, some people are feeling left behind.
Excluded from opportunities.
Here in the inner west we are the beneficiaries of a globalised world.
I love walking down Marrickville Road and seeing the legacy of the Greek and Italian immigrants, the Portuguese, the Chinese and Vietnamese, and more recently the Lebanese and Pacific Islander communities.
We are so lucky to have won the lottery of life that is living here in Australia.
But this is not the experience of everyone.
Globalisation and the shift to a knowledge-intensive economy, away from manufacturing, mean some people question where they fit in this changing world.
Technology has left many without secure employment, and many of these people blame globalisation.
I was concerned when the Brexit vote in the United Kingdom succeeded.
I was concerned when Donald Trump tapped into the fear of many who felt disenfranchised by the global economy to become President of the United States of America.
And I am concerned every time I'm in Canberra and see Pauline Hanson in the halls of Parliament House.
But the fact is; we need to work hard to understand where this sentiment comes from, so that we can do what we can to fix it.
And this means having the hard discussions.
The onus is on me, as a politician, to make sure all people do feel like they are being heard and represented.
But the onus is also on you, as students, as our nation's future leaders.
Throughout the history of politics, for some, appealing to division has been a fall- back position when the going gets tough.
Fear-mongering is dangerous because it makes it harder for us to have the important conversations we need to have as a nation; about climate change, about refugees and asylum seekers; about our economy.
UNCERTAIN TIMES
I have a 16 year old son, and so I often reflect upon the challenges faced by your generation.
I worry about housing affordability, where even those in leadership positions have said that the only way young people can get into the property market is to inherit their parent's home.
I worry about wages growth and employment opportunities.
I worry that in the face of urbanisation, unless we do something, the poor will become poorer and the rich, richer.
But then I walk into a classroom, or talk to a student on the street, and I'm filled with confidence.
It might be the case that there is no such thing as having the one job for life, but I've never met a smarter, more capable generation than yours when it comes to adapting to this new phase.
Accepting of each other.
Perceptive about society.
Inquisitive about the best way forward.
These are just some of the qualities I am so pleased to see in people your age today.
CONCLUSION
The fact is, the Edmund Rice tradition is echoed in the simple actions any person can take in their day.
It is about volunteering time to community organisations, which I know many of you do.
Helping those less fortunate than you or I.
But it can also be as simple as being kind to fellow human beings.
Listening, understanding, having patience.
And, sometimes, it can be as hard as speaking up when something is not right.
Even when you are the only person to do so.
As the saying goes, if we are to understand the future, we must first understand the past.
Edmund Rice could not have envisaged the world today when he founded his schools more than 200 years ago.
But since then, the Edmund Rice tradition has lived on and it will continue to do so through your actions.
I urge you to keep challenging the status quo.
Don't cease asking difficult questions.
And always stand up for those in need.
On the weekend, I watched a group of young men link arms and stand together in silent recognition of Anzac Day.
They were mainly Australians. But among them were New Zealanders, Samoans, Fijians and a trio of big, burly brothers from Great Britain.
They were rugby league players – young men in their prime.
And as I looked at their faces, I was taken by their solemnity.
It seemed to me that they understood that their freedom to live in peace and to pursue their sporting dreams did not just fall out of the sky.
It was purchased for them by the sacrifices of their ancestors.
The men who went to war in 1915 were a lot like the rugby league players.
They were young and fit.
The world was at their feet.
But the circumstances of history prevailed upon their generation to sacrifice their future, in order to guarantee our future.
They responded with selfless bravery and we – all of us – are the beneficiaries.
We have the freedom to do what we want to do. To be who we want to be.
But our ex-servicemen and women had to give up their dreams, their blood and, in far too many cases, their lives, for our benefit.
At Gallipoli there were 26,111 Australian casualties, including 8,709 deaths.
Across World War I, out of a population of less than five million, 61,522 Australians lost their lives.
Behind these staggering figures are people.
Many of them walked the same streets that we walked this morning to come to this ceremony.
Men like Fred Fardell, born just down the road from here in Rozelle.
Fred was a hairdresser. He lived with his wife Ethel in Church Street, Balmain, literally just around the corner from where we stand.
Fred joined up in February, 1916, at the age of 29.
He never came home.
Arthur Addison was another Balmain Boy – a brass finisher whose parents lived in Leichhardt.
Arthur joined the Army in February, 1915.
Then there was Victor Sellheim, a career army officer born in Balmain in 1866 who served in the Boer War and was a Colonel at the outbreak of World War I.
After the war, Victor remained in the Army until he was appointed Administrator of Norfolk Island, where he died in 1928.
We must never forget Fred, Arthur or Victor.
We must never forget the men and women who followed them to service in World War II, Korea, Vietnam and, in our own time, the ongoing war against terrorism.
We must never forget the sacrifices of their comrades from Australia, New Zealand, the United States, Great Britain and our other allies.
There will always be discussions about the rights or wrongs or war.
Those discussions are important. As a race, mankind must learn from the past and find a way to banish war for ever.
But that's not what Anzac Day is about.
Anzac Day is about remembering that in our short history, generations of Australians have understood that there are times when we must oppose those who threaten our freedom and our way of life.
Australians can be an easy-going and laconic mob.
But when called upon to risk everything for others, generations of Australians have stepped up.
And as a nation we have prevailed.
When I was a young man, Gallipoli veterans still walked among us.
The legend of the Anzacs was so real that you could reach out and shake their hands.
But many people wondered whether Anzac Day would just fade away as the veterans of the two world wars passed on.
In the 21st century, the legend is not fading away.
It becomes stronger each year.
Families pass down the legends and schools teach the history.
Young people across the nation, just like our sporting heroes at the weekend, understand the importance of remembrance.
They understand that to be an Australian is to have won the lottery of life.
They also know in their hearts that we have a responsibility to respect and thank those who have sacrificed so they may enjoy their good fortune.
It's why it has real meaning when we say, "Lest we forget".
Australia must play its part in abolishing nuclear weapons
In 1961 John F Kennedy told the United Nations:
Today, every inhabitant of this planet must contemplate the day when this planet may no longer be habitable. Every man, woman and child lives under a nuclear sword of Damocles, hanging by the slenderest of threads, capable of being cut at any moment by accident or miscalculation or by madness. The weapons of war must be abolished before they abolish us.
It is incredible to think that almost six decades on, this threat still exists.
We must continue to dedicate ourselves to eliminating this threat.
Every nation has a responsibility to work for a world free of nuclear weapons.
Australia is no exception.
That is why the work of ICAN in Australia and around the world, in helping to progress the disarmament agenda, is so important.
I come to this debate with the benefit of the testimony of a man who saw the horror of nuclear weapons first hand.
Tom Uren was imprisoned in a POW camp on the island of Omuta on 9 August 1945.
Just after 11am, the US detonated an atomic bomb over the city of Nagasaki about 80km away.
Estimates of the death toll ranged between 40,000 and 80,000.
That's men, women and children. Nuclear weapons don't discriminate.
Tom witnessed the explosion.
He later said:
It reminded me of those beautiful crimson skies of sunsets in Central Australia, but magnified about 10 times stronger, and it's vividly … it's never left me.
As you know, in October last year, the United Nations adopted a resolution to convene a UN conference in 2017 to negotiate a legally binding instrument to prohibit and eliminate nuclear weapons.
One hundred and twenty-three nations voted in favour of this resolution.
What is disappointing and unacceptable is that that Australia was not one of the countries that voted in favour of this resolution.
ICAN is right to herald this resolution as a potential breakthrough, after decades of paralysis in multilateral nuclear disarmament efforts.
Thanks to leaders like Tom Uren, Bruce Childs and Robert Tickner, the Labor Party has a proud tradition of advocacy for disarmament.
People like Melissa Parke and many others have tried to build on that legacy and maintain that struggle.
The Labor Party's platform affirms our belief, committing our party to work toward the end of nuclear weapons and supporting the negotiation of a global treaty banning such weapons.
It says Labor will encourage the pursuit of further substantial reductions of nuclear arsenals and promote the development of processes to bring all nuclear armed states into the disarmament process.
As a non-nuclear armed nation and a good international citizen, Australian can make a significant contribution to promoting disarmament, the reduction of nuclear stockpiles and the responsible use of nuclear technology.
Indeed, our nation has a proud history of activism on the international stage, including in efforts to ban chemical and biological weapons and land mines.
We have now reached a time where an overwhelming majority of the world's nations are ready to outlaw nuclear weapons, just as the world outlawed chemical and biological weapons and land mines.
There is no reason why we should not be providing leadership in the effort to ban nuclear weapons.
Australia must play our part.
Malcolm Turnbull should commit to attending the 2017 negotiating conference.
If Australia fails to participate, this will tarnish our international reputation as a disarmament supporter and, in doing so, fail to act to promote safety in our world.
So tonight, let us all recommit ourselves to supporting the work of ICAN and to seizing the present opportunity to make real progress towards a world free of nuclear weapons.
ENDS
I begin by acknowledging the traditional owners of country and pay my respect to their elders past and present.
I'm proud as the newly elected federal member for Grayndler to have the Sydney College of the Arts in my electorate and I'm proud to stand with these students.
Sydney is a great global city and global cities value culture.
They value the enrichment that the arts give.
It's appropriate that this demonstration of students and supporters of SCA take place outside the Archibald awards that are taking place inside the Art Gallery of NSW, because this magnificent institution has produced Archibald winners.
This magnificent institution makes a difference to Sydney. A global city such as Sydney needs enrichment, it needs the arts, it needs diversity. What it doesn't need is the commercial imperative overriding the cultural need of this city.
And that is precisely what we are seeing here. The idea that Sydney College of the Arts is the same as an urban design faculty, the same as other institutions at UNSW and serves the same purpose, misses the whole point. The whole point.
SCA is also a focal point of the inner west community. The Callan Park master plan, which the State Government has refused to proceed with, sees the Sydney College of the Arts as being the catalyst for other arts and cultural activity at the Callan Park site.
Not only have the students of SCA not been given any certainty about their future, or what will happen to them from 2017, but the local community, the businesses of Darling St and Balmain Road that rely upon the students and the teachers for their living.
The residents of the inner west who are looking for Callan Park site to build the diversity and build the cultural activity around there, are concerned also about whether this is just an opportunity for a sell off of that land, or inappropriate use of that land.
The students I have met with have told me about the specific value of the site, such as the print area that is available there, that has been used for many, many years.
Art is something that you can't always just put a dollar figure on. Just like human interrelationships and human activity can't always be measured by the dollar. Human relationships are about much more than that, and that's why the struggle of the students is about more than just them.
I pay tribute to them, because what they're fighting for is the very nature of the way that we regard society; of the way we regard education, and; of the way that it's more than something that just benefits the individual. It benefits all of us.
But what we've seen here from the university hierarchy, and I've written to Mr Spence on this issue, is again an institution such as Sydney Uni, that I'm a proud graduate of, being reduced to activity that is more and more commercial. That more and more, sees education as a transaction between an individual and an institution rather than something that benefits the whole of society.
So I say to the students here; congratulations. You look fantastic. And the local community stands with you in this struggle. This issue must be revisited and it must be revisited in the interests of students, in the interests of the community, but most importantly in the interests of this great global city and our reputation as a centre of arts and culture.
Well done. I stand with you and I will continue to stand with you on this issue
One hundred and one years after Australian troops landed at Gallipoli, we gather again today to recognize their immense sacrifice, as well as the sacrifices of those who followed in their footsteps.
Silently, sadly, we come to places like Petersham to confirm by our presence that we will never forget those who gave everything to protect our way of life.
There was a period a few decades ago when people speculated about what might happen to Anzac Day as the veterans of the First World War passed away.
In his song And The Band Played Waltzing Matilda Eric Bogle, wrote:
Year by year, more old men disappear,
Someday no-one will march there at all.
But that's not what happened.
In the 21st century, our reverence for Anzac Day – particularly among young people – seems to be growing stronger.
It is not fading away.
Families pass down the legends.
Schools teach the facts and governments fund education campaigns and research projects.
Archeologists survey the old battle fields.
Young people planning backpacking holidays make sure they include Gallipoli on their itineraries.
As a people, we don't forget.
People of my generation could literally reach out and touch the Anzac legend because its veterans were still participating in Anzac Day marches.
But those men are all gone.
The ranks for World War II veterans are also thinning.
Yet our national embrace of Anzac Day has not been weakened by the passage of time.
That is a very good thing.
What it says to me is that today's young people understand the importance of freedom and the value of sacrifice.
Decades have passed since the World Wars.
But people still understand why Anzac Day is so important, including younger people who have never shaken the hand of a man who stormed the beaches of Gallipoli or patrolled the jungles of New Guinea.
I suspect there are two reasons for the durability of these national memories.
Firstly, Australians understand how lucky we are to live in a nation where freedom is seen as a birthright.
Our lifestyle is so free, and our futures so full of wondrous possibilities, that we have the ability to make whatever we wish of our lives.
That is a precious gift.
Not all people on this earth enjoy these freedoms, so Anzac Day reminds us how fortunate we are.
But it also reminds us that our way of life did not just fall out of the sky.
It was purchased for us by our forefathers on battle fields around the world.
Secondly, the rise of Islamic fundamentalism in the 21st century is a constant reminder that we cannot take our freedom for granted.
There are people in the world who openly swear that they want to destroy our lifestyle.
That's the word they use: destroy.
That's why Australian military forces are fighting right now in the Middle East.
We must support their efforts.
Like the generations we honour on Anzac Day, our generation must be prepared to sacrifice to defend freedom.
Not just our freedom, but the freedom of the generations who will follow us.
Today, we remember the dreadful price paid for that freedom.
At Gallipoli alone there were 26,111 Australian casualties, including 8,141 deaths.
Across World War I, out of a population of less than five million, 61,522 Australians lost their lives.
These are staggering figures.
One of the positive things about the information age is that it is becoming easier to access facts about the individual men and women who have served our nation over the decades.
Men like Vincent Alexander Burns, who lived right here at Petersham.
Vincent was a 23-year-old quantity surveyor who put his career on hold in 1915 to serve in France.
He never made it back.
He died in action 1917.
Or Phillip Henry Dawes – an accountant.
Phillip was born in Petersham in 1882 and served in France as a gunner.
He survived the war, but never recovered completely from the effects of being gassed twice.
Phillip died in 1946.
Others, like Charles Percy Taylor, were lucky enough to survive and resume their lives.
Charles joined the 1st Light horse Regiment at Liverpool in in July, 1915 and served on the Western Front until the end of the war.
He came home and returned to the building trade in the Inner West, living a long life before passing away in 1976.
These are the human faces of WWI.
They walked the same streets that we walked to come here today.
They were ordinary people.
But when faced with a challenge to our national way of life, they responded in an extraordinary way.
It's not just the veterans of World War I that we remember today.
We think also of the men and women who served in WWII, the Korean War, the Vietnam War and the many conflicts and police actions that have followed.
We also remember members of the military who are serving overseas right now.
Just as importantly, we salute the sacrifice of the loved ones of those who have fallen in wars throughout our history.
When we think of such losses, we must harden our determination to ensure that we always provide for the care and comfort of the spouses and dependents of Australians who fall fighting in our name.
Decades after wars end, hindsight gives historians the opportunity to critically examine the global political forces that led to conflict.
We can all discuss the rights and wrongs of our involvement in WWI or the Vietnam War, just as we can all take a view about our nation's involvement in the Middle East today.
But there is one thing we must always remember.
Whatever factors lead to war, the men and women who have fought the wars in our history were not motivated by politics.
They were not motivated by ideology.
They were motivated by the desire to defend their families.
But importantly, they were also thinking about us – we who were not even born at the time of their service.
Generations of Australians have understood that freedom and democracy are the key factors underpinning the Australian way of life, which is the envy of the world.
Having won life's lottery by being Australians, these men and women have responded to their good fortune by defending that way of life on behalf of their descendants.
We are the beneficiaries.
That's why we must never forget.