Standing Up for Action on Climate Change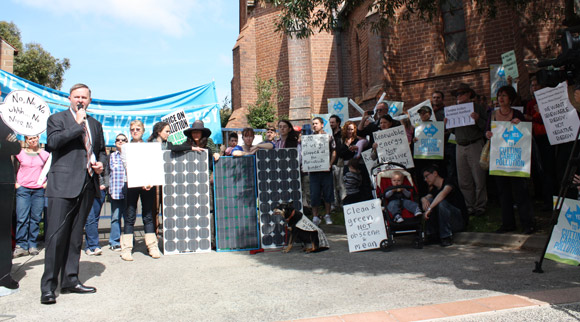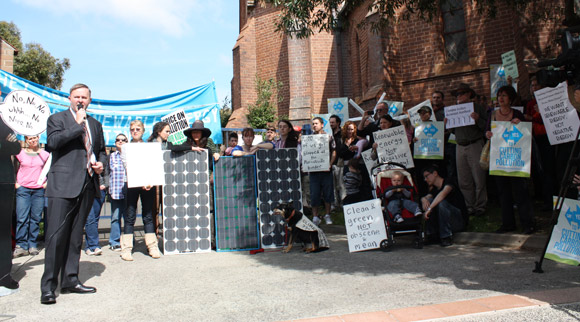 American Tea Party politics came to Marrickville in September last year when a protest against the Gillard Labor Government's plan to put a price on carbon pollution was marked by abusive language, offensive signs and bad behaviour.
Anthony Albanese spoke to the group and explained why he supported action on climate change. "Just as the rest of the world is acting, we need to act," he told the crowd.
"When it comes to the issue of carbon pollution I say that we need to listen to the scientists about the science. In terms of the method of action, we need to listen to the economists about how to achieve the cheapest and most efficient way to reduce our emissions. They tell us that a market based solution is the best way forward."
Anthony argued that the Government had the same target for carbon reduction as Tony Abbott. "The difference between us and the Coalition is that we want to tax the big polluters and provide assistance to low and middle income earners. Tony Abbott would tax everyone and give assistance to the big polluters – that is the difference between the two proposals. "
The crowd included many active Liberal Party campaigners including the Federal Liberal Member for Indi, Sophie Mirabella.
"The level of anger and intolerance we are seeing, not just at this rally, but at recent ones in Canberra and on blogs and web sites is not the way to go," said Anthony after the protest.
He said one placard in particular made him despair. It read 'Tolerance is our Demise' (pictured below).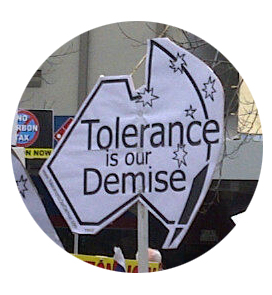 "Here we are in the heartland of multicultural Australia, in streets lined with Vietnamese, Greek, Chinese and Portuguese restaurants and the footpaths filled with people from just about every nation on earth. Here was a woman marching through the streets preaching intolerance.
Anthony also rejected calls from the protesters that an early election should be called.
"We have a democratically elected government. It is a government that has seen every piece of our legislation carried before the Parliament," he said.
"In the first year of this Government,185 bills have passed through the lower house with none stopped by the opposition. Not one. As a point of comparison, 108 were carried in the first year of the Howard Government."
Anthony said it was important people approach the debate positively with a view to solving a global problem.
An earlier protest the same day, organised by Climate Action Newtown and GetUp!, was supportive of the Government's plans to put a price on carbon.
This protest was also well attended but far more peaceful and positive with placards saying "Renewable energy not negative energy". Anthony listened to their speakers and outlined the benefits of action on climate change.